Grilled Cheese Grows Up
Give the classic American sandwich an update.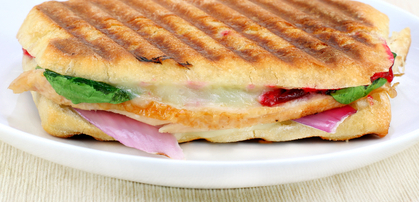 A simple grilled cheese is pure American comfort food, but you can easily update the classic for a grown-up meal. For a gourmet version, steer clear of Kraft singles and sliced white bread. A grilled cheese sandwich easily transforms into a panini or a croque monsieur with the right ingredients.
Tips for making a grown-up grilled cheese:
Use good quality bread, butter and cheese. I like Kerrygold Irish butter.
Cook the grilled cheese at a lower heat than you think and use a lid if your pan is thin and doesn't distribute heat well.
Let the butter come to room temperature if you normally store it in the fridge. When it is soft, spread it lightly on the outer sides of the bread.
If you don't have time to soften the butter, then melt it in the pan before you lay the sandwich down.
You can also use a thin layer of olive oil on the pan if you don't want to use butter.
Use two slices of cheese, both next to the bread, with the fillings inside. This will keep the sandwich intact when the cheese melts.
Gourmet Grilled Cheese Ideas
Croque Monsieur
Brioche sliced bread
+ Ham
+ Gruyere cheese
Croque Madame
Brioche sliced bread
+ Ham
+ Gruyere cheese
+ Fried egg
Simple, but beautiful grilled cheese
Rustic sliced bread (I like Trader Joe's Rustic bread)
+ Brie cheese, sliced
+ Raspberry preserves
variation: Brie and thinly sliced apples or pears
Pizza Panini
Ciabatta bread
+ Fresh mozzarella
+ Salami or pepperoni
+ Crushed red pepper
+ Tomato
+ Fresh basil
Grilled Goat Cheese Sandwich
Nut bread
+ Goat cheese
+ Spinach
+ Mustard
Grown-up Grilled Cheese with Chicken
Sourdough bread
+ Fontina cheese
+ Chicken
+ Dried currants or cranberries
+ Tomato
+ Arugula
Simple Panini
Foccacia, sliced in half with the herbed side turned inwards
+ Edam cheese
+ Prosciutto
+ Tomatoes
+ Fresh basil
Twisted Salad Grilled Cheese
Rye or sourdough bread
+ Blue cheese
+ Bacon
+ Red onion
+ Arugula