Gulf Getaway
Sarasota: beaches, culture, shopping, food. Oh, and a great resort too!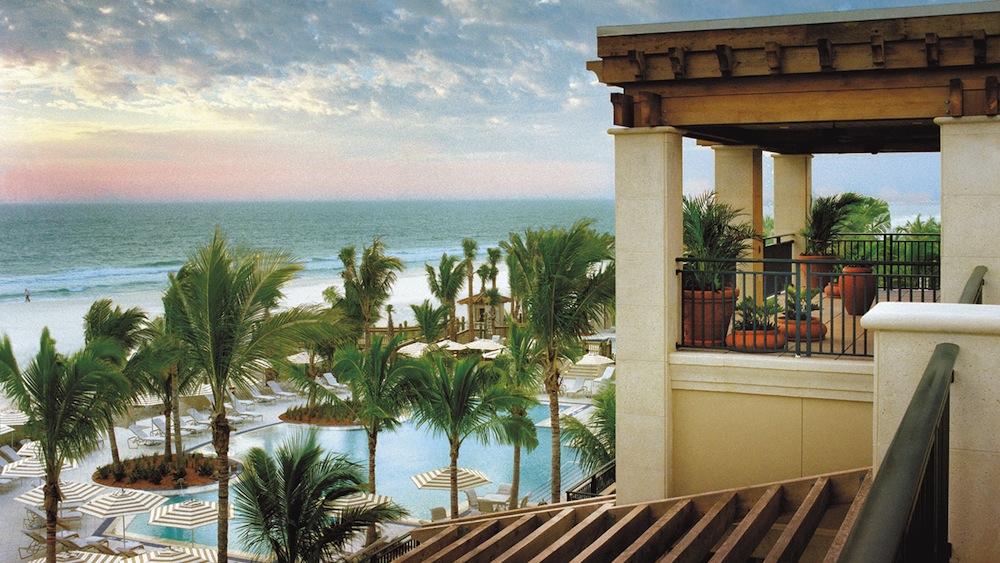 It's hard to plan the perfect beach weekend sojourn if you want both mental stimulation and total relaxation. Museums aren't usually handy to the sand. But you'll find that blend, as I did, in Sarasota. This small, laid-back city, nestled in the middle of Florida's Gulf Coast, is home to an international airport, a trendy downtown and waterfront, an old-masters-filled art museum and—oh yes—a world-renowned beach.
Surprised? I was. But thanks to the foresight of John Ringling, the circus impresario, who in the 1920s founded the John and Mable Ringling Museum of Art and filled it with Rubenses and Botticellis, you can get your culture fix before or after lolling on the beach. While it's top-notch, as regional museums go, the fabulous Ca' d'Zan—the Ringlings' winter home in which the collection is housed—is worth a peek on its own. It's an over-the-top Venetian-style palace. The complex also features The Circus Museum, complete with a miniature version of—you guessed it—the circus and it 900 animals.
And that's not all. There's an orchestra and opera, plus the Marie Selby Botanical Gardens. Even if you're not horiculturally inclined, these 14 acres of gardens with eight greenhouses are a delight. (Enjoy high tea daily in the Carriage House here.) The Bay Preserve in nearby Osprey is home to 4.3 acres of protected bays and beaches and serves as the site for various artists' exhibits. Here you can enjoy views of Little Sarasota Bay, walk the Kilbourne Nature Trail, picnic beneath centuries-old trees or tour a 1930s waterfront home.
Now for the beach. Fifteen minutes from Sarasota on Siesta Key is Siesta Beach, rated the best in the nation in the Annual Top Ten list issued by Stephen Leatherman, aka "Dr. Beach," a professor and director of the Laboratory for Coastal Research at Florida International University. Here you'll find a wide white expanse of pillowy-soft quartz sand that reportedly never gets hot. (It didn't while we were there, and temps topped the 80s.) The crystal-clear waters are perfect for swimming and walking along sandbars.
If you like your beaches a bit more private and are lucky enough to stay at the Ritz-Carlton, Sarasota, the toniest hotel in town, spend some time at the guests-and-members-only beach on Lido Key, three miles away via a causeway. A handy free shuttle whisks hotel guests there and back throughout the day. At the beach, there are umbrellas and chaises as well as towels and icy cold water. Of course, you can also order sips and nibbles all day long.
It's hard to beat the Ritz for its genteel sophistication and gosh-darn friendliness. Then there's the style: fine artwork and fresh flowers; marble-floored hallways and plush Oriental carpets; giant bathrooms and cozy balconies with views of the bay and marina. For extra pampering, try R-C's Club Level. The exclusive Club Lounge is located on the 8th floor and features beverages, breakfast, lunch, midday snacks, hors d'oeuvres, desserts and cordials. Staffers take their jobs seriously here and do their best ensure you feel pampered. For example, when Kimmy McNary discovered we were dining at the hotel restaurant Jack Dusty, she called ahead to ensure we got her favorite server. "He really is the best," she whispered. And another staffer, Mirza Velic, produced a sought-after Scotch my friend had been hankering for.
While I rarely favor hotel restaurants, Jack Dusty was a lovely choice for one of our meals. Named with the 18th-century shorthand term for the naval store clerk responsible for doling out sailors' daily lot of rum and maintaining the ship's inventory of food supplies, the eatery offers guests a bevy of dining and drinking options with sparkling views of Sarasota Bay and beyond.
The menu features modern American cuisine with a seafood emphasis. For starters, there's an array of raw bar offerings plus yummy choices like crab and fried green tomatoes with charred tomato vinaigrette; a tasty grouper cake with mango beurre blanc and fruit salad; and a sinful burrata and tomato salad, served with oven-cured tomatoes and arugula. Entrees are labeled "By Land" and "By Sea." We had one of each: the 1855 beef tenderloin with smashed potatoes and seasonal mushrooms satisfied my meaty companion, while I loved the blackened grouper etouffee with red beans and rice and braised greens.
Make time, too, for a meal in St. Armand's Circle at Shore Diner. Lest the name fool you, it's not a diner at all, but an open-air, midcentury-style take on the cafes of southern California. Popular with locals and tourists alike, the restaurant is attached to the cool Shore surf shop and features dishes that take "fresh" to a whole new level, courtesy of ingredients from local growers. Afterward, explore the circle, also developed by John Ringling. His goal was to create a waterfront area devoted to shopping, dining, browsing, strolling and eating ice cream (which we did). The same shuttle that takes you to Lido Beach runs regularly to St. Armand's Circle. If you're not too tired afterward, the hotel offers complimentary kayaks and paddleboards from a launch near the pool. Or take a bicycle and explore downtown.
Was it the perfect weekend? Well, I got my fill of great beaches, culture, shopping and good food and stayed at an iconic luxury resort, so the answer is a resounding "yes."
Ritz-Carlton Sarasota, 1111 Ritz-Carlton Drive, Sarasota, 941.309.2000; ritzcarlton.com/sarasota