Head of the Class
Monmouth Medical Center NICU Director Bonny Adler receives top honor from the March of Dimes.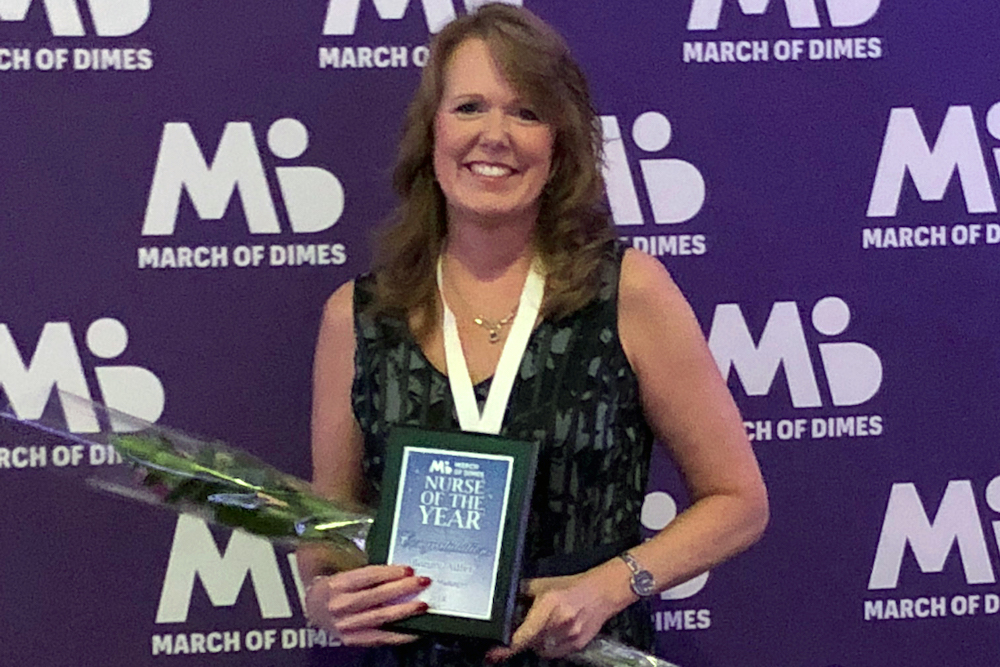 MONMOUTH MEDICAL CENTER'S (MMC) NURSE BONNY ADLER, MSN, RNC-NIC, has been honored as a Nurse of the Year-Nurse Manager by the March of Dimes.
Adler, the clinical director of the Regional Newborn Center, which houses Monmouth Medical Center's Neonatal Intensive Care Unit (NICU), was honored in the nurse manager category. She has been with MMC for more than four years, joining Monmouth from St. Peter's University Hospital in New Brunswick, where she worked as a clinical educator for 12 years.
March of Dimes honors nurses who excel in the areas of patient care, customer service and compassion. All New Jersey nurses are eligible, and the selection committee is comprised of high-ranking health-care professionals. This year, the committee reviewed more than 250 nominations and selected six finalists in a host of clinical categories. The top finalist in each category was honored at an awards gala on Nov. 14 at the Grand Marquis in Old Bridge.
"It is an incredible and well-deserved honor," says Diann Johnston, chief nursing office at Monmouth Medical Center. "We are so proud of Bonny for all of her accomplishments. Our RNC treats more than 500 of our smallest patients each year, and as clinical director, Bonny plays a key role in its success, as our NICU remains among the best rated nationally."

LEADERS OF NURSING EXCELLENCE
MONMOUTH MEDICAL CENTER CHIEF NURSING OFFICER (CNO) Diann Johnston, MSN, RN, NEA-BC, and Director of Nursing Excellence and Innovation Julie Villa, MSN, RN, CCRN-K, co-authored an article titled "Shifting Culture: A New CNO Leading to Nursing Excellence," that was published in the September 2018 issue of The Journal of Nursing Administration (JONA). The article shares the transformational leadership strategies Johnston, as a new CNO to the organization, and her team used to turn their hospital—once below the national mean on National Database of Nurse Sensitive Indicators and patient/RN satisfaction scores—into a highly engaged and effective organization achieving top-performing outcomes.
JONA is the authoritative source of information on developments and advances in patient care leadership with content geared to nurse executives, directors of nursing, and nurse managers in hospital, community health, and ambulatory care environments. All articles are peer-reviewed, selected and developed with the guidance of a distinguished group of editorial advisors.