Healthy Summer Sips
Three tasty ways to toast the season— and please your conscience too.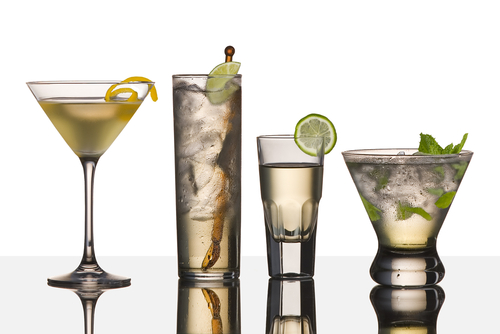 After an apparently never-ending winter and a spring heavily coated in pollen, summer is finally in full swing, and we'll drink to that. Break out your blenders, shakers, pitchers and ice for a trio of refreshing and rejuvenating summer drinks. Here's to your health! Yes, you can have a drink without all the guilt that comes with indulging during swimsuit season. Just skip the fattening mixers, syrups, sodas and sugared rims. You can cut almost 100 calories, for example, just by turning your rum and Coke into a rum and Diet Coke. But why not be a bit more imaginative? Omit the mixer altogether and mix a flavor-infused vodka with sparkling water or club soda for a refreshing cocktail you won't be disappointed in.
Waist Watcher: Meyer Lemon Spritzer
Ingredients
2 ounces Charbay Meyer lemon vodka
Club soda
Ice
Lemon twist for garnish
Preparation
Fill a Collins glass with ice, add the vodka, top off with the club soda. Garnish with the lemon twist and serve. If you want to cut the calories even further, simply think "portion control" and cut this recipe in half, serving the chilled ingredients in a champagne flute.
Makes 1 drink
---
Heart-Healthy: Pomegranate Margarita
Pomegranate does a body good. Whether it's for preventing or slowing cancers or lowering your blood pressure, this juice makes for a healthy choice when ordering from the bar. It boasts antioxidant benefits (the compounds help you ward off cell-damaging free radicals) and aids in lowering bad cholesterol. In moderation, this cocktail's a heart-smart choice.
Ingredients
3 cups ice
4 ounces silver tequila
2 ounces triple sec
¾ cup pomegranate juice
Juice of 1 lime
Lime wedges for garnish
Kosher salt, optional
Preparation
In a blender, combine all the ingredients except the salt and lime wedges. Blend until evenly combined and the ice is a slushy consistency. Serve in margarita glasses and garnish with a lime wedge. For a salted rim, press the flesh part of the lime wedge around the rim of the glass. Then dip the glass into a shallow plate with salt. (Of course, doctors recommend lowering salt intake for heart health.)
Makes 4 to 5 drinks
---
Antioxidant Boost: Green Tea and Ginger Martini
Green tea has long been loved for its ability to fight heart disease, cancer and strokes, thanks to its antioxidants. Ginger has its own health benefits such as aiding in digestion and easing muscle cramping and headaches. Together, the green tea and ginger are perfect for summer sipping.
Ingredients
¼ cup plus 1 tablespoon fresh ginger, grated
½ cup granulated white sugar
1 cup water
12 ounces vodka
1 cup green tea, chilled
Ice
Preparation
In a small saucepan combine the ginger, sugar and water. Bring to a simmer and cook until it has reduced by ¹⁄3. Remove from the heat and chill. In a cocktail shaker filled with ice, combine the vodka, green tea and ginger syrup. Shake and strain into four martini glasses.
Makes 4 drinks
---
Related Article: Five Fantastic Spring Cocktails