Heart to Heart
With convenient access to an innovative treatment for aortic stenosis, the future for cardiac patients is bright.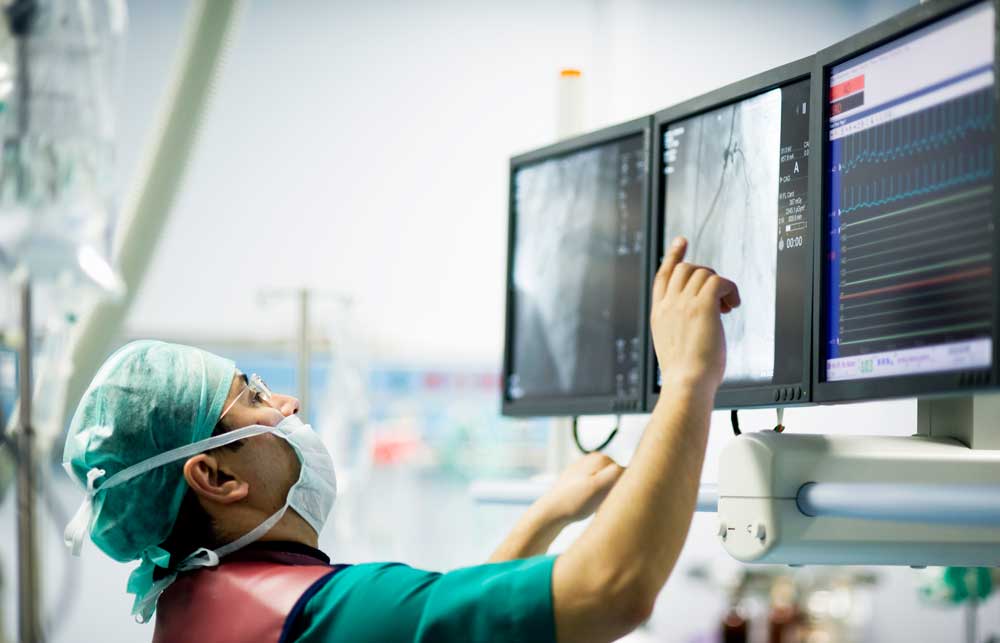 Approximately 300,000 Americans suffer from aortic stenosis, a narrowing of the aortic valve that occurs as a result of calcium deposits.
If your doctor determines that heart valve replacement may be an option to treat aortic stenosis for you or a loved one, you want to ensure your heart is in the most capable hands. In the past, the only treatment available was open-heart surgery to replace the diseased valve. Now, Transcatheter Aortic Valve Replacement (TAVR) has been approved for patients considered at high and intermediate risk for open-heart surgery.
A new cardiac program at Monmouth Medical Center is offering convenient access to this innovative, minimally invasive surgical procedure that repairs damaged heart valves without removing it in patients with aortic stenosis. Working in conjunction with the structural heart team at sister hospital Newark Beth Israel Medical Center (NBIMC), the Monmouth Medical Center TAVR Screening Program works to determine patient eligibility for TAVR. Monmouth Medical Center's TAVR Clinic includes a multidisciplinary team of cardiac surgeons, interventional cardiologists, radiologists and nurse practitioners who provide comprehensive testing to evaluate patients.
Eligible patients undergo TAVR at NBIMC within two weeks of their initial consultation. Complimentary transportation for patients is available.
Monmouth Medical Center Chief of Cardiology Isaac Tawfik, M.D., explains that TAVR is a transformational technology for patients with severe aortic stenosis that in addition to NBIMC is currently performed at Robert Wood Johnson University Hospital and Saint Barnabas Medical Center, with an additional screening program at Jersey City Medical Center—all RWJBarnabas Health facilities. At these facilities, clinicians are performing more TAVR procedures than any other hospital or health care system in the state, with outcomes that far exceed national benchmarks.
"The Monmouth Medical Center TAVR Screening Program represents our commitment to provide a comprehensive service offering of structural heart care to our local community," Dr. Tawfik says.
Because the aortic valve sits between the main pumping chamber of the heart (called the left ventricle) and the main blood vessel in the body (called the aorta), all of the blood in the body must flow through this valve. The narrowed valve restricts needed blood flow to the body organs including the brain, heart and kidneys. Over time, people with aortic stenosis develop symptoms such as shortness of breath, chest pain and even loss of consciousness (syncope).
"With TAVR, a synthetic valve is threaded through a blood vessel to the heart on the tip of a catheter," according to Dr. Tawfik. "Stateof- the-art imaging is used to place the new valve, which begins to work immediately. Compared with surgical aortic valve replacement, patients opting for TAVR have a quicker recovery, less pain, fewer complications and a shorter hospital stay, with most patients going home the next day."
"Our outcomes far exceed national benchmarks in safety, life expectancy and risks of complications," says Mark J. Russo, M.D., M.S., an internationally known expert on heart valve disease and attending cardiac surgeon at Newark Beth Israel and Saint Barnabas Medical Center. Dr. Russo is teaming with Interventional Cardiologist Bruce J. Haik, M.D., RWJBarnabas Health System Director of Cardiac Catheterization Laboratories and the cardiac team at Monmouth on the hospital's TAVR program. Dr. Russo, who serves as director of the Center for Aortic Diseases, director of Cardiothoracic Surgery Research and director of Structural Heart Disease, specializes in complex and reoperative aortic and valvular surgery. Dr. Haik, who practices as an attending Interventional Cardiologist at Newark Beth-Israel and Saint Barnabas Medical Center as well as Monmouth and Community Medical Center, has performed more than 10,000 cardiac procedures including complex angioplasty and TAVR. To achieve the best possible patient outcomes, Dr. Russo and Dr. Haik use leading-edge technologies, including minimally invasive, endovascular, and hybrid approaches such as TAVR.
Bruce J. Haik, M.D.
Mark J. Russo, M.D.
For more information on the Tavr screening program at Monmouth Medical Center, call 888.658.2581 or visit RWJBH.ORG/TAVR. To share this article with a friend or to recommend it on your Facebook page, visit MONMOUTHHEALTHANDLIFE.COM.