Help for People with Special Needs
Medical care can be frightening for them, but 'ambassadors' come to the rescue.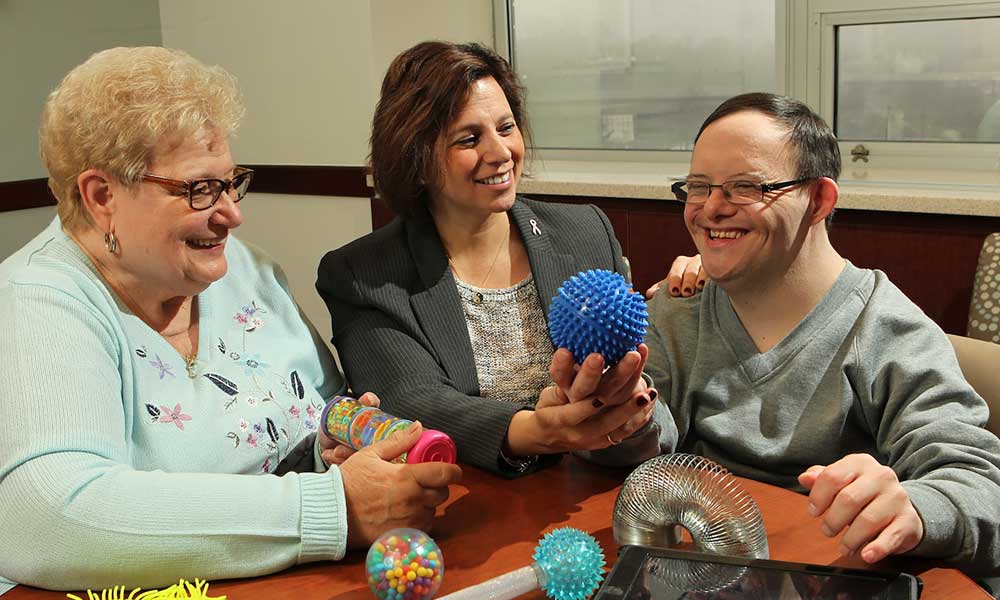 Let's say you're undergoing chemotherapy treatment for cancer, but you've had an allergic reaction to it. Of course you're troubled. Now suppose one more thing: Your understanding of what's happening to you is limited by the fact that you have Down syndrome.
That was the case not long ago for Craig Rutkowski, 39, of Bayonne, who remains under the constant care of his devoted parents, Arlene and Edward Rutkowski, 69 and 71, respectively. His distress was great, and so was theirs. But fortunately, a special hospital initiative eased the experience for them all. It's called the Special Needs Ambassadors Program, and it gives patients with special needs the extra help they may need to take medical treatments in stride.
Volunteers from the hospital staff are specially trained to work with patients and their families, and to act as advocates for them with health care providers to make the accommodations necessary to ease their treatment.
Arlene Rutkowski learned of the program when she first registered Craig at the Saint Barnabas Cancer Center. "They asked if we wanted to participate, and I said 'Sure, anything that makes this whole thing easier would be wonderful,'" she says. "And they went out of their way to make this as easy as possible."
The program, which ran as a pilot for a full year before becoming official last September, developed from Saint Barnabas' participation as a sponsor of the Special Olympics in 2014. Patricia Miller, operations director of the Cancer Center, and Frank Soldo, director of the Cardiac Catheterization Laboratory, were on a committee designed to educate staff members about special needs athletes. Both have special needs children of their own, and they hoped to take what they learned beyond the games and back to the hospital itself.
"I have a son with autism, and so does Frank," Miller says. "We live it, and we realize how ill-equipped we were to work with special needs patients and families to provide a good experience." She found that when she brought her 15-year-old son, John, for testing or treatment it was very difficult for him. "The hospital can be very hard for patients with special needs to navigate," she says.
She came up with the idea of ambassadors. "It is not a clinical program; we are not giving care," she says. "We listen to the experts— the family or the patient—and then we do what we can to accommodate the special needs patient and his or her family to ensure that treatments or procedures go as smoothly as possible."
For example, people with autism often find it hard to sit in a crowded waiting room. "It may trigger a meltdown," says Miller. "But if Mom says, 'He can't sit with 50 people,' we will find a separate room, or let the family wait in the car and call them when we're ready."
After Craig had an allergic reaction to his chemotherapy, he became very agitated at his next session. "The ambassadors brought a therapy dog to calm him," Rutkowski says. "They explained port insertion to him using a doll. They asked if he liked music, and what song he liked. He said 'Yellow Submarine,' and they were all singing 'Yellow Submarine' during the procedure." Craig was given coloring books and movies to distract him. When he developed thrush, the ambassador had the kitchen make him a smoothie. "They were there every step of the way, every time he was there for an infusion," Rutkowski says. "It was spectacular, the way they talked to him—and us. It put us at ease too. They worry about the whole family." (Fortunately, Craig is expected to make a full recovery.)
When the pilot program was announced, 80 staff members volunteered, and to date 70 employees have been trained to be SNAP ambassadors. They've also received a toolkit containing an iPad and sensory or tactile materials that can help special needs patients stay calm during stressful situations.
"In the training we also do role playing—for instance, acting out three difficult scenarios that happened here, and discussing how they could be dealt with differently," says Miller.
The program now is offered at the medical center Monday through Friday from 8 a.m. to 4 p.m. At least five ambassadors are on call every day. "If anyone in the hospital has a special needs patient, they can send out an in-house call to activate the team," Miller says. "Most of us have crazy busy jobs here, so we try to sign up to be on call on days when we know we'll be available."
Saint Barnabas plans to roll out the program to other Barnabas Health facilities in the coming months. Miller herself has seen the difference it can make. Her husband, Vincent, had to bring John in for a diagnostic radiology scan one day, and the ambassador, nurse Kim Anderson, handled it beautifully, she says. "John is almost nonverbal, so she talked to my husband, while asking John appropriate questions. My husband was blown away at how she included him just enough but didn't expect too much." Anderson allowed John to walk to the radiology lab, rather than be wheeled in his bed, and also made other accommodations that allowed him to feel more in control. "He handled it with much less of a struggle than it might have been," says Miller.
That's exactly what these patients and their families need, says Rutkowski. "Many with special needs require more gentle care, just a little stroking, so they know that things will be OK."
To find out more about the Special Needs Ambassadors Program at Saint Barnabas Medical Center, please call Patricia Miller at 973.322.8218 or when visiting the hospital request a snap ambassador upon registration.