Hide the TV
High-end and low-tech ways to conceal your television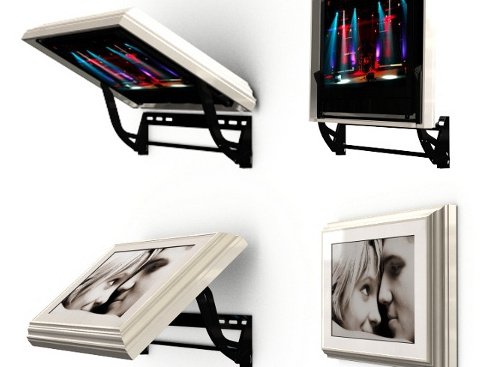 For most of us, the television serves as one of our main sources of everyday entertainment and information. We watch news, reality and talk shows, play video games and watch movies on our TVs. Some of us use our flat-screens as computer monitors, browse the Internet or videochat with friends or family. Whether you watch 2 hours a week or 10, the television is one technology that is fully integrated into domestic life.
But as screens grow, it's getting harder to blend the television into a room's décor. Most of us have at least one TV, but that doesn't mean that we all want it to be the focal point of our living or family rooms.
Even if you are proud of your sleek, wall-mounted plasma screen, there are other good reasons to camouflage the television. It's not just about looks. It's easier to un-glue the children from the TV if you can physically 'put it away'. The same holds true for the grown-ups in the house. For entertaining, concealing the television instantly changes the feeling of a room.
1. BEHIND CLOSED DOORS
Mahogany Media Armoire from Pottery Barn
An old solution that still works if you have the space, seek out furniture made to conceal your TV. Just like the TV cabinets found in many hotel rooms, you can find armoires and media shelving with hinged doors at every price point.
For wall-mounted TVs, look for a media cabinet that floats on the wall and surrounds your flat-screen.
Ming Hanging TV Cabinet
2. OUT OF SIGHT
Flip Out TV from Hidden Vision
If you are more serious about removing your television from sight with just a click of a button, you can get your set to drop-down from the ceiling, rise from inside a dresser, flip out from behind a family portrait or swing out from behind a bookshelf.
TV Lift Cabinet from Nexus
3. CAMOUFLAGE
Samsung LED Mirror TV
If you're not that high-tech and feel more comfortable with a television that is stationary, then you can camouflage your flat-screen in plain sight. Mirrored TV sets look just like framed mirrors when they're off, and use the same technology on the TVs you might have seen inset into a designer hotel's bathroom mirror. There are also companies like art screen, who frame your TV with any retractable artwork you choose.
Retractable artwork over your TV
4. Low-Tech and Low-Cost
Fireplace DVD from Plasma Window
For a lower-tech and lower-cost option, consider using the TV turned 'on' as part of the decor. With a quick ambient DVD change, you can have a roaring fireplace, a gallery of contemporary or Impressionist paintings, or a window to nature with with panoramic landscapes and high-definition aquarium scenes.
Impressionist Art DVD from Vat 19