Hometown Hero
Longtime MMC board member and decorated WWII officer is demoralized with bronze bust.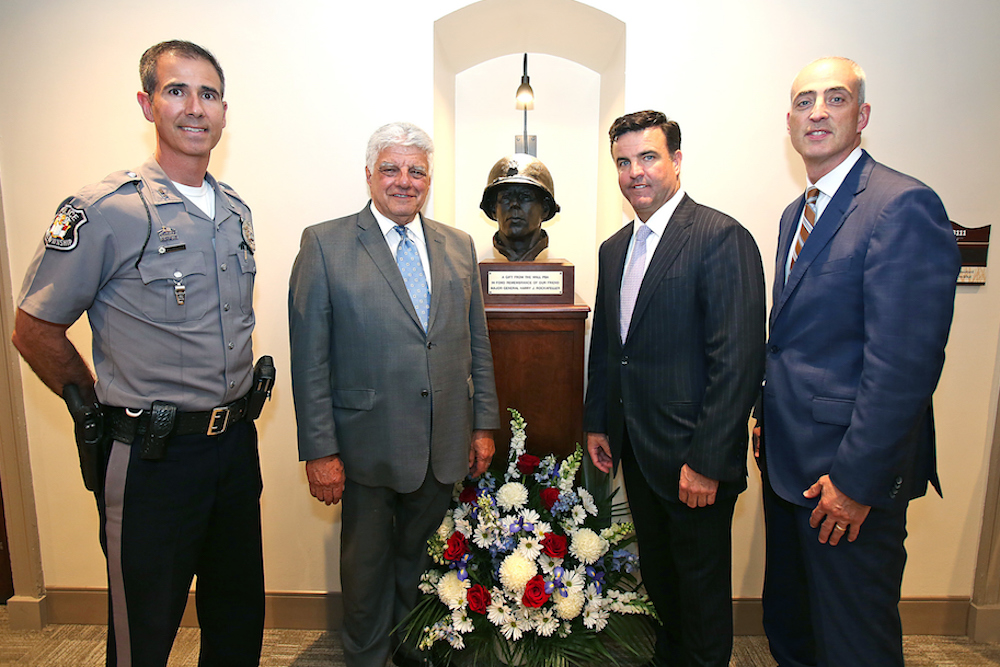 THE NEXT TIME YOU WALK THROUGH Monmouth Medical Center's (MMC) Administrative Hallway, you'll notice a welcoming new addition—a bronze bust memorializing Wall Township's Maj. Gen. Harry Rockafeller.
On May 29, the hospital held a dedication ceremony to unveil the bust of the late Gen. Rockafeller, a longtime MMC board member and decorated World War II hero. The bust is a replica of the 9-foot-tall bronze memorial statue at Wall Township Police Headquarters that portrays Rockafeller in December 1944 in the Battle of the Bulge, where he served as a major in the U.S. Army.
The statue, which was unveiled at the police department on Veterans Day 2018, faces northeast toward the American military cemeteries in France, Belgium and the Netherlands. It also features shell casings from Chaumont, Belgium and sand from Utah Beach, Normandy. In the statue's left hand is a note "Rocky" received from his friend and Rutgers University classmate Maj. George A. Renoux, who was killed in action in 1945.
Rockafeller devoted nearly 40 years of service to the U.S. Army and was a two-time recipient of the Department of the Army Meritorious Civilian Service Medal. He served in the famed 4th Armored Division and was awarded the Silver Star three times. He also received the Bronze Star with Valor, the Purple Heart and several other citations during WWII. He retired from the Army in 1974 as a major general.
"We are tremendously honored to house this special monument at MMC, where it will provide a lasting memory of his service to our country and our hospital," says MMC president and chief executive officer Eric Carney.
Rockafeller lived in Wall Township for more than 70 years, during which time he was very involved with Monmouth Medical Center. He formed a special bond with the members of the Wall Township Police Department, Patrolman Michael Malone in particular, in the last few years of his life. Rockafeller passed away at his home at the age of 100 in August 2017.