How to Pack a GOOD (Get Out of Dodge) Bag
Prepare your family for Emergencies and Disasters.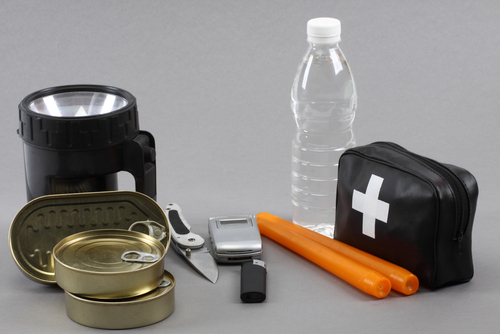 Mother Nature is as fickle as she is beautiful, so there is no way to know where or when you might be caught in a natural disaster situation. With modern technology, we usually have some warning in the event of a flood, hurricane, earthquake or tornado. But even during recent events like Hurricane Katrina and the 2011 Japanese earthquake and tsunami, people were unprepared for the widespread damage and the aftermath. And no one can predict man-made disasters like September 11th or fast-burning home fires.
You can, however, take some reasonable steps to prepare yourself and your family for emergencies and the possibility of evacuation.
Create an emergency plan.
Knowing what to do in an emergency is half the battle, so make a plan and make sure to review it with each family member.
1. Remember the fire drills from elementary school? Recreate something like this for your family and children to show escape routes from your home and what to do in the event of fire, tornado, blackout or flood.
2. Plan two emergency meeting places, one close to home and one outside of your neighborhood.
3. Pick one out-of-state friend or family member to call in the event that you are all separated in a disaster. Also pick a local friend or family member. Teach their numbers to all grown-ups and older children in the family. (Yes, that does mean you will have to memorize some phone numbers).
4. Keep important papers and records in a waterproof and fireproof container.
5. Review the emergency plans in place by your State and local governments. Stay informed with local news in the event of extreme weather.
Pack a GOOD (Get Out of Dodge) Bag
Whether you call it a disaster bag, a GO bag, a Bug-Out Bag or an emergency evacuation kit, it's purpose will still be to get you out of harm's way. You should have at least one of these in both your car(s) and your house. If you are extra vigilant, then you can also keep one at your office or workplace.
Some people plan for their GOOD bag to take them through 72-hours in the event of an emergency, but this may not be possible if you are packing one kit for your whole family. If your children are older (pre-teen and up), then you can pack an individual bag for each family member to carry. Most people don't include every single item on the list in their GOOD bag (I certainly don't), but try to at least include the items below that are in bold.
In a perfect world, your GOOD bag would be a backpack that is lightweight and brightly colored. Make sure each of your GOOD bags are labelled with I.D. and include a list of emergency contact phone numbers.
Flashlight (I like the hand-crank ones now so that you don't need batteries)
Radio (hand-crank or battery operated)
Batteries
Whistle
Pocket knife
Some non-perishable high-energy food and water
Prescription medications (including extra glasses and hearing aids) and first aid supplies
Basic toiletries including toilet paper or wet wipes

Emergency cash in small denominations and quarters for phone calls
Copies of IDs, licenses and insurance cards.
Extra keys to car(s) and home.
Any special-needs items for children, seniors, people with disabilities or pets.
Change of clothes and shoes; hat and raincoat
Permanent Marker, pens and tape for leaving messages
Photos of family members and pets for re-identification
Dust mask
Extra 911 cell phone
A few plastic garbage bags
Household chlorine bleach
Matches in a waterproof container
Wrench or pliers
Local maps
Emergency blankets
Flotation devices for each family member if you live in a flood zone
You can also buy a ready-made kit from the Red Cross.
Now that you've prepared for the worst, you should feel free to enjoy the best of the temporary ride we call life.
---
Related Article: How Can I Help?