Improved Imaging- Plus
A new radiology partnership enables Saint Peter's to offer better turnaround and broader services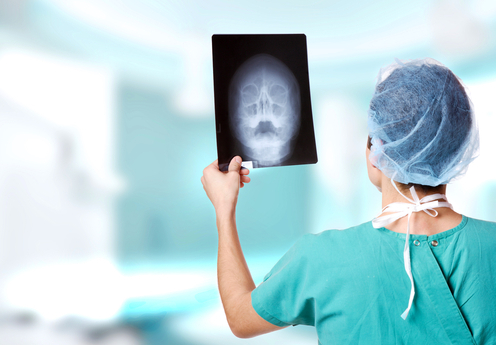 RADIOLOGISTS—specialists who use imaging technologies to diagnose and treat disease—make a vital contribution to any hospital. And now a new arrangement has made radiology services at Saint Peter's University Hospital faster and more complete than ever.
Diagnostic Imaging, Inc., a radiology group based in Philadelphia, has teamed up with Saint Peter's Healthcare System to provide the full spectrum of radiology services including biopsies, vascular procedures, musculoskeletal procedures and pediatric and interventional radiology services at the hospital. DII—the group is known by its initials—has more than four decades of experience and serves area hospitals with more than 60 radiologists in a broad range of subspecialty areas.
What patients may notice most, however, is the department's improved turnaround time. DII is part of a national network called vRad Radiology Alliance, which provides specialized technology that allows for after-hours interpretation of studies by one of its team of 400 radiologists nationwide. Says Paul McGinnis, M.D., chairman of the hospital's Department of Radiology: "When we leave at night, imaging studies go to our vRad radiologist colleagues, who can interpret the images and quickly issue final reports within 30 minutes."
Such rapid response capability means better service and a higher level of care for area patients, says Kavin D. Mistry, M.D., the hospital department's vice chairman. "It's really a night-andday difference from the traditional model, where if a patient came in at night and needed, say, a CT [computed tomography] scan, the images would not get a final reading until the next day." Plus, access to the vRad Alliance network means the CT scan can be read by a subspecialty-trained radiologist, even if it's 3 a.m.
DII also brings enhanced mammography to Saint Peter's. "We're making our services as streamlined, efficient and comfortable as possible," says Sonja Cerra-Gilch, M.D., section chief of Mammography at the hospital. Quicker results will mean women won't have to worry for days about how their biopsy turns out. "By bringing MRI-guided biopsy and other procedures in-house, the Saint Peter's partnership with DII assures that patients who need these services won't have to go elsewhere," she says.
RADIOLOGY: IT'S MORE THAN SCANS
When we think of a hospital's radiology department, we may think first of MRI (magnetic resonance imaging) scans, CT (computed tomography) scans, X-rays and the like—and they are indeed part of its work. But radiologists provide treatment as well as diagnoses. These are just some of the services provided at Saint Peter's University Hospital by Diagnostic Imaging, Inc., that go beyond the imaging studies suggested by the company's name:
deep vein thrombolysis, a process that removes blood clots
interventional oncology, in which radiation is targeted at tumors
radiofrequency ablation to remove tumors uterine fibroid embolization to remove fibroids
kyphoplasty, a process that stabilizes spinal fractures
stereotactic breast biopsy, a radiation-guided procedure for evaluating abnormal cells