In a Good Position
MMC offers advanced breast cancer treatment that minimizes radiation to heart and lungs.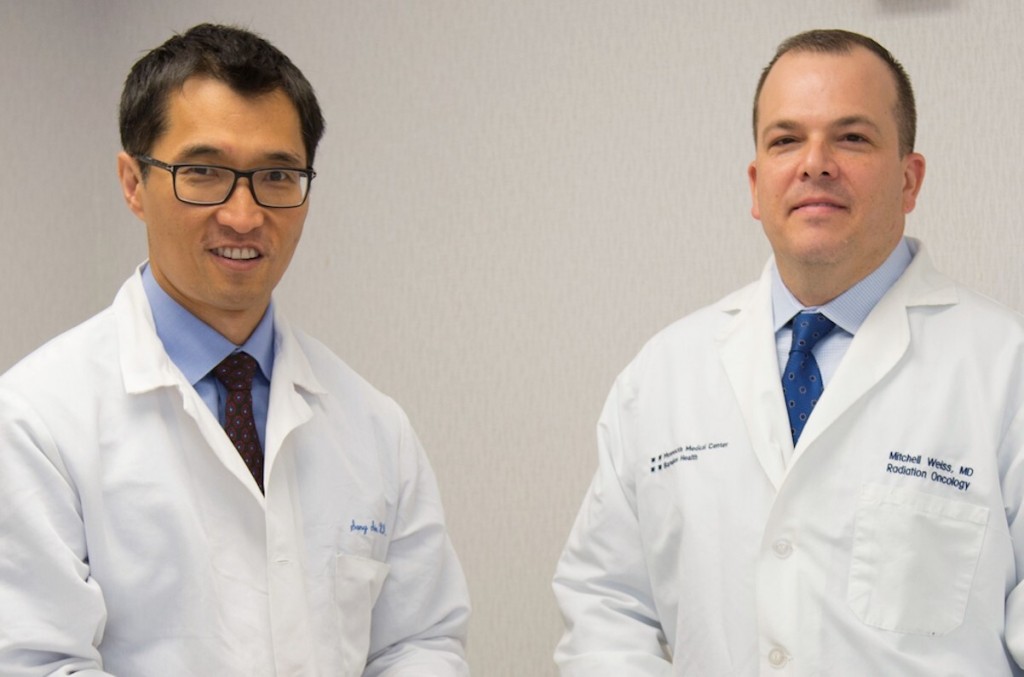 When 72-year-old Dorothy Brown was diagnosed with stage 1 ductal carcinoma in situ (DCIS) breast cancer in December 2019, her initial reaction was fear. The cancer was on the left side of her chest wall, and she considers herself very lucky that it was even caught. In fact, "lucky" is a word that Dorothy used a lot when talking about her breast cancer journey.
"It's such a terrible word, cancer. It's a scary feeling, but I was very lucky," says Dorothy, a Howell resident. "I was very lucky that the technician even caught the cancer, and I was very lucky that I was able to begin my treatment so quickly at Monmouth Medical Center (MMC)."
Dorothy had her lumpectomy in January 2020 and was on track to start her radiation therapy treatment by February. As a retired dental hygienist, Dorothy was well-aware and concerned with the side-effects of radiation exposure to surrounding organs and tissue. However, after doing some research on her radiation therapy options, coupled with a helpful conversation with her doctor, radiation oncologist Sang Sim, M.D., she felt much more at ease about her course of treatment. Dorothy would receive prone breast radiotherapy.
For women undergoing radiation treatment for breast cancer, studies have shown that receiving radiation to the breast while lying in the prone, or face down, position offers many benefits while delivering the same quality outcomes as the traditional supine position, where women lay flat on their back for radiation treatment.
"At Monmouth Medical Center our skilled radiation oncologists, physicists and therapists are trained in this innovative technique to continue our tradition of offering patients in our community the full range of the most advanced cancer care treatment options," Dr. Sim says. "This unique approach to treating breast cancer has the patient lying comfortably on her stomach atop a specially designed breast board. This allows gravity to work in our favor with the breast moved away from the heart and lung. With concerns of long-term consequences from radiation treatments, we eliminate heart and lung risks to patients utilizing this technique."
Additionally, Dr. Sim points to a second innovative technology−deep inspiration breath hold (DIBH)—that allows MMC radiation oncologists to ensure that radiation is only delivered when the patient is in the planned position. As the name implies, patients take a deep breath and hold it.
Mitchell Weiss, M.D., chairman of the Department of Radiation Oncology, explains, "When the lungs fill with air, the heart naturally moves away from the chest, and this technology allows the radiation to avoid the heart and its vessels completely with goals of reducing risks of cardiac disease down the road. This technology uses three camera units to monitor thousands of points on the skin which can detect any motion, as the patient holds their breath, with sub-millimeter accuracy."
DIBH is useful in situations such as breast cancer treatment, where radiation therapy is delivered to organs that may move with breathing, he adds. Other organs where this may be useful include lung, liver, stomach and pancreas.
"Using this breath hold technique allows the patient to be tracked in real time, and the radiation stopped, if they are out of position," says Dr. Weiss.
Dorothy completed her four-week radiation treatment in March 2019 and is doing well. She tolerated radiation therapy quite well and she credits her experience and recovery to not only the treatment she received at MMC but also to the emotional support she received from her friends, loved ones and hospital staff.
"I felt comfortable and well taken care of every step of the way," said Dorothy. "I'm so thankful for Dr. Sim's care and the team of dedicated radiation oncologists at Monmouth Medical Center who can provide these new technologies to offer women like me better options for breast cancer treatment, with less risk of side effects."
The Leon Hess Cancer Center at Monmouth Medical Center continues to break barriers in cancer care through its state-of-the-art Institute for Advanced Radiation Oncology, which has earned accreditation from the American College of Radiology for the quality, safety and appropriateness of its radiation therapy. The hospital's team of radiation oncologists offer a full spectrum of highly advanced technology in the delivery of high-precision radiotherapy that is dramatically helping cancer patients recover faster and with fewer side effects.
Additionally, through its partnership with Rutgers Cancer Institute of New Jersey, the state's only National Cancer Institute-designated Comprehensive Cancer Center, Monmouth Medical Center provides access to advanced treatment options including immunotherapy, precision medicine and clinical trials not available elsewhere.
---
YOUR SAFETY COMES FIRST—DON'T DELAY ANY LONGER!
You live a healthy lifestyle. You just had an annual physical. You have no family history of breast cancer. You still need a mammogram.
Monmouth Medical Center offers the latest in comprehensive breast health services, including mammograms, 3D mammograms, genetic testing, breast surgery and clinical trials. Remember, early detection is crucial for breast cancer and improves a woman's overall prognosis. Additional safeguards have been put in place to protect our patients and staff from the coronavirus and to provide a safe environment for this potentially life-saving cancer screening. We've taken every precaution to keep you safe. So, if you have put off your mammogram due to COVID-19, please don't delay it any longer. Your breast health is too important to wait—visit rwjbh.org/mammo to schedule your mammogram today.
To reach the Department of Radiation Oncology at Monmouth Medical Center, call 732.923.6890.
To learn more or to make an appointment with a breast cancer specialist at Monmouth Medical Center, call 844.CANCERNJ.