In Medicine: America's Got the Talent
A teen dancer and performer on a British competition show had severe scoliosis, and the only treatment that could keep her on stage was in central Jersey.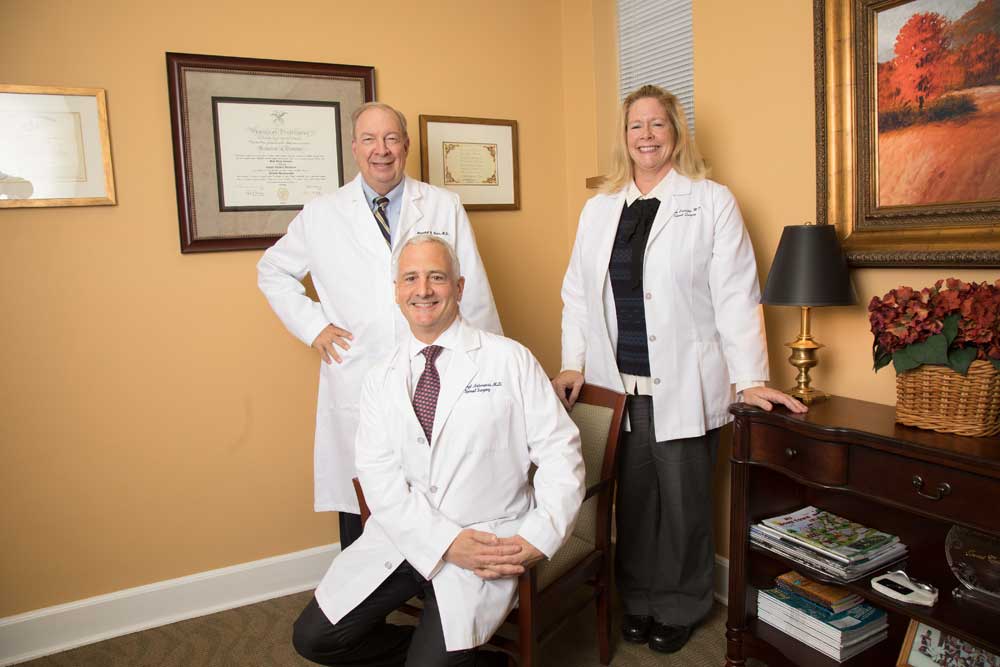 Two years ago, Julia Carlile, now 15, discovered a dream treatment for her painful back. Thousands of miles away from her home in Merseyside, England, a surgeon in the United States offered a cure for her scoliosis, the severe and growing curve in her spine she'd been diagnosed as having at age 6. Scoliosis was increasingly making even normal activities, especially her passion for dance, difficult.
"I always had pain when I danced or did anything active," she says. "It was getting worse, and I knew that the only treatment available meant I had to give up dancing."
That treatment was spinal fusion surgery, with metal rods. It's a common remedy for scoliosis as severe as hers. However, fusion stiffens the spine significantly, making twists and turns of the back—basic dance movements— impossible.
"I'd tried all types of treatments, but they didn't work. They wouldn't hold my spine straight," she says. "Here in the U.K. (United Kingdom), fusion was the only option for me to get free of the pain." And she needed treatment soon.
That was extremely disappointing, especially because an innovative new treatment was available at Saint Peter's University Hospital in the United States. Pioneered by Darryl Antonacci, M.D., a surgeon who practices exclusively in New Jersey at Saint Peter's, this treatment would both cure her scoliosis and keep her spine flexible enough for dance.
But considering the costs of travel, testing, surgery and recovery, it was expensive—far too expensive for her family to afford. So Julia set her sights on another dream, one she could only reach before her spine was fused. In an exciting step this past spring, she and her dance team vied for a spot on one of her country's biggest talent competitions, Britain's Got Talent.
"We tried out and we got in!" she says of "Mersey Girls," her group consisting of five teens. But it was hard for Julia because the rigors of competitive dance made her health challenges especially clear. "Rehearsals were long and tiring," she says. "I was in pain most of the time."
But she and her close-knit team pushed through all their challenges. They made it to the semi-finals and then to the finals! This talented troupe had become one of the top nine in the entire competition.
Before one performance in April 2017, Julia's pain and perseverance became part of the on-air story. "I told the judges that this competition was my last, and this could be my final performance ever," she says.
By then, Dr. Antonacci was working behind the scenes with his colleagues, Randal R. Betz, M.D., and Laury A. Cuddihy, M.D., to present Julia with a life-changing gift. Reality TV producer and judge Simon Cowell—who also judges America's Got Talent—had arranged to pay all hospital expenses for her surgery here at Saint Peter's. And Dr. Antonacci stepped forward to donate his services, too.
Doctors Antonacci, Betz and Cuddihy are among only a handful of spine surgeons in the world to perform this new corrective surgery, called Anterior Scoliosis Correction, or ASC. Dozens of children from around the world have come to The Children's Hospital at Saint Peter's to be cared for by Dr. Antonacci and his fellow surgeons.
"This pioneering technique allows us to achieve dramatic corrections to the curve even when the spine is very stiff and the curves are extreme," Dr. Antonacci says. "So even for people like Julia who have a severe curve to the spine, they will have much more flexibility and range of motion compared to other treatments."
It is very different from current surgeries for scoliosis and offers dramatic benefits. "Unlike other spine surgeries, we reach the spine from the side of the body, instead of from the back," he says. "So the back muscles are unaffected."
That helps reduce recovery time—to several weeks versus several months— and avoids long-term scarring of the spine. The ASC procedure also offers many other important benefits over traditional metal rod fusion. Instead of an inflexible rod, for example, Dr. Antonacci uses a flexible cord to straighten the spine. This results in patients' having greater movement of the back. ASC repair also reduces the risk of infection and reduces blood loss (which can occur with any type of surgery).
"Perhaps most important, patients can return to full activity levels," he says.
For Julia, the curves in her back were so significant that she needed two procedures at Saint Peter's. Both were major surgeries, performed 10 days apart, lasting six hours each. Julia spent another six weeks of recovery in New Jersey.
"It was very hard, but every day the pain got better and better," Julia says.
She's still on the mend, her mother, Kate, says. "But our expectation is that when she's fully recovered, she'll be painfree and back to dancing."
Now at home and beginning a new school year, Julia is grateful for the gift of a healthy back and will soon resume dancing.
"We didn't win in the finals in Britain's Got Talent," Julia says. "But with everyone who made this happen for me—including Simon and the great doctors and everyone at Saint Peter's—I feel like I did!"
For kids from around the world, Saint Peter's is now a "destination"
In the past year, world-renowned experts have joined a growing team of orthopedic specialists at The Children's Hospital at Saint Peter's University Hospital. They are now providing some of the most innovative care to children locally as well as those from around the world.
"We've created this service to meet the significant need in our area for children with conditions of the bones and spine," says David Jaipersaud, administrative director of The Children's Hospital at Saint Peter's. "And because our physicians offer such innovative treatments, more and more children from around the world come to us."
For one such treatment (severe scoliosis, or curvature of the spine), Saint Peter's Darryl Antonacci, M.D., has been sought out by more than a dozen patients from the United Kingdom, Malaysia and other foreign countries, plus many more from across the United States. Physicians with the pediatric hematology/oncology division have also treated children throughout the tri-state area of the United States, plus as far away as the Netherlands and Belarus.
The staff at Saint Peter's is in an excellent position to care for such a broad international group of patients, Jaipersaud says. "From our nurses to our doctors and everyone in between, we know how to adjust to different cultures. So we're ready to help when they walk through the door for the first time.
"It's part of our focus on all aspects of care, so we can help kids get back to being kids."
Challenges of Scoliosis and a Growing Child
At age 6, Julia Carlile, of Merseyside, England, received her first treatment for curvature of the spine, or scoliosis. "I had to wear this hard plastic brace 24 hours a day," she recalls. "It was uncomfortable, and it was embarrassing when I was around my friends."
Also, because Julia's condition was so severe, the brace just didn't work.
"Braces are very effective for most children to prevent the need for surgery later on," says Darryl Antonacci, M.D., a spine surgeon who heads up Saint Peter's scoliosis program at The Children's Hospital at Saint Peter's University Hospital. "But children have to wear it for long periods each day and until they stop growing. Many ultimately need surgery anyway."
The most common surgery to correct scoliosis is fusion. During the procedure, surgeons attach materials such as metal rods, screws and wires to the curved part of the spine. This straightens and stops the curve from worsening. However, it also stiffens the spine significantly and limits many activities the child is able to do—for life. It can also stunt the child's growth and interfere with the lungs.
With years of experience in treating children with scoliosis, Dr. Antonacci sought a better option. He pioneered a procedure that corrects the curvature of the spine without many of the downsides of other treatments. It's called Anterior Scoliosis Correction (ASC). And unlike some surgeries, it can be used for people who have extreme curves, in children who are still growing and in adults
So, in a rather dramatic series of events, Julia, now 15, traveled to the United States this past spring for Dr. Antonacci to perform this successful new treatment at Saint Peter's.
Today, Dr. Antonacci and his colleagues continue to provide life-changing care at Saint Peter's for children with serious spine conditions. There, just about every week, a child or teen heads back home—to a town in New Jersey or in countries across the world—to enjoy a life full of pain-free movements and the option to enjoy many more activities than they could have dreamed of before.
To find out more about the Pediatric Scoliosis Program at the Children's Hospital at Saint Peter's University, please call 732.565.5437 or go to SAINTPETERSHCS.COM. To share this article with a friend or to recommend it on your Facebook page, visit CENTRALJERSEYHEALTHANDLIFE.COM.