Incredible Caramelized Pears
One of the easiest things to make, these beautiful caramelized pears make a beautiful dessert, appetizer or side dish.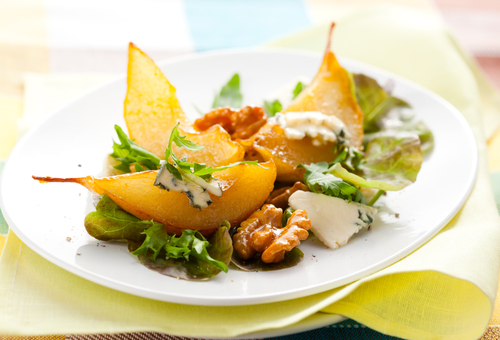 These caramelized pears are easy for even the most inexperienced cooks to make. They also happen to taste incredible. You can use unripe, ripe or overripe pears and adjust your cooking time accordingly. I like using Bartlett and Bosc pears, but you can use any type of pear you wish (except for an Asian apple pear). Pears are in season from late summer until the winter, so these caramelized pears are a perfect food for fall.
Ingredients
4 pears (Bartlett or Bosc), each cored and cut lengthwise into four pieces
1/2 cup granulated sugar, more as needed
2 Tbsp butter
Directions
1 Heat a large skillet over medium-high heat.
2 Coat cut sides of the pears with sugar.
3 Melt butter in skillet and put pears into skillet cut-side down. Turn heat down to medium.
4 Cook for 6-7 minutes, until pears begin to brown.
5 Add 1/2 cup water, cover and simmer until pears are tender (4-8 minutes depending on how ripe the pears are).
Serving Suggestions: How to Eat your Caramelized Pears
Enjoy as a dessert with a dollop of ribiola cheese on top of each pear.
Enjoy as a more decadent dessert with a scoop of vanilla ice cream.
Enjoy in a salad with walnuts and an aromatic blue cheese.
Enjoy as a side dish to any meat, poultry or pork dish.
---
Related Read: Fig Fancy