Irish Shepherd's Pie
A home cook's time-tested recipe from 1947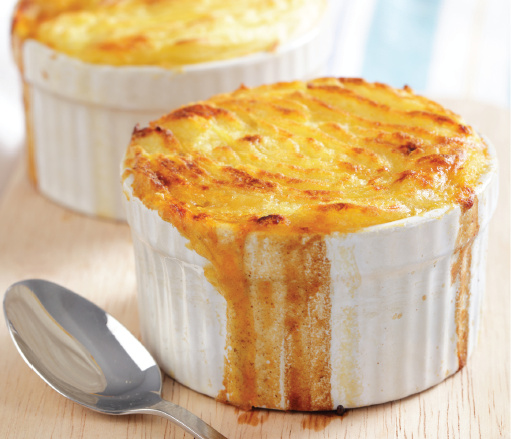 Adapted from At Home on the Range (McSweeney's).
Reprinted with the permission of Elizabeth Gilbert.
INGREDIENTS
2 cups ground and cooked beef, veal or lamb
3 green peppers
3 Tbs. fat
½ cup onion (chopped)
½ green pepper (chopped)
1 Tbs. flour
1 cup gravy
½ cup red wine
2 Tbs. celery (chopped)
1 carrot (chopped)
2½ cups white potatoes
¾ cup milk (heated), plus 2 Tbs.
PREPARATION
Pit and slice three whole green peppers, parboil for 5 minutes and drain.
Lay slices skin-side down with small ends toward the center on a buttered pie pan to create a "crust."
Brown the onion and remaining green pepper in the fat.
Add flour and slowly stir in the gravy and wine and return to a boil.
Add the celery and carrot to the gravy mix along with the ground meat and let simmer for five minutes for the filling.
Add to pie pan while boiling potatoes.
Mash the potatoes, thoroughly beating in the milk, and season generously with salt and pepper and a scrape of onion.
Heap them in peaks on the pie, and dribble 2 more tablespoons of milk over it before you slide it into the oven to bake at 375 degrees for 30 minutes.
Related Read: Grow, Eat and Write with Elizabeth Gilbert