It Pays to Be Screened for Lung Cancer
For eligible ex-smokers, low-dose CT scanning can bring peace of mind.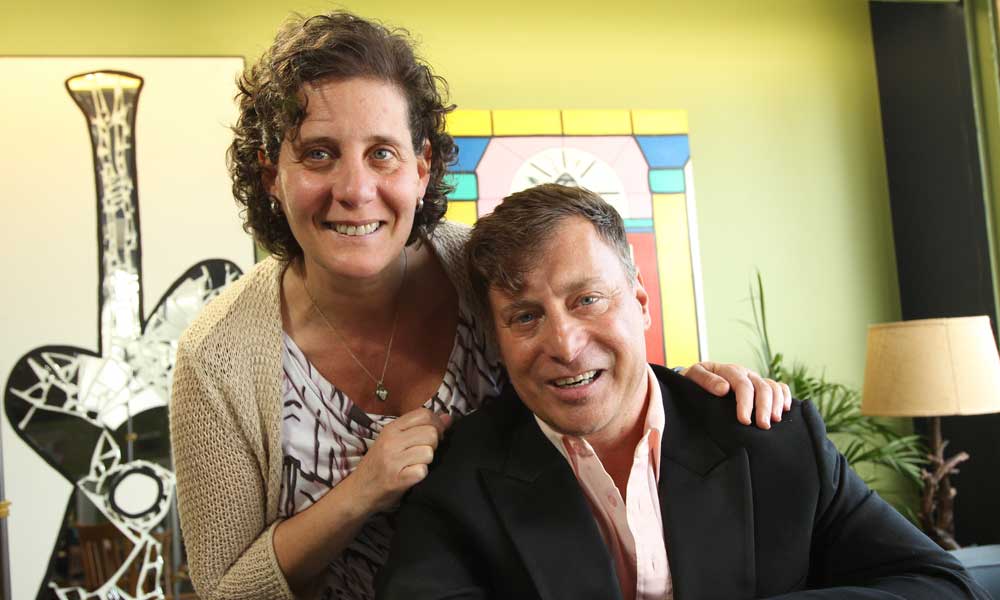 Mark Retacco, 52, of Toms River, and his sister, Monique, 46, a Neptune City resident, are different in many ways. They even spell their surname differently. (For her it's Ritacco.) But they do have two things in common: Their mom was a heavy smoker who died of lung cancer last fall at 76. And they're both former smokers themselves. When it comes to the risk of lung cancer, they have reason to be concerned. That's why lung cancer screening was a good idea for each of them, and having undergone it they're both breathing more easily about their health today.
When the Leon Hess Cancer Center at Monmouth Medical Center launched the Lung Cancer Screening Center program, Mark and Monique jumped at the opportunity to be screened. The program offers two lung cancer screening research studies. Individuals who meet specific criteria may be eligible to participate and receive a low-dose CT [computed tomography] lung scan at no cost.
True, Mark, an artist, initially felt uneasy getting screened because of his personal and family history. (He recalls having asked his mom to stop smoking ever since he was a teenager. And he and Monique also had an aunt who died of lung cancer a year ago.) But while the possibilities were anxiety-provoking, the screening process was easy, comfortable—and ultimately reassuring.
"Monmouth Medical Center's staff was kind and caring throughout the screening," says Mark. Fortunately, results showed his lungs were clear, though they identified a cyst on his liver, which he promptly had checked out. "I felt fantastic knowing my lungs are healthy—especially since I was around a smoker all my life, then a smoker myself," he says.
Monique's scan was mostly clear as well—although a very small spot on her lung was identified, requiring a follow-up with her doctor next year as a precaution. "I highly recommend getting screened," she says, "because if there's something serious going on, you'll have the opportunity to catch it and do something about it. Now, thanks to this screening, I'm aware of the spot on my lung and can make sure it's monitored."
For nearly 50 years, Monmouth Medical Center has broadened its leadership role in oncology services through the ongoing expansion of state-of-the-art programs and technologies offered in many areas of cancer prevention, detection, treatment and ongoing aftercare. Today, its Leon Hess Cancer Center is part of The Penn Cancer Network—a select group of community hospitals in New Jersey, Pennsylvania and Delaware—collaborating with the Abramson Cancer Center at the University of Pennsylvania to provide excellence in patient care throughout the region. Penn's Cancer Network hospitals are recognized for their excellence in patient care and commitment to improving the health and well-being of their community.
Lung cancer screening designation first in region
Monmouth Medical Center is the first hospital in Monmouth and Ocean counties to be designated by the American College of Radiology (ACR ) as a Lung Cancer Screening Center.
The ACR launched the Lung Cancer Screening Designation program last May to recognize facilities committed to providing quality screening care for patients at the highest risk for lung cancer. Facilities applying for this designation must have an active screening program and meet specific equipment, personnel and imaging protocol requirements.
Lung cancer screening with the use of low-dose CT , along with appropriate followup care, significantly reduces lung cancer deaths and is cost-effective compared with other major cancer screening programs. Says Ella Kazerooni, M.D., chair of the ACR Committee on Lung Cancer Screening: "Lung cancer screening in patients at high risk of acquiring the disease is the most effective way to identify tumors and reduce lung cancer deaths."
Speedier care comes to the E.R.
Monmouth Medical Center recently installed a 64-slice CT scanner—which gives physicians the ability to see more anatomical detail in only a fraction of the time—in its Emergency Department to provide quicker, more convenient imaging for emergency patients.
"Multi-slice scanners, including the latest generation of 64-slice scanners, provide for a rapid and comprehensive assessment of patients and are a valuable tool in the evaluation of stroke patients," says Richard Ruchman, M.D., chairman of Radiology at Monmouth.
Monmouth Medical Center offers a Stroke Center that provides the highest level of patient care through a multidisciplinary approach that encompasses acute stroke management and long-term rehabilitation. The center is committed to providing an integrative plan of care for stroke patients and a seamless delivery of the best possible care.
"Once a stroke occurs, time matters," says Victor Almeida, D.O., chairman of Emergency Medicine at Monmouth. "The faster a patient can be evaluated and we can begin treatment, the better the outcome may be. This 64-slice CT offers us, right here in the ED, the speed and image resolution required for rapid examination of the blood vessels in the brain, enabling physicians to make a quick diagnosis of stroke and determine the extent of the damage."
Monmouth Medical Center originally introduced the technology of 64-slice CT imaging in 2008 and has added the additional 64-slice CT to its Emergency Department to ensure that the most expansive diagnostic technology is immediately available to its ER patients. The unit was purchased with funding from Monmouth Medical Center Foundation, the hospital's fund-raising arm.
Requiring little more than an injection of X-ray contrast through an IV placed in the arm, the speed and resolution of 64-slice CT angiography allow physicians to view even the smallest of arteries in the brain, heart and peripheral vascular system. At Monmouth Medical Center, patients undergoing CT exams have the added confidence of knowing that they are getting the best possible image with the smallest possible radiation dose. In 2012, Monmouth Medical Center received CT accreditation from the American College of Radiology (ACR) with zero deficiencies.
"The ACR added new stipulations in 2011 to lower radiation doses," says Thomas Piccoli, DABR, chief imaging physicist/RSO, Monmouth Medical Center. "Its goal in implementing these new standards is to award accreditation only to those facilities that can capture the best clinical images possible with the smallest radiation dose."
Monmouth's Cline/D'onofrio Emergency Services Pavilion is led by a team of board-certified emergency medicine physicians and consistently is ranked among the top 10 ER s in the state and among the top 10 percent in the nation for patient satisfaction. Monmouth's Emergency Department offers comprehensive care to the acutely and chronically ill and handles more than 46,000 annual visits.
To learn more about the lung cancer screening program at Monmouth Medical Center or to find out if you are a candidate, visit mmccancer.com or call 732.923.7966.
To learn more about Radiology or Emergency Medicine services at Monmouth Medical Center, visit barnabashealth.org/monmouth.