It Takes a Village
Donations from the community provide support for Monmouth Medical Center services.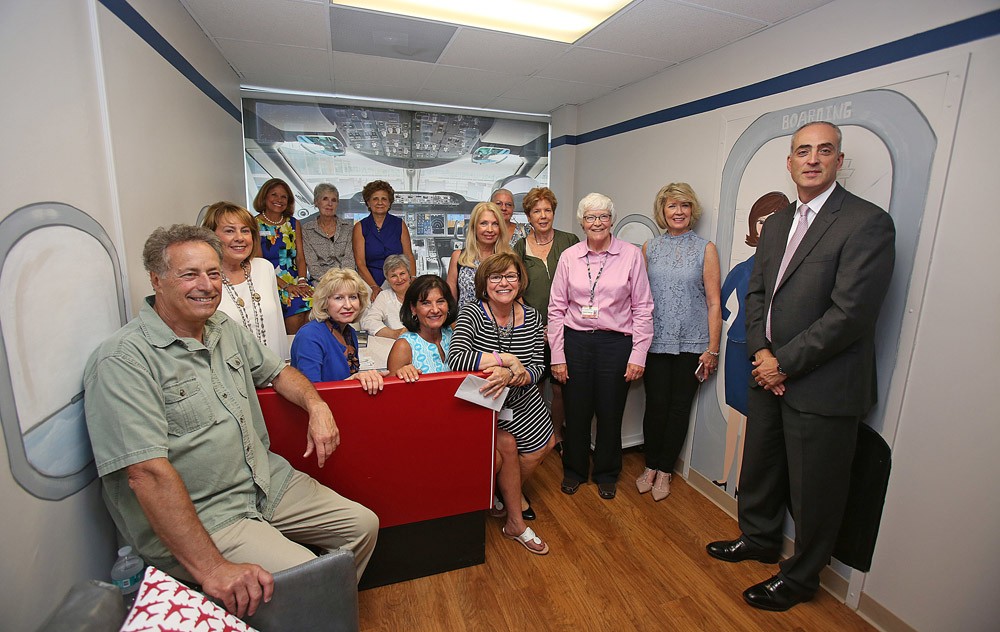 Monmouth Medical Center is known for providing safe, evidence-based health care, but it's also frequently recognized for the staff's compassionate care and support for all patients. The hospital was recently the recipient of two gifts that will help it provide the best for families of the youngest patients.
The Levis
For parents, parting with a stillborn baby is the first step in a long and difficult grieving process. Thanks to the generosity of Jennifer and Matt Levi, who suffered the loss of two newborns in six months, that journey has been made a bit easier for parents coping with a stillborn.
The Tinton Falls couple recently donated a Cuddle Cot to Monmouth Medical Center in honor of their daughter Helen Rose, who was delivered at the hospital this past April at 16 weeks gestation. The special cooling device preserves a stillborn baby's body in a bassinet or crib, giving grieving parents extra time to spend with their infant. About 24,000 babies are delivered stillborn in the United States every year. When not kept cold, stillborn babies' bodies quickly begin to deteriorate after delivery.
Developed in the U.K., the Cuddle Cot was brought to the U.S in 2013 and has been recognized as significantly helping parents who suffer the loss of a baby by giving the family the option of spending time with the infant. Extra time is internationally encouraged by midwives, bereavement practitioners, stillbirth/neonatal charities and academics, as it allows the family to form an important bond with their baby.
"By donating this Cuddle Cot to Monmouth Medical Center in honor of Helen Rose, we hope that it will ease the pain of families grieving the loss of a baby," said Jennifer, who also had a full-term stillborn son, Connor, in October at another area hospital. "This unit will give parents the gift of time in the best way possible before having to give their babies that last hug and kiss goodbye."
A silver plaque has been affixed to Monmouth Medical Center's device. An inscription engraved on the plaque reads: "There is no footprint so small that it cannot leave an imprint on this world."
Sheryl Dwyer, the bereavement support nurse for Labor and Delivery at Monmouth Medical Center, thanked the Levis for their generosity, strength and resilience, noting that their gift will absolutely help future grieving parents and families.
Jennifer and Matt Levi (far right) recently donated the Cuddle Cot cooling system to Monmouth Medical Center. Also pictured, at left: Suzanne Spernal, clinical director of Obstetric Services at MMC, and Sheryl Dwyer, bereavement support nurse for Labor and Delivery.
Clipped Wings
Monmouth Medical Center recently hosted a dedication ceremony for a new "First-Class Lounge" for patients and their families. The space was designed and funded by the local chapter of Clipped Wings, a national organization formed in Chicago in 1941 by a former flight attendant as a way to maintain airline friendships and to support various charities. The organization's Newark chapter raises money for the Valerie Fund Children's Center for Cancer and Blood Disorders at Monmouth Medical Center's Unterberg Children's Hospital. Money raised through its annual Comedy Night was used to create the lounge.
"The area is truly first class, as the space is designed like the first class section of a luxury jetliner to allow children and their parents to relax and take a break while spending time at the Valerie Center," says Eric Carney, chief operating officer for Monmouth Medical Center. "It is really clever and so fitting coming from an organization comprised of retired airline attendants."
The room features a dramatic window screen that simulates the controls of an airplane cockpit, allowing patients to take a break from treatment to watch a movie or play a game while their parents enjoy a cup of coffee and snack. The organization will continue to stock the refreshments and other supplies. Flooring for the lounge was donated by Fromkin Brothers, a family-owned architectural finishing company with a history of support for Monmouth Medical Center oncology patients.
"We often say it takes a village to meet the needs of the children of our community, and this is a perfect example of that," Carney says.
To learn more about supporting The Valerie Fund Children's Center, call 732.923.6886.
For more information about Monmouth Medical Center, call at 732.222.5200. To share this article with a friend or to recommend it on your Facebook page, visit monmouthhealthandlife.com