Italian Indulgence
Bistro positano, a chic, casual Italian eatery on the main drag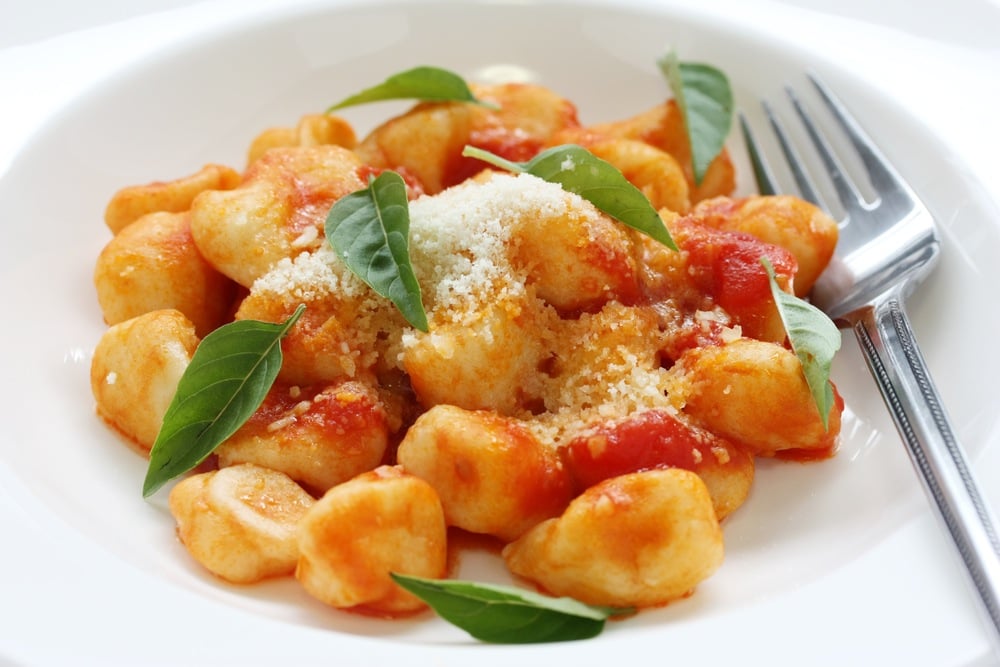 It was, perhaps, the most perfect evening of the year to dine outside. a rare break in summer's blistering heat wave meant that downtown Freehold was bustling this Saturday night, with locals ambling along sidewalks and a guitar player serenading a content audience. We strolled through the crowd on our way to Bistro positano, a chic, casual Italian eatery on the main drag. Inside, the dining room was done up in warm umbers and golds, with dark wood tables, tiled floors and several open French doors. But since we too were eager to enjoy the balmy air, we happily chose seats on the red brick patio instead.
The swift presentation of complimentary bruschetta only heightened our merry mood (also enhanced, we admit, by the wine we had toted along). It was a tasty concoction, with a sweet tang courtesy of some good balsamic. We nibbled as we made our selections, which began with the impressively presented bistro salad. Long strips of cucumber served as a fence of sorts—bundled around a fresh tangle of tender greens topped with a colorful array of sliced mango, red onion and a drizzle of vinaigrette (just a tad heavier on the vinegar than we'd have preferred).
Also striking to behold were the shrimp dumplings—one of several asian touches on the menu. Set atop a bistro salad–like bed of greens, mango and onion, the ample pillows were sprinkled with crispy rice noodles and complemented by three savory dressings. while these accoutrements were delightful, the dumplings themselves were somewhat light on actual shrimp—certainly palatable, but not as stunning a dish as the presentation implied. the eggplant rollantini was enjoyable, however, if fairly standard.
We were unsure what to expect from our first entrée, the crab-crusted mahi mahi, so our hearts did a happy leap when the staggering tower emerged. the foundation was a mound of lobster mashed potatoes (fair warning: the "lobster" comes from a bisque-like sauce ladled on top, not from chunks whipped into the spuds). Next was a Jenga-like jumble of julienne veggies, all topped by the seafood star. But even that held a surprise: the crab "crust" was a thick, zesty, crab cake–like layer molded atop the delicate fish. shavings of fresh ginger and more rice noodles crowned the presentation. we might quibble that the crab slightly overshadowed the milder mahi mahi, but the overall combination of flavors was divine.
We knew we would not be eating light when we ordered the gnocchi pomodoro, but were hardly prepared for the decadence that arrived. a so-called cream sauce was, we're guessing, more butter than anything else, and so wonderfully indulgent that we gave a little sigh of guilt-filled pleasure on the first bite. the gnocchi themselves were nicely fluffy, while diced tomatoes and bits of spinach added colorful relief and welcome flavor contrast. Still, it took only a few bites for butter to become the dominant flavor, after which we decided we had indulged enough.
For dessert, the chocolate addiction was everything you could hope for: warm cake with a nice ganache accented with a creamy vanilla gelato. But our favored finisher was the ginger-infused crème brûlée: sweet with a pleasant, spicy bite, it was the perfect end to a lovely meal, and a nice prelude to the idyllic after-dinner stroll that awaited us.
BISTRO POSITANO
30 East Main Street, Freehold,
732-294-1112; www.bistro1.com
HOURS
Lunch: Monday through Friday, 11:30 a.m.–3 p.m.
Dinner: Monday through Thursday, 4:30–10 p.m.; Friday and Saturday, 4:30–11 p.m.; Sunday, 1–9 p.m.

WHAT YOU SHOULD KNOW
Entrées range from $13 to $25
BYOB
Handicapped accessible
Major credit cards accepted