Italian Opulence at the Glenmere Mansion
It's just a short drive away, but this boutique hotel will make you feel you are in the hills of Tuscany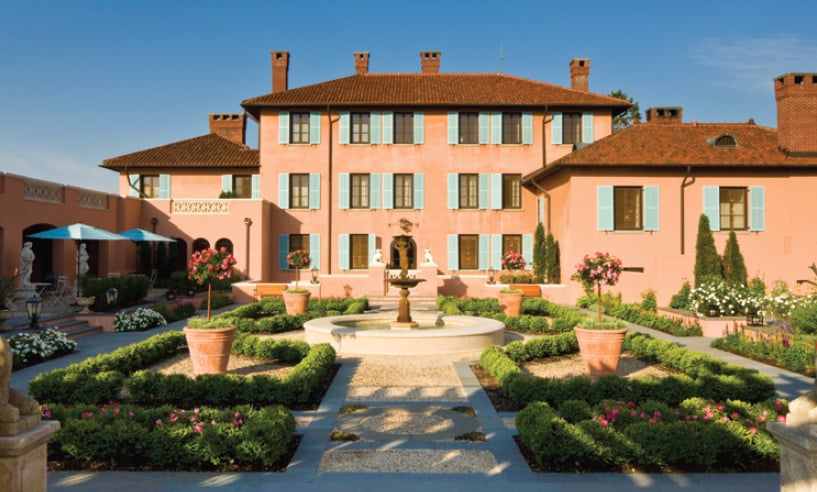 "Be careful what you wish for," say former public relations executive Alan Stenberg and his partner, orthopedic surgeon Dan DeSimone. One Sunday a few years ago, while DeSimone was driving around the countryside of Orange County, New York, he came upon a gorgeous Italianate villa, Glenmere Mansion, which had fallen into disrepair. He immediately wanted to save the property but needed some type of business venture to support its rebirth. An inn seemed the most logical answer, and DeSimone recalls saying: "I am a surgeon—how hard could it be to open a small hotel?"
Today, he sells needlepoint pillows embroidered with those innocent words. It turns out that the challenge was tougher than it seemed. But DeSimone's passion for cooking and the couple's shared love of travel, entertaining and restoring old houses made it the perfect challenge nonetheless.
After purchasing the 150-acre estate in 2006, they endured a grueling four-year renovation and opened in January 2010, swiftly earning inclusion in the prestigious Relais & Chateaux association of luxury hotel and dining properties worldwide. "Glenmere is truly the almost-lost jewel of Orange County and the Hudson Valley," says Stenberg. "It represents the Gilded Age—pure extravagance and all that money could buy in 1911, from the fabulously wealthy Goelet family of New York City."
The proprietors invited my husband and me up for a night to experience the property, including the new Spa at Glenmere (opened this year), an 8,000-square-foot facility complete with a hammam (Turkish bath), the latest craze in spa offerings. When we arrived in front of this 18-room villa, we felt immediately transported to Tuscany. We were greeted by Stenberg himself and were escorted through the grand, stone floor hallways to our room, which was perfectly appointed with a mix of antiques and new furnishings, complete with a window seat overlooking the formal parterre gardens and broad lawns that spread down to the gorgeous Glenmere Lake.
We then set out to explore the rest of the mansion. Surrounding the sunny, marble-pillared cortile are the lavish public rooms, including the Supper Room, where we enjoyed an excellent formal dinner made with organic and locally sourced ingredients. There is no shortage of activities at Glenmere: tennis and bocce courts, a championship croquet court, a fitness center, a heated outdoor pool and numerous walking trails.
Next up: our spa treatments. We started in the herbal steam room in the opulent hammam, a Middle East–inspired, Carrara-marble-clad room. We lay down side-by-side on the heated belly stone for our Turkish Soap Massage, which featured moisturizing Castile soap and handmade kessa exfoliating mitts. The spa attachés poured warm water down our bodies, then created a luxurious bubble scrub, making mountains of suds that completely covered us. The continually popping and effervescent bubble mountains were the ultimate in relaxation, as was the massage that came next. At Glenmere, no detail is missed, yet nothing feels pretentious. It's like visiting your wealthy uncle in Europe: Everything is comfortable and inviting.
Related Read: Visit Revel, at the New and Improved Atlantic City