It's Still a Kick
At first she wondered if being a Rockette would really rock. Seventeen years in, she loves it.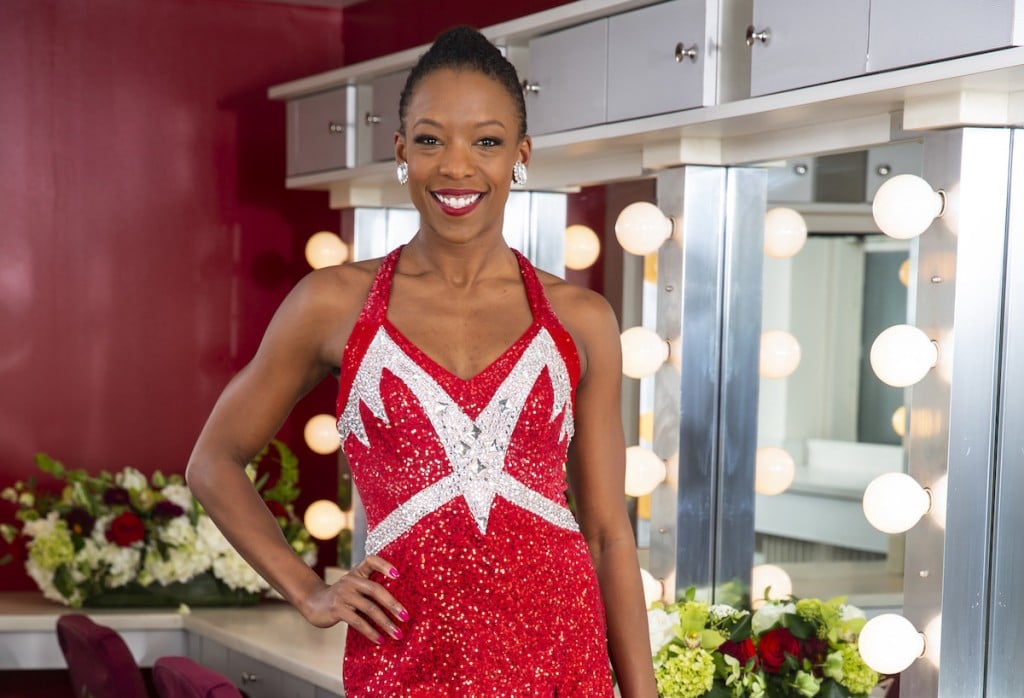 You can't guarantee fresh-fallen snow or that special something under the tree, but you can count on the Radio City Rockettes to sky-highkick it when the curtain rises on the 2022 Christmas Spectacular. That kick is as iconic as the Rockettes, and they've been Radio City Music Hall's sweethearts since the 1930s. 
So seamless is their precise movement in unison, it hides all the grueling hours of practice and the technical skill and discipline that make it possible for the 36 individual dancers in each show to move as one. These masters of coordination make it all look easy. 
And that's what almost deterred Danelle Morgan, a 37-year-old Morristown resident, from trying out for the Rockettes nearly 20 years ago. Although she admired her dance teacher (who happened to be a Rockette), Morgan early on wanted more of a challenge—or so she thought. Radio City "wasn't necessarily on my radar as far as what I wanted to do with my career," says Morgan, a Highland Park native who dreamed of concert dance. 
The illusion of simplicity persisted until the Rockettes did a workshop at The Ailey School– Fordham University in New York City, where Morgan was pursuing her bachelor of fine arts degree. Then she came to realize how much skill it really took to be a Rockette. Not only are the kicks "super difficult to execute," she explains, but the show itself "requires a lot of stamina, focus and teamwork." Multiply it all by four—the shows each dancer may perform daily—and then factor in "very intense" rehearsals. Whew! 
"We do it with a smile but—it's really difficult," she says. "It's a big challenge for me, and I fell in love with the challenge." She's quick to add that the job lets her "play dressup" and perform in one of the greatest shows of all time. 
After that pivotal workshop, it was with eyes wide open that Morgan found herself auditioning for the Rockettes. The third time was a charm, and Morgan joined the lineup in 2005. What kept her trying was the encouragement she received.
"In most auditions, you're a number and a pin. But what I loved about this audition was that they called us by name," she says. "And every time I learned a little more, made it a little further in the audition," she says. 
Today, with the Rockettes' emphasis on diversity through Rockettes Conservatory, there are even more opportunities for dancers. And the 5-foot-6 minimum height requirement has been relaxed by an inch, as Morgan explains, so the troupe doesn't miss out on many talented, though slightly shorter, dancers. 
Like every Rockette, Morgan must audition annually. But she takes it in stride. "What I love about being a Rockette is that here I am, 17 years in, and I will be sharing the stage with someone who is in her first year," she says. "It brings me back to those first memories and the excitement." 
Morgan has come a long way since she donned her first dance shoes at age 4. As a Rockette she's performed for President Barack Obama, TV personality Oprah Winfrey and other giants, and in the Macy's Thanksgiving Day Parade. As with any live performance, there is always the unexpected. And yes, Morgan has danced with a smile through her share of surprises, both bad and wonderful. 
"With live theater," she explains, "things are bound to go wrong. Whether it's a choreographic mistake, earrings flying off, shoes breaking—it's honestly pretty hard for the audience to notice since we handle it so seamlessly. Our goal is truly to give every audience the best show we can possibly give them." 
Her most thrilling moment on stage came after the fourth show in an exhausting day when she detected a super loud "YEAH!" coming from the audience after "Sleigh Ride," the Christmas Spectacular's first scene, and she quickly identified the source. "Now, the only person I know who screams 'YEAH!' at the end of every scene is my dad," she says. "I look into the audience as we begin the exit for 'Sleigh Ride' and who do I see? Mom and Dad in the front row! That show of love and support was just so incredibly special." 
This season she keeps striving to do her best, not only as dance captain and assistant choreographer, but as a "swing"—someone who's able to fill in for any dancer on a moment's notice. The show must go on, after all. 
Charts guide every dancer's path, enabling swings to leap into action when they're needed. "It's a really cool puzzle," Morgan says. Through it all, she's discovered the importance of "balance, where we really take care of our bodies" with Pilates and crosstraining to withstand the show's physical demands, she explains. 
For Morgan, the magic of performing makes the effort worthwhile. "There's nothing like getting a standing ovation or hearing the orchestra playing at the start of a show—and then the curtain goes up." 
When the curtain has come down again and it's just Morgan, her husband and Lula, (their spaniel), she finds herself discovering life in Morristown, where they just bought a house. "It suited our lifestyles," she says of the town. (Of course she especially likes the train to NYC.) 
The Rockettes will kick it up for the Christmas Spectacular from Nov. 18 through Jan. 2, with tickets now on sale.