Jason M. Auerbach, D.D.S. • Sung Hee Cho, D.D.S., M.D. • Ronald Federman, D.D.S.
Riverside Oral Surgery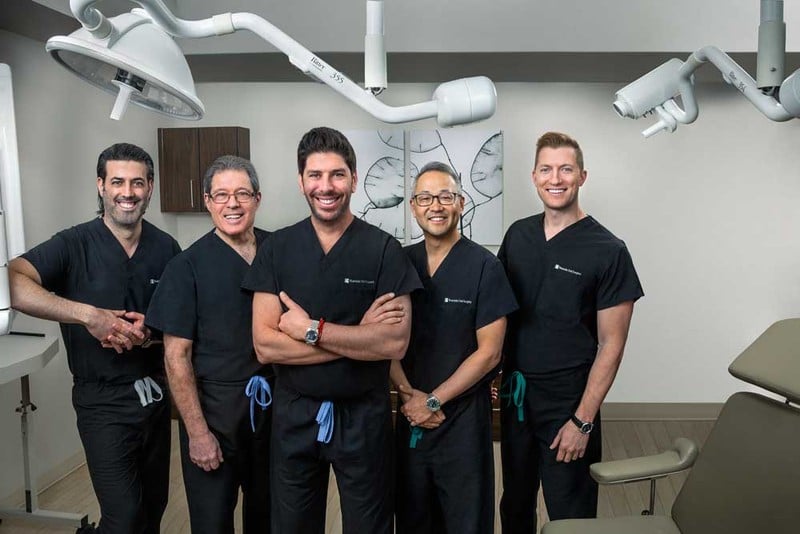 PUTTING PATIENTS AT EASE COMES naturally for Dr. Jason Auerbach, Dr. Sung Hee Cho and their team of surgeons, including Dr. Ronald Federman, Dr. Shawn Lynn, and Dr. Justin Messina. The entire staff at Riverside Oral Surgery offers extraordinarily empathetic care to each and every patient who walks through the doors, whether it's for a routine dental implant surgery or wisdom tooth removal to high-level corrective jaw surgery or treatment of oral pathology. As oral and maxillofacial surgeons, all of Riverside Oral Surgery's specialists have many additional years of hospital-based surgical and anesthesia training that has culminated in a practice that offers the full scope of leading edge treatments with standards that consistently exceed patients' expectations.
Riverside Oral Surgery's offices focus on creating the optimal patient experience, including the latest high-definition, 3D scanning and imaging tectinology to accurately diagnose patients, along with the safest anesthesia options available. Advances in technology, such as "bladeless" implant surgery, state-of-the-art wisdom tooth extraction and minimally invasive bone grafting, have become the standard of care in this practice. Their advanced surgical facilities feature fully equipped surgical suites with separate recovery areas, and an aesthetics center for facial cosmetic procedures housed at the River Edge office. Riverside Oral Surgery also offers sameday full mouth implant-based restorations. With the opening of their Englewood office in October of 2017, Riverside Oral Surgery marked their 10th anniversary by creating the most state-of-the-art oral and maxillofacial surgical office Bergen County has ever seen.
Dr. Auerbach, a graduate of NYU College of Dentistry, is dually board certified by the American Board of Oral and Maxillofacial Surgery and the National Dental Board of Anesthesiology and consistently recognized as a leader in his field. Dr. Cho, a graduate of Columbia University's College of Dental Medicine, is also a board certified dual-degree Oral and Maxillofaciai Surgeon trained and licensed as both a dentist and a medical doctor. Dr. Federman is a board certified surgeon who has been a pillar in the Bergen County dental community for over 40 years. Referring doctors and dentists trust the surgeons at Riverside Oral Surgery to provide the most positive experiences, exceptional skills and uncompromised results for their patients.
130 Kinderkamack Rd., Suite 204, River Edge, NJ 07661 • 201.487.6565
333 Old Hook Rd., Suite 100, Westwood, NJ 07675 • 201.664.23245
300 Grand Ave., Suite 102, Englewood, NJ 07631 • 201.487.6565