John A. Goncalves, M.D., FACS, FAAC
The Valley Heart and Vascular Institute (HVI)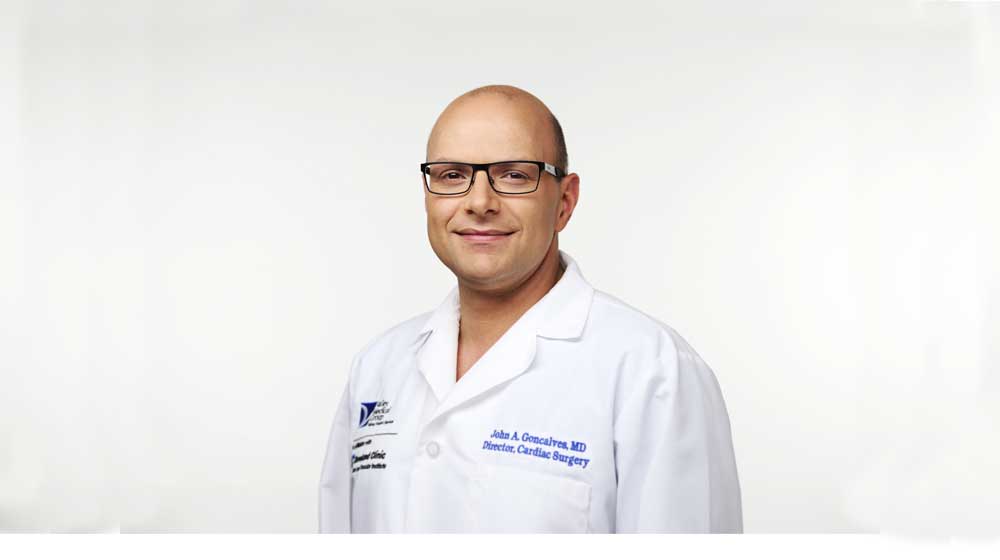 CARDIAC SURGERY HAS UNDERGONE a dramatic transformation in the past five years and Dr. John Goncalves and Valley Health System are leaders in the evolution. "Not all cardiac surgery is the same and Valley's program is truly cutting edge," says Dr. Goncalves, a cardiac surgeon with double board certification from the American Board of Surgery and the American Board of Thoracic Surgery. Dr. Goncalves has extensive experience in performing complex aortic operations and treating patients with advanced aortic pathology and valvular heart disease. "We perform the majority of our cardiac surgeries without blood transfusion and our use of arterial conduits far exceeds The Society of Thoracic Surgeons' benchmarks."
Valley is also proud to have been chosen as a cardiac affiliate of the Cleveland Clinic, the No. 1 heart hospital in the country.
It takes a multidisciplinary team approach to accomplish such an impressive list of successes. "The old paradigm wherein cardiologists, invasive cardiologists and cardiac surgeons work separately to care for patients is fading," explains Dr. Goncalves. "Valley's rapidly advancing Cardiac Program expertly joins cardiac and surgical skill sets to improve processes and outcomes." The cardiac department's Advanced Support Team, which cares for patients sffering from extensively damaged hearts, exemplifies Dr. Goncalves' multidisciplinary approach to care.
VALLEY'S CARDIAC SURGEONS (from left to right): Mariano Brizzio, M.D.; John Goncalves, M.D., FACS, FAAC, Director, Department of Cardiac Surgery, and Surgical Director, Transcatheter Valve Program, The Valley Heart and Vascular Institute; and Alex Zapolanski, M.D., FACC, FACS, Director, Valley/Cleveland Clinic National Network
Other key achievements include Valley's expanded Thoracic Aneurysm Surveillance Program, which offers patients complex treatment modalities including hybrid approaches incorporating conventional surgery and thoracic stent grafts. Valley also has one of the state's highest volume transcatheter aortic valve replacement (TAVR) programs. "Myriad hybrid cardiac procedures, such as TAVR, have developed through cross-disciplinary partnerships," Dr. Goncalves explains. As an initial adopter of this technology, Dr. Goncalves has performed approximately 1,200 TAVRs since its FDA approval in November 2011.
Dr. Goncalves also believes in the clinical importance of cardiac trials. He was a principle investigator in the PARTNER II Intermediate Risk Trial, SURTAVI Intermediate Risk Trial, REPRISE Trial and the PARTNER III Low-Risk Trial. He currently serves as the principle investigator on the MedSTAR Low-Risk TAVR Trial. "My dedication to clinical research helps to advance this technology and provides our patients with early access to new procedures and technologies," he explains. "This, coupled with my extensive experience and hybrid training as a cardiac surgeon with advanced catheter skills, enables me to train other physicians worldwide to perform TAVR."
Dr. Goncalves' journey into the field began the day he saw a cardiac surgeon holding a patient's heart. "There is no greater honor than to mend a patient's heart," he says. "Patients place an enormous amount of trust in their cardiac surgeon. I take this trust very seriously and it drives me to provide excellent, compassionate care to my patients and to adopt new therapies and technologies."
ABOUT DR. GONCALVES:
Dr. Goncalves is a graduate of Albany Medical College. He completed his residency in general surgery and a research fellowship in medicine and surgery at New York-Presbyterian/Weill Cornell Medical Center, where he served as chief resident. He completed fellowships in cardiothoracic surgery at Memorial Sloan Kettering Cancer Center and New York-Presbyterian Hospital/Weill Cornell Medical Center. He is a fellow of the American College of Surgeons, American Academy of Cardiology and the American College of Cardiology. He is also an active member of the Society of Thoracic Surgeons and the American Heart Association.
223 N. Van Dien Ave., Ridgewood, NJ 07450 • 201.447.8377 • ValleyMedicalGroup.com/Cardiology