JOHN R. KUKUCKA, D.M.D.
MONMOUTH OCEAN PERIODONTICS AND DENTAL IMPLANTS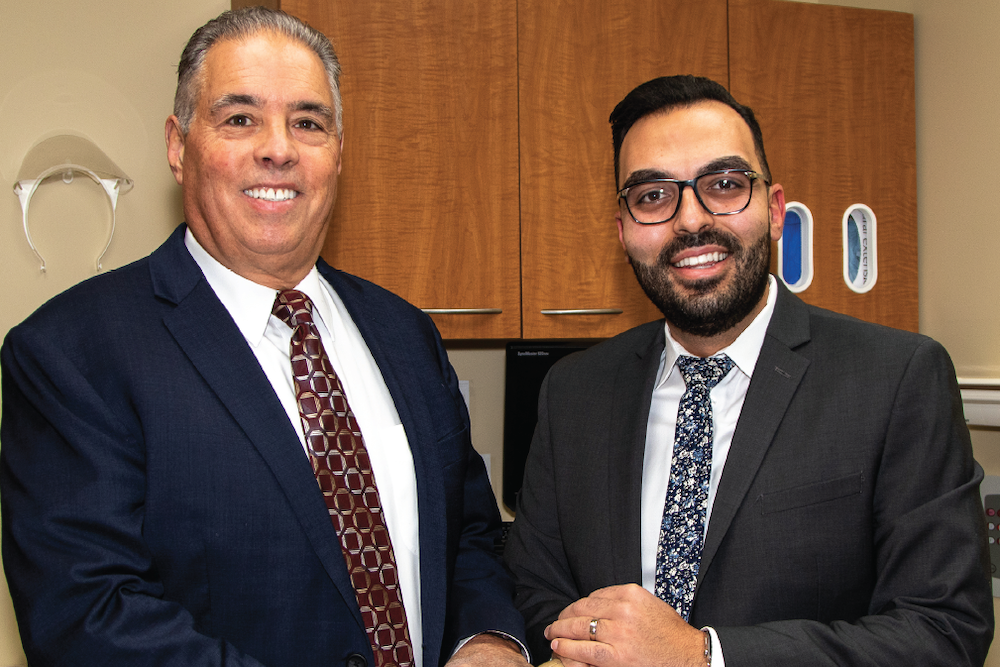 DR. JOHN KUKUCKA SPECIALIZES IN SURGICAL and non-surgical treatment of periodontal diseases, and he does everything in his power to keep patients comfortable and informed. As a result, his patients experience optimal results that last a lifetime. For Dr. Kukucka, his reward is restoring a patient's periodontal health, whether it's by saving their natural teeth, or replacing missing, painful, or diseased teeth with attractive, quality and functional dental implants. Dr. Andrew Andrawis (above right) joined his practice 2 years ago.
As a periodontal specialist with over 35 years of experience, Dr. Kukucka understands the importance of offering patients treatment options of various costs. He does, however, believe it's in a patient's best interest to use only top quality dental implants. He prefers using Swiss-made Straumann implants, considered the industry's gold standard with a patented construction that guarantees natural beauty, strength and a lifetime warranty. "Patients need to be aware that there are hundreds of lower quality implant brands that may have higher incidents of breakage," Dr. Kukucka cautions. When necessary, Dr. Kukucka treats gum disease by helping patients regenerate lost bone so implants can be placed. He also treats patients with severe gum recession with grafting of skin.
Dr. Kukucka is currently head of periodontics at Hackensack Meridian Health Jersey Shore University Medical Center where he teaches residents and provides dental surgery for patients in need. He's also the past president of the Monmouth-Ocean County Dental Society and the New Jersey Society of Periodontists. He serves on New Jersey Dental Association's peer review committee for periodontics. Dr. Kukucka is a graduate of Bucknell University, Fairleigh Dickinson University School of Dentistry and received his periodontal surgical specialty training at The Ohio State University College of Dentistry. He participates in Donated Dental Services for people with financial, physical or mental disabilities, and for many years has served as a trustee of the Monmouth-Ocean County Dental Society.
2605 Route 35, Manasquan, NJ 08736 • 732.223.6000
848 W. Bay Ave., Bldg. B, Barnegat, NJ 08005 • 609.698.5200
saveteethnj.com