Joseph DiFazio, D.M.D., FACP, FAAMP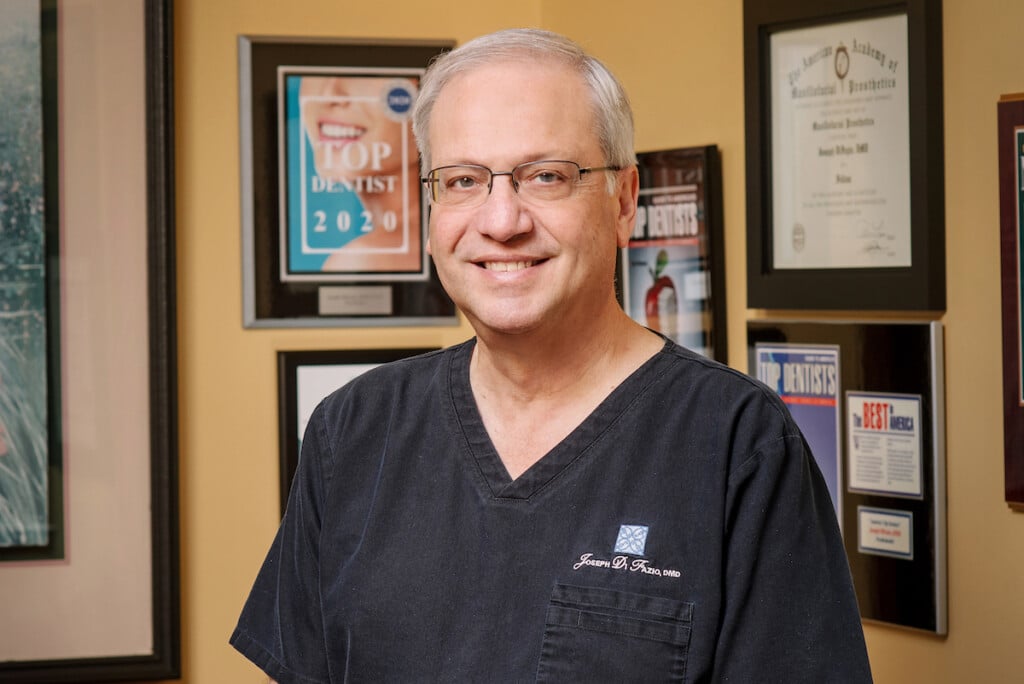 107 Monmouth Road, Suite 101, West Long Branch, NJ 07764 • 732.542.0011
My specialty is your smile. That is what being a prosthodontist is all about for Dr. Joseph DiFazio. His experience in prosthodontics remains unsurpassed as Dr. DiFazio has restored smiles for over 40 years. Not only is Dr. DiFazio one of roughly 350 maxillofacial prosthodontists worldwide, but he is also one of the few board-certified prosthodontists in the country and the only Diplomate of the American Board of Prosthodontics in the Monmouth/Ocean County area. He's also a Fellow of the American College of Prosthodontists and The American Academy of Maxillofacial Prosthetics.
Born and raised in Monmouth County, Dr. DiFazio graduated with honors from the Rutgers School of Dental Medicine. He then served as a Lieutenant in the United States Navy Dental Corps at Parris Island, South Carolina, where his passion for prosthodontics was born. Dr. DiFazio continued his studies at the Memorial Sloan-Kettering Cancer Center in New York. Upon finishing, he returned home to open his prosthodontic practice and accept a clinical faculty position at Rutgers School of Dental Medicine, where he continues to teach graduate prosthodontics.
After decades in practice, Dr. DiFazio has taught advanced skills to thousands of dentists around the country and abroad. In 1984, Dr. DiFazio performed Monmouth County's first implant, and he remains in the lead in dental implantology offering restorative implants, crowns, dental bridges, dentures, and specialized prosthetic care to patients with medical-related, acquired, traumatic, congenital, and developmental facial defects.
Dr. DiFazio is consistently recognized for his outstanding service. He was honored with the Private Practice Prosthodontist Award in 2020 by the American College of Prosthodontists and is repeatedly named as a Top Dentist (Prosthodontist) by NJ Magazine and as one of America's Top Dentists (Prosthodontist) by the Consumers' Research Council of America.
Meet Dr. DiFazio and find out why his patients comment that he always has their best interests at heart when it comes to treatment.