JOSEPH M. DALBON, D.M.D.
The New Jersey Center for Laser and Cosmetic Dentistry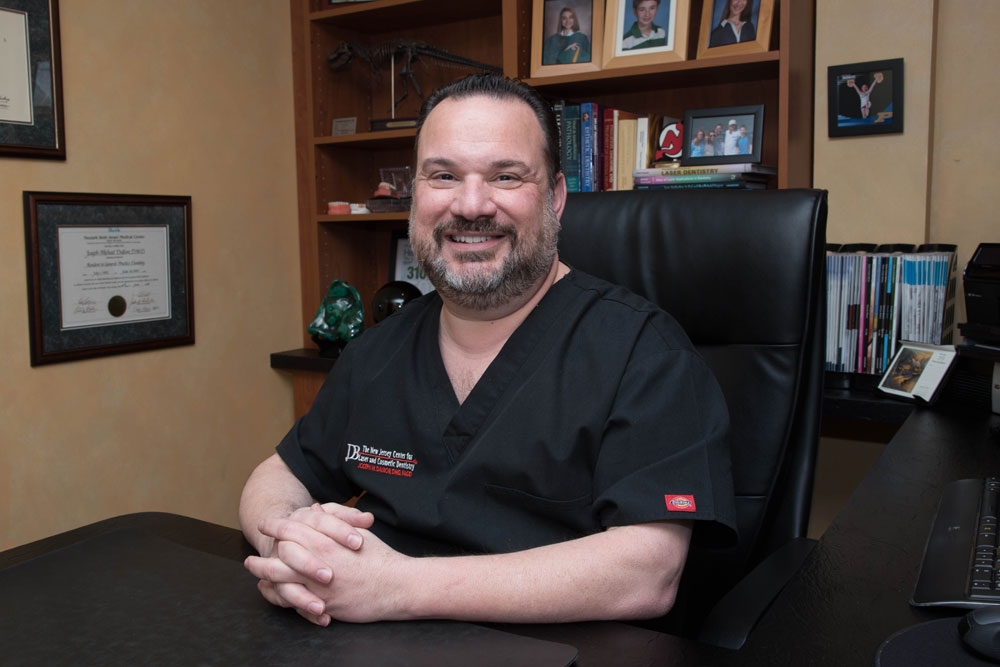 LASER TECHNOLOGY opens up a new, stress-free level of dentistry. Dr. Joseph DalBon is one of the only dentists in New Jersey who is extensively skilled at using a combination of dental lasers to achieve an optimal outcome and comfortable treatments. "I typically don't need to give a numbing injection or use a drill to restore a cavity," Dr. DalBon says. "I haven't given a child a needle to fill a cavity since I began using laser almost ten years ago." Because of his advanced expertise in laser dentistry, Dr. DalBon trains dentists to use the technology. He is also one of a handful of dentists in the state who has been awarded a Fellowship from The Academy of Laser Dentistry. Dentistry has evolved in the last 15 years, Dr. DalBon adds, "From laser dentistry to digital scanning, we've replaced the dreaded goopy dental impressions, and also offers us the ability to give people new teeth in a day." Dr. DalBon utilizes various wavelength lasers including Er:YAG, Nd:YAG and CO2, "Cold" lasers to heal damaged tissue and a laser cavity detector to diagnose decay. "I use lasers for gentle gum treatment for my patients with moderate to advanced gum disease so they don't need to go to a periodontist to have their gums cut open. Lasers also aid me in root canals and oral surgery."
During every exam, Dr. DalBon uses the OralID system to detect fast growing inflammatory, pre-cancerous or cancerous lesions invisible to the eye. "It's done at no charge because I never want a patient to skip this critical exam because they couldn't afford it or it's not covered by insurance," says Dr. DalBon. Among his many educational achievements, Dr. DalBon has trained in neuromuscular and advanced restorative dentistry at the prestigious Las Vegas Institute. He is also currently obtaining a Masters in the Academy of General Dentistry, an award granted to less than one percent of dentists worldwide.
1019 Bloomfield Ave., Ste. 1A & 1B, West Caldwell, NJ 07006 • 973.244.2424 • drdalbon.com