Kai Yang
Get a true Thai taste at this Montclair eatery.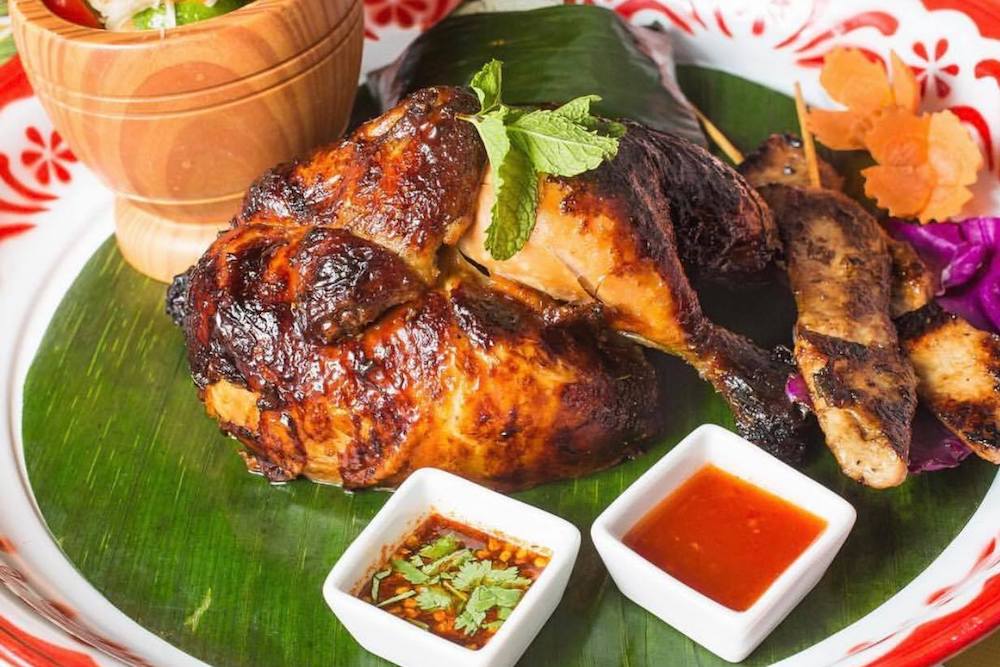 NOT ALL THAI FOOD IS CREATED equal—just ask Gordon Ramsay. When the celebrity chef got chewed out some eight years ago for plating sub-par pad thai, the world found out just how hard it can be to prep topflight Asian cuisine. Perhaps Ramsay could've taken a hint from Sheree Sarabhaya, executive chef and owner of Kai Yang, which recently opened a stone's throw away from the Wellmont Theater in Montclair. Sarabhaya is no stranger to Thai food and the area's culinary landscape: She owns Boon Thai Kitchen in Livingston and operated the highly-popular Spice II in the township until it closed last year. But, as Ramsay can attest, you can't get by on reputation alone.
My friend and I recently gave Kai Yang a try and were quickly excited by the vibrant décor, from the wall and ceiling fixtures to the bright, floral tabletops. The menu boasted all the usual suspects found in a Thai restaurant in the states: soup, fried rice, stir fry, curry and, of course, pad thai. To start, we ordered a pair of sweet Thai iced teas to drink with our two appetizers, vegetarian spring rolls and chicken dumplings. Unlike Chinese egg rolls but similar to Vietnamese spring rolls, Thai chefs fill their fresh (not fried) veggie rolls with soft glass noodles, which provide a smooth, silky texture with each bite. My friend went the unconventional route and deconstructed her roll to enjoy the components individually, spooning a bit of plum dipping sauce onto the ingredients for extra zest. We filled up on more carbs with the dumplings, four bite-size pouches stuffed with a variety of textures: soft marinated chicken and shitake mushroom and crispy onions and carrot. The mashup of flavors, including the ginger dipping sauce, was on point.
Mixing and matching main dishes and complementary sides can be a daunting, albeit fun, task at any eatery, especially when there are plenty from which to choose. Our first entrée to share was kai yang, the restaurant's namesake, which means grilled chicken. The dish is adapted from Laos recipes and features a wonderful depth of flavor thanks to an herb rub, lemongrass, pepper, palm sugar and coriander. Our half-chicken was infused with so much deliciousness that we regretted not ordering the whole bird at the time. In retrospect, it was the perfect size because each order comes with a choice of three sides; we chose a sweet papaya salad, sticky rice and two grilled (and super tender) pork skewers.
And looking back, our second entrée, green curry, essentially came with another half-chicken. The green curry flavor is one of my favorites, the coconut milk base of Kai Yang's version blending exceptionally well with bamboo shoots, eggplant, basil and other spices. Pour it over rice and you have heaven in a bowl.
We ordered shrimp pad thai to accompany the two main dishes. In contrast to Chef Ramsay's "bad thai," Kai Yang's was a knockout. Instead of mixing all the ingredients, Kai Yang lets the diner control the amount of bean sprouts and crushed peanuts used in the dish. The presentation and form of the noodles/egg/shrimp combination was almost too striking to ruin, but watering taste buds and hungry bellies prevail. The portion size was smaller than what we were used to, so polishing off this pad thai was not a problem. (It didn't hurt that everything tasted so good.)
The last time I ate at a Thai restaurant, I ordered sweet sticky rice for dessert so I passed on Kai Yang's during this visit. Instead, my friend and I shared a fried banana with Thai iced tea flavored ice cream. It was the perfect end to what was one of the best dining experiences I've had in restaurant-rich Montclair. Chalk up those kudos to Chef Sarabhaya, who, unlike the aforementioned celebrity chef, gets all the flavors of Thailand just right.
Kai Yang, 345 Bloomfield Ave., Montclair, 973.509.2110, kaiyangnj.com