Keeping a Kidney
Using Today's Surgical Methods, a Tumor is Removed Without Compromising the Organ's Function.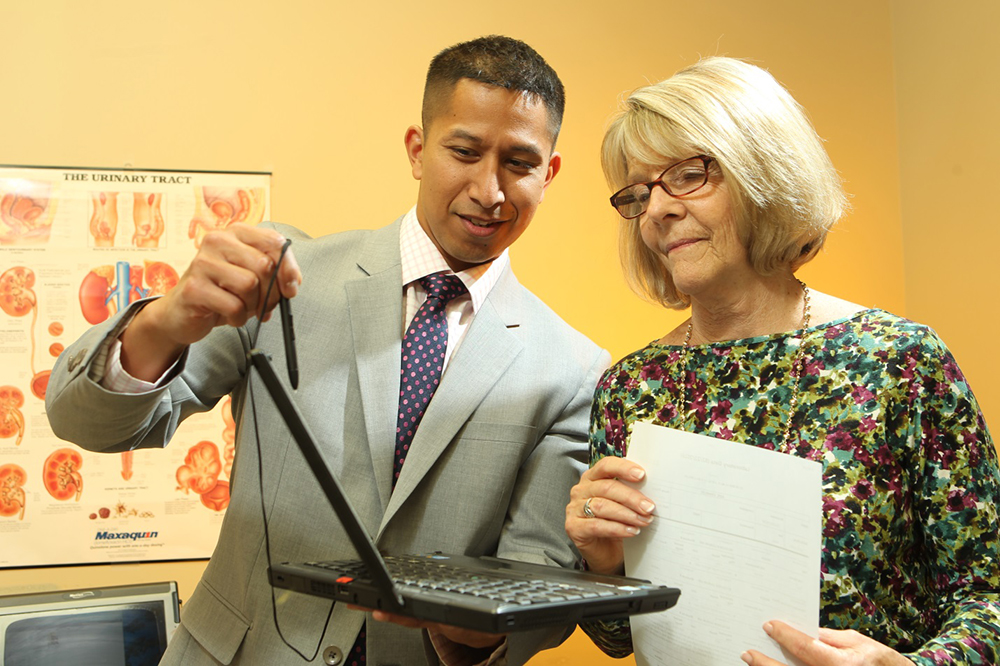 When Judith Grisi began experiencing pain in her lower abdomen, she did what many people do—she ignored the pain and hoped it would go away. But, as the pain became more severe, Judith knew she could no longer ignore it. So one day, at the end of her shift, the cardiology physician assistant at Monmouth Medical Center went to the hospital's Emergency Department.
While everything appeared normal during the ED visit, the 63-year-old Toms River resident was advised to meet with a gastroenterologist to undergo further testing. During this visit, Judith had an MRI (magnetic resonance imaging scan) to check for any gastro-related issues. To her complete shock, MRI results revealed an incidental finding: a mass on her kidney.
At the suggestion of a colleague and after conducting her own research, Judith decided to meet with urologist Pierre J. Mendoza, M.D., a robotic surgeon at the medical center.
"When I told my friends and family I needed surgery, they were surprised I wasn't going to a big hospital in New York City," says Judith. "I've worked at Monmouth for 14 years, and I had no doubt that I wanted to have my surgery here. After all, I know and trust Monmouth Medical Center."
During the initial consultation, Dr. Mendoza recommended a robotic partial nephrectomy—a minimally invasive surgery in which a mass is removed through small incisions. Robotic surgery gives patients many benefits, including quicker healing time, less blood loss, less pain, a lower risk of infection and shorter hospital stays.
"Dr. Mendoza explained the procedure in full detail and answered all of my questions," says Judith. "It was reassuring to know he was the first surgeon to perform a robotic partial nephrectomy using fluorescent imaging in New Jersey and has extensive experience with this complicated procedure."
Dr. Mendoza's area of expertise is removing these tumors without removing the entire kidney—and without using a large incision. "Monmouth uses cutting-edge technology that's on par with major cancer centers," he says.
During the surgery, Dr. Mendoza removed the 3.5-centimeter renal cell tumor using intraoperative ultrasound and a near-infrared fluorescence imaging guided system available on the da Vinci Si surgical system. Utilizing a specially designed camera and endoscopes, the system enables surgeons to capture images of tissue and surrounding blood vessels by injecting a unique fluorescence dye that is activated by near-infrared light.
"Using fluorescence imaging is revolutionary, as it may allow surgeons to differentiate between malignant and normal tissue in real time, because cancerous tissue fluoresces less brightly than normal kidney tissue," says Dr. Mendoza. "Monmouth was among a select group of hospitals in the country to first utilize this revolutionary technology. Since then, other hospitals, including major academic centers, have implemented it."
Through robotic surgery, the healthy portion of Judith's kidney was spared—only the diseased portion was removed. "This is the ideal outcome, because preserving the healthy kidney tissue will help maintain kidney function throughout a person's lifetime," says the surgeon.
"As a health care provider, Judith's biggest concern was how soon she'd be able to return to work to take care of her patients," adds Dr. Mendoza. "The robotic procedure was the right fit for her, as it affords a quicker recovery, particularly with the smaller incision. The fact that Judith takes good care of herself also contributed to her quick recovery."
Judith's surgery was a success. The entire mass was removed, and just seven weeks post-surgery she was back in the gym and working full-time. She will undergo surveillance imaging to monitor her kidney every six months during the first two years after surgery.
"I would recommend Dr. Mendoza to any of my loved ones who need this type of surgery," says Judith. "The entire staff went above and beyond to make sure I was well cared for every step of the way."
TO LEARN MORE ABOUT ROBOTIC SURGERY OR TO FIND A ROBOTIC SURGEON AT MONMOUTH MEDICAL CENTER, PLEASE CALL 888.724.7123.
TO SHARE THIS ARTICLE WITH A FRIEND OR TO RECOMMEND IT ON YOUR FACEBOOK PAGE, VISIT MONMOUTHHEALTHANDLIFE.COM