Kid-Friendly Fare
try these delicious meals guaranteed to delight even the fussiest eaters.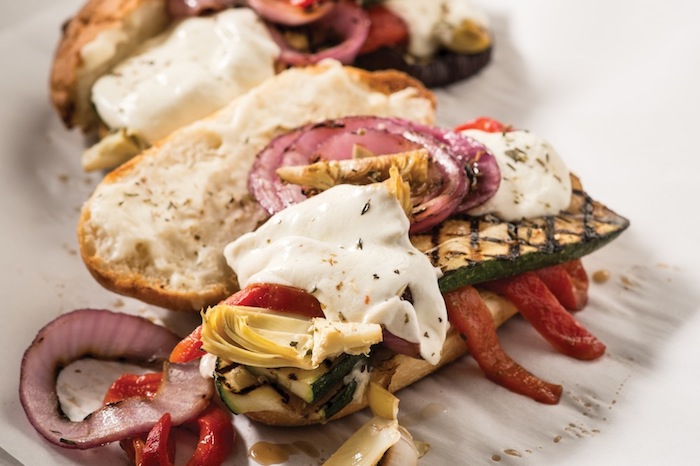 if you cook for a family, you know the ultimate triumph—and it's not a Michelin star. It's getting the kids to eat something new. Whether your children belong to the vast burgers-and-fries mainstream or the tofu-and-sprouts minority, chances are they seek adventure on the playing field—and shun it at the dinner table. And when you prepare a new culinary creation, it's usually for grown-up guests who are more or less guaranteed not to express at the last minute a pining for PB &J.
On the next few pages you'll find five recipes that pass the tests of tasty, healthy, easy and interesting with flying colors. But they do one thing more: They pass the kid test too.
You'll find ingredients your youngsters know they love combined in fresh, colorful and intriguing ways. Serve these dishes for dinner, and we defy your kids to find an out. They'll be getting hearty nutrition, and they'll be doomed to enjoy themselves—and find something else to fuss about.
After all, today's picky eaters could be tomorrow's connoisseurs of kale and oysters and artichokes and escargots—if you acquaint them now with the notion that something new on the plate can be something great. And you just may see eyebrows rise a little higher in curiosity the next time you hear the age-old question, "Mom, what's for dinner?"
Recipes reprinted with permission from Eat What You Love Everyday © 2014 by Marlene Koch, Running Press, a member of the Perseus Books Group.
Cheesy toasty veggie hero (serves 2. pictured above)
Ingredients:
1 tablespoon light mayonnaise
1 tablespoon plain nonfat yogurt
2 teaspoons grated Parmesan cheese
¼ teaspoon garlic powder
2 French rolls
½ medium eggplant, sliced into ½-inch rounds
1 medium zucchini, sliced lengthwise
½ small red onion, sliced
1 tablespoon balsamic vinegar
2 teaspoons Italian
seasoning
1 teaspoon garlic powder
Black pepper to taste
½ cup quartered artichoke hearts, drained
¼ cup roasted red peppers, drained and sliced
2 ounces fresh mozzarella, thinly sliced
Instructions:
Preheat the broiler. In a small bowl, combine the first 4 ingredients (mayonnaise through garlic powder). Set aside. Open French rolls and carefully remove about one-half of the bread from the inside top and bottom of the rolls. Spread the rolls open and place insides down on a baking sheet. Broil for 2 minutes to lightly toast the outsides. Set aside.
Spray a nonstick grill pan with cooking spray, and place over medium-high heat. Place the eggplant, zucchini and onion slices onto the pan, reduce heat slightly and grill for 3 minutes (working in batches if necessary), until the vegetables are browned and softened on the underside. Turn with tongs; brush the tops with balsamic vinegar. Sprinkle with Italian seasoning, garlic powder, and black pepper to taste. Grill for another 2 minutes, or until vegetables are tender.
To assemble, spread 1 tablespoon Parmesan spread on the inside top half of each roll. Pile the grilled vegetables into the hollowed bottom halves, top with artichokes and red pepper and finish with cheese. Place sandwiches open-faced on a baking sheet (both cheese and Parmesan spread sides should be exposed), and broil for 3 minutes, or until cheese melts and Parmesan spread is warm. Remove, and press sandwiches closed. Eat while warm!
Chicken cheddar bacon ranch mac 'n cheese (serves 4)
Ingredients:
1¾ cups dry penne pasta (like Dreamfields)
1 large carrot, peeled and cut into coins
1 teaspoon olive oil
1 large onion, chopped
8 ounces boneless, skinless chicken breast, cut into 1-inch pieces
½ teaspoon dried dill
1/8 teaspoon black pepper
1 cheese sauce recipe (below)
½ teaspoon onion powder
¼ teaspoon liquid smoke
1 tablespoon real bacon bits
¼ cup chopped green onions
Cheese sauce:
¾ cup low-fat evaporated milk
½ cup reduced-sodium chicken broth
1 tablespoon cornstarch
¾ teaspoon dry mustard
½ teaspoon garlic salt with parsley
1 cup reduced-fat shredded sharp Cheddar cheese, divided
Instructions:
Cook the pasta according to package directions. When the pasta has 3 minutes of cook time remaining, add the carrots to the pasta water and continue cooking. Drain and rinse with cold water. Set aside.
Heat the oil in a large, nonstick skillet over medium heat. Add the onions and sauté for 8 minutes, or until they begin to caramelize and soften, stirring occasionally. Toss the chicken with dill and pepper; add to the skillet. Cook for 5 to 6 minutes, or until the chicken is cooked, and onions are well caramelized.
While the chicken is cooking, in a small saucepan over medium heat, make the cheese sauce, using ¾ cup of cheese in the sauce as directed, adding the onion powder and liquid smoke. Add the pasta to the chicken, toss to combine, and the cheese sauce, and mix well. Garnish with the last ¼ cup cheese, bacon bits and green onions.
Stephen's pretzel chicken with honey mustard sauce (serves 4)
Ingredients:
4 boneless, skinless chicken breasts (about 1 pound)
2/3 cup crushed pretzels (about 1 ounce)
½ teaspoon mustard powder
1 teaspoon onion powder
½ teaspoon black pepper
2 tablespoons plus 4 teaspoons Dijon mustard, divided
2 tablespoons white wine vinegar
1 tablespoon light mayonnaise
2 teaspoons honey
2 teaspoons olive oil
Instructions:
Preheat the oven to 425°F. Spray a large baking pan with cooking spray. Wrap the chicken breasts in plastic wrap and gently pound to ¼-inch thickness. Set aside.
In a wide, flat bowl, place the pretzel crumbs, mustard powder, onion powder and ½ teaspoon pepper, and stir to combine.
Smear ½ teaspoon of Dijon on each side of breast, and roll chicken in the crumb mixture until evenly coated (use finer crumbs to cover bare spots). Place chicken on prepared baking sheet, lightly spray with cooking spray, and bake for 15 to 18 minutes, or until cooked through.
While chicken is baking, in a small bowl, whisk together the remaining Dijon, vinegar, mayonnaise, honey, olive oil, a pinch of black pepper and 1 tablespoon of water. Serve each chicken breast with 1 tablespoon of the sauce.
Chicken alfredo pizza (makes 8 servings)
Ingredients:
1 thin-crust wheat pizza crust (like Boboli)
½ cup light Alfredo sauce (recipe at right, or jarred)
2 cups fresh baby spinach
2/3 cup cooked chicken breast, chopped
3/4 cup cherry tomatoes, halved
½ cup shredded part-skim mozzarella cheese
2 tablespoons shredded Parmesan cheese
1 cup fresh baby spinach, thinly sliced (optional garnish)
Fresh basil, chopped (optional garnish)
Instructions:
Position a rack in the middle of the oven and preheat the oven to 450º F.
Place the crust on a baking sheet and spread the pizza sauce over the crust. Top evenly with the baby spinach, chicken and tomato halves.
Sprinkle the mozzarella and Parmesan evenly on top, and bake in the middle of the oven for 15 minutes or until the cheese is melted and the crust is browned. Scatter fresh spinach and basil over top of pizza, if desired.
Light and luscious all-purpose alfredo sauce
Ingredients:
1 cup low-fat evaporated milk
2 tablespoons instant flour (like Wondra)
1 cup reduced-sodium chicken broth
3 tablespoons light cream cheese
1 to 1½ teaspoons garlic powder
¼ teaspoon pepper, or more to taste
1/8 teaspoon salt
¼ cup grated Parmesan cheese
Instructions:
In a medium saucepan, whisk the evaporated milk and flour until smooth. Whisk in the broth and place over low heat.
Add the cream cheese, garlic powder, pepper and salt. Bring to a low simmer and cook until the sauce thickens, about 4 minutes. Whisk in the Parmesan and cook for 1 to 2 more minutes, or until sauce is smooth.
Italian sloppy joes (makes 10 servings)
Ingredients:
½ pound Italian seasoned ground turkey (or Italian turkey sausage)
1 pound lean ground beef
1 cup chopped onion
1 large red pepper, chopped
3 large stalks celery, diced
1 (6-ounce) can tomato paste
2 tablespoons balsamic vinegar
3 large garlic cloves, minced
1 tablespoon molasses
1 teaspoon dried oregano
½ teaspoon fennel seed, crushed*
½ to ¾ teaspoon salt (or to taste)
10 whole grain hamburger buns
*To "crush" fennel seed, place on cutting board and chop it with a large knife.
Instructions:
Set the pressure cooker to the "brown" or high setting, crumble the turkey into the cooker and brown for a minute or two, and then crumble in the ground beef. Cook for 3 to 4 minutes, breaking up the meat with a spoon, until it is no longer pink.
Stir 1 1/3 cups of water into the meat, add the remaining ingredients (besides the buns), and stir well. Securely lock the lid into place, turn the cooker to high, and cook for 12 minutes.
Quick-release the pressure and carefully remove the lid. Stir the meat mixture, turn the temperature to brown or sauté, and simmer the meat mixture uncovered for 3 minutes, or until desired thickness. To serve, place ½ cup of the meat mixture on each hamburger bun.
Note: To cook it slow, use either the browning function or large skillet to brown the ground turkey and beef over medium-high heat. Add the mixture to a 4- to 6-quart slow cooker and continue with step 2. Cook on low for 6 to 8 hours or 3 to 4 hours on high. Remove lid and cook for additional 10 to 15 minutes on high, stirring occasionally, or to desired thickness.