Knifeless Surgery
Targeted radiation cuts out prostate tumors and leaves no scars.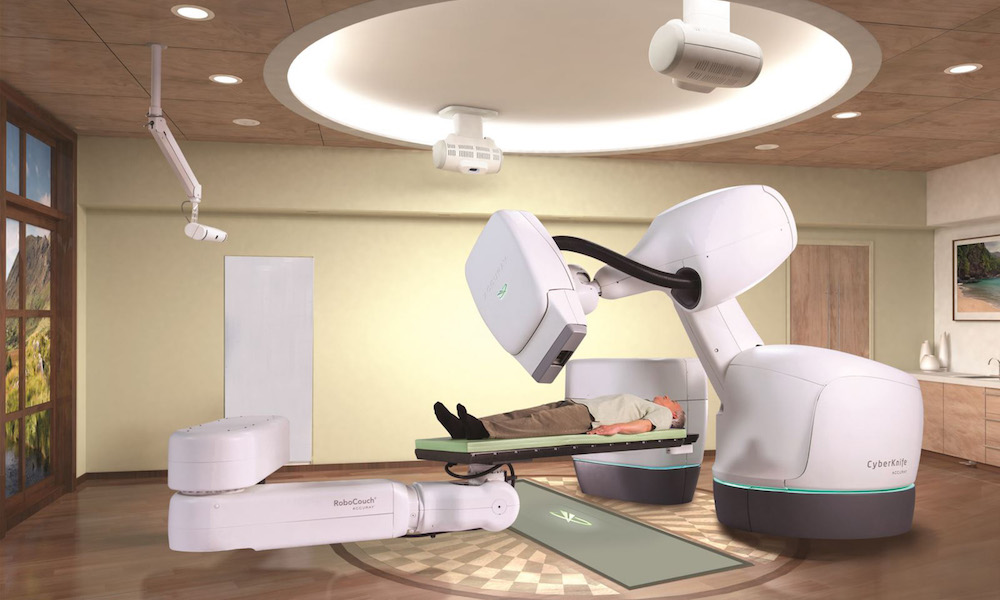 When a doctor becomes a patient, you can be reasonably sure he or she will know where to turn for reliable information on the best treatment options available. So when Stephen F. Bergen, D.D.S., was diagnosed with prostate cancer, he did his due diligence. And the path he took led him to an amazing radiology machine called the CyberKnife. As its name implies, it acts like a surgical knife, but without any actual cutting, scarring or blood loss. For certain cancers, like Dr. Bergen's, it provides excellent results with minimal complications or side effects.
Dr. Bergen, 71, is a maxillofacial prosthodontist, a dentist specifically trained to restore the teeth and other structures of the mouth. He works primarily with cancer patients, so he knows first-hand what cancer and its treatments can do. His cancer was discovered last fall, when he found himself urinating more frequently during the night. His PSA scores, markers for prostate cancer, were still in the normal range; nevertheless, his urologist performed a digital rectal exam and felt a nodule on his prostate. Follow-up scans done by ultrasound and magnetic resonance imaging and a biopsy confirmed the cancer.
"My doctor recommended surgery as one option but left it open for me to explore different options," says Dr. Bergen, who lives in West Orange with his wife, Juliet, who is also a prosthodontist. "I explored 12 or 13 different options for prostate cancer, and the one I felt—both in the medical literature and from what I heard from people I talked to—was the best option for me was CyberKnife." A big reason, he says, was that his recovery time would be minimal, a plus for a doctor still working full time. "CyberKnife can be as effective as surgery," he continues. "Even though you keep your prostate, it essentially kills the cancer cells, but there is no cutting involved, so no down time going back to work."
Alison Grann, M.D.
He received treatments in May 2016 under the direction of Alison Grann, M.D., chair of the Department of Radiation Oncology at Saint Barnabas. The medical center installed the newest model of the CyberKnife this past January, making it one of the first hospitals in New Jersey to get the latest iteration. CyberKnife delivers very high doses of radiation over fewer treatments—up to four times the energy per dose from traditional radiation—she says. "For certain cancers, higher doses of radiation on each treatment area are more effective. Some types of cancer, like lymphoma, do better with low doses, but for certain cancers, such as prostate cancer, higher doses per treatment are more effective." Early stage lung cancer, small brain tumors, melanoma and some pancreas and liver cancers also do well with CyberKnife treatment, Dr. Grann says.
Dr. Bergen received five doses, preceded by the placement of target markers on the prostate. Side effects from the treatment may include inflammation in the prostate and urethra, which can lead to temporary urinary difficulties. There is also a very small risk of bowel changes, and all prostate treatments can interfere with potency. Dr. Bergen experienced a little pain urinating at first, but nothing that ibuprofen and Flomax couldn't take care of.
The goal of his treatment is to see a decreased PSA level. But PSA numbers aren't the only marker of cancer, Dr. Bergen says. "My PSA was never very high (3.7), so that would be my warning to men: Don't just rely on your PSA." And if presented with a decision like his, do your homework, Dr. Grann recommends. "The key to decision making is to understand your options," she says. "Patients have choices and need to be well informed of those choices and their side effects. It is not one size fits all."
Prostate Cancer: Know the Symptoms
For many men, early-stage prostate cancer has no symptoms. Some men, though, may notice changes in urinary or sexual function that might be suspicious, including:
A need to urinate frequently, especially at night
Difficulty starting urination or holding back urine
Weak or interrupted flow of urine
Painful or burning urination
Difficulty having an erection
Painful ejaculation
Blood in urine or semen
Frequent pain or stiffness in the lower back, hips or upper thighs
Source: Prostate Cancer Foundation
To find out more about the Department of Radiation Oncology at Saint Barnabas Medical Center, please call 973.322.5630 or visit sbmccyberknife.org.