La Modina
Ambience, flavors come to life at Brielle's new Italian eatery.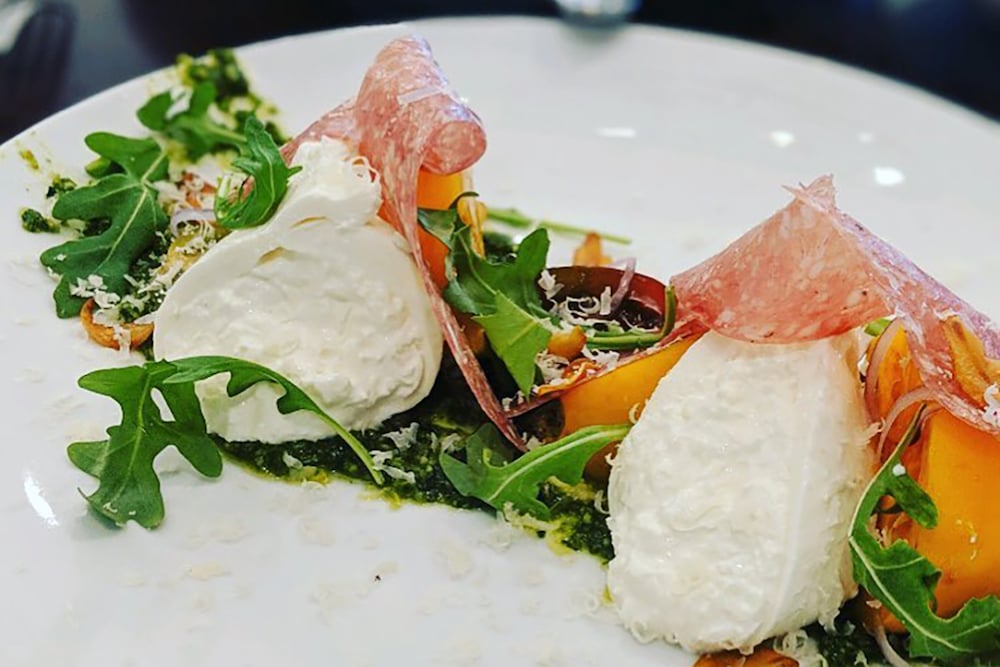 FOR RESTAURANTS ALONG THE SHORE, creating an idyllic vibe is almost as important as plating a picture-perfect dish. Sure, La Mondina doesn't have a clear waterfront view and its expansive 10,000-square-foot space isn't exactly intimate, but the new Italian eatery in Brielle still gets it done. Multiple fireplaces and rustic, farmhouse décor bring warmth to the interior, which is reminiscent of a tranquil Tuscan countryside abode.
But peace and quiet it's not. The dining room, patio and bar were all hopping on a recent weeknight—most likely the result of the buzz that surrounds anything that's new. Many, like my friend and I, came out to sample from the lengthy menu, which is filled with traditional Italian dishes and modern takes on old-country favorites. La Mondina is an ideal spot to load up on appetizers: There are hot and cold plates as well as salads and pizzas. We started with a farmhouse salad, a wonderful blend of veggies (chopped greens, cherry tomatoes and roasted peppers) and complementary ingredients like almonds, salumi and slivers of grana padano. I also asked for a side of anchovies, which when added, elevated the flavor to another level. My friend, of course, shied away from the fish filets, so she'll never know.
We second-guessed our next starter, burrata and tomato, because it somewhat resembled the farmhouse salad, but we knew we made the right choice after trying it. The creamy cheese got better with each bite, especially when combined with tomato and salumi or dipped in the basil-almond pesto sauce. I've always wondered why dishes like this aren't offered in an entrée size.
And speaking about size, four meatballs, each as large as a tennis ball, were our third app. While the meat was soft and tender, the mixture of veal, pork and beef wasn't overly flavorful—but that's where the sweet marinara and accompanying ricotta came in handy.
Though two of our three appetizers were on the lighter side, our bellies were already starting to feel full, and we'd have to skip the multiple pasta entrées for this visit. Always in the mood for meat, I had the veal parmigiana as my main course. Unlike the breaded veal cutlets and marinara served at Italian delis and other restaurants, La Mondina's version is a pan-seared veal chop—bone-in and plenty of flavor—topped with a rich plum tomato sauce and stracciatella with a delightful basil olive oil drizzle. Whether you're a veal aficionado or not, this is a must-try for all carnivores.
My friend went lighter, ordering the swordfish from the specials menu. The steak maintained a meaty and tender consistency throughout; it wasn't dry or chewy, common miscues in swordfish prep. Flawlessly cooked, the swordfish had plenty of flavor, as did the bed of cauliflower risotto and arugula-fennel side salad.
Failing to strategize our appetizer and entrée consumption, my friend and I passed on dessert, which included brown sugar rum custard and "Nonna Bella's Chocolate Cake"—both of which I swore to our server we'd try next time. We were told La Mondina might be adding more sweet treats down the road so we shouldn't lock in our orders just yet. That's good advice—there is still plenty to see and try here, so much that I'm certain the buzz will last a long time.
La Mondina, 110 Union Ave., Brielle, 732.612.8331, lamondinabrielle.com