Lavender Lives On
Like it or not, here comes adolescence—and a girl's bedroom in a durably feminine hue was born ready.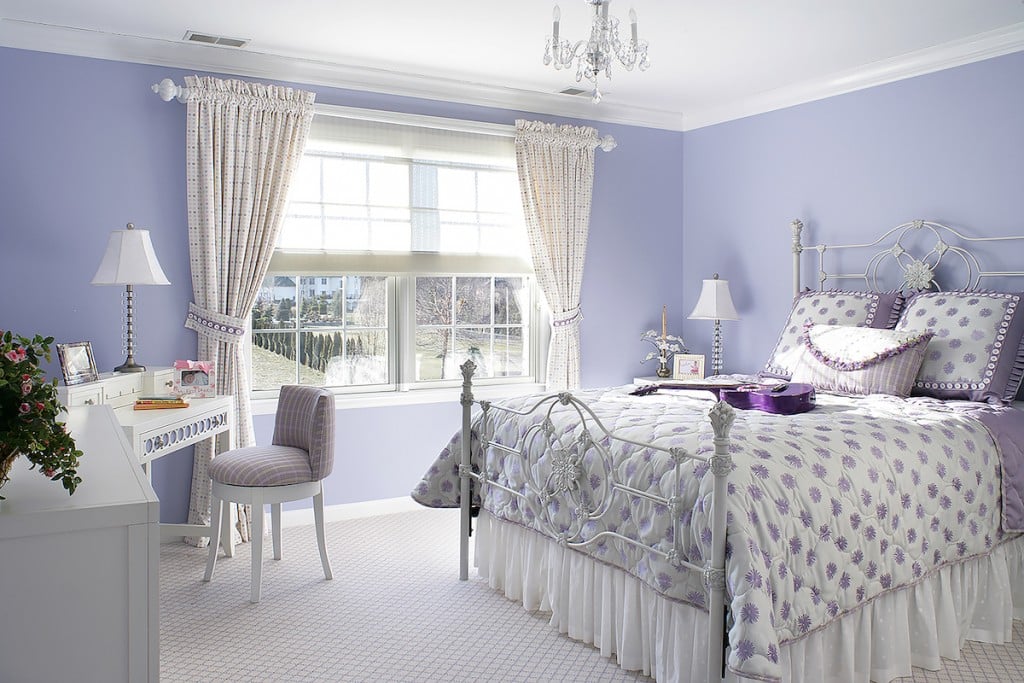 A little girl is bound to change a lot before she reaches the college years. There'll be new clothes, new hobbies, maybe new friends. But a new bedroom every time her tastes change? That's not practical. Fortunately, if you plan things right, it's not needed either.
When Sheila Rich, certified interior designer of the eponymous Monmouth Beach design firm, built a bedroom for the youngest of three sisters in a family's Marlboro Township colonial, she anticipated the changing winds of childhood.
"This was done for a little girl when she was three years old, and she's still enjoying it," says Rich, explaining that the room's occupant is now 11 and the room is transitioning to the needs of a tween. "She'll grow with it. It's timeless."
That was important because this lavender bedroom, which sometimes serves as a getaway from the older siblings, was designed when she was too small to have much of a say. It's been tradition for this family of five, originally from New York City, to step the children up from hand-me-down baby furniture to tween-potential bedrooms, in each case designed by Rich. "Whenever they went from a crib to a bed, the room was done to the nines," she explains.
Although she was excited enough to jump on the bed when her room was done, the youngest daughter was too little to decide on a color the way she'd pick a crayon from the box. Her mom and Rich made the choice for her with universality in mind. "All girls like lavender, and it was different from her sisters' rooms," recalls Rich. Besides its charm, lavender matched the color in the lattice pattern wool carpet by Masland, which provided inspiration.
So it was no more green nursery walls or yellow furniture for the littlest princess. Instead Rich played up lavender tastefully at every opportunity: on the floral bedspread, the polka-dot cotton draperies, the matching upholstered mirror, the plaid chair by Cox and even the inserts of the contemporary furniture by Hooker.
Lavender is lovely, as Rich says, but don't let the color blind you to the other design patterns building interest throughout the room. Rich has teamed up different styles to create a seamless look. The iron bedframe with floral details from Old Biscayne Designs is Victorian in spirit, and the traditional crystal chandelier mixes nicely with the contemporary furniture and glass circle-centric lamps.
Nowadays this no-longer-so-little girl loves to eat sushi and lobster, hang out with friends and TikTok (that's a verb, referring to the video social media site, of course). If her tastes change, no problem. Rich has steered clear of the trendy, knowing that "children will tire of it."
Some features that will transition into adolescence include the combination desk/vanity, which will prove quite practical as the girl grows up, and the reversible bedspread. Today it's floral and teamed up with pillow shams custom-made with five different prints from Maxwell, Clarke & Clarke and Duralee; tomorrow it can transform into a solid.
Clearly, Rich loves to mix patterns; in this case they come together in the pillows united by the lavender hue. A ruffled bedskirt in a white dotted Swiss fabric introduces a touch of femininity. But that's not all. Another theme introduced is the circle design echoed in the bedspread fabric, the glass lamps and lavender furniture inserts.
For Rich, watching this family grow and working with them on each of the girls' rooms has been "a labor of love." One by one, as part of the clan's ritual, each girl got a room with the potential to carry her through the tween years without growing pains—room-related ones, anyway.
By Donna Rolando
Design by Sheila Rich
Photography by Peter Rymwid