Leader of the Pack
Patients find the most advanced radiation treatment at the Leon Hess Cancer Center.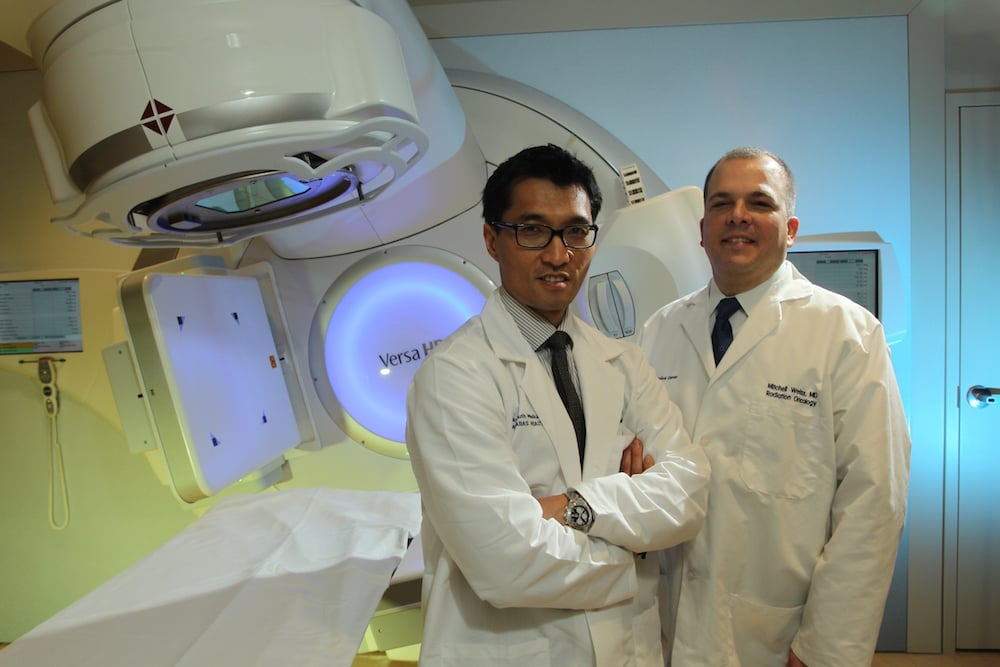 THE LEON HESS CANCER CENTER AT Monmouth Medical Center (MMC) continues to be at the forefront of cancer care, breaking barriers through its state-of-the-art Institute for Advanced Radiation Oncology. As the region's pioneer in delivering cuttingedge care, the institute is gaining international, national and state recognition for its clinical application and research of breakthrough methods of radiation therapy.
The institute has earned accreditation from the American College of Radiology for the quality, safety and appropriateness of its radiation therapy, and all of its physicians trained at Memorial Sloan Kettering Cancer Center in New York, where they served as chief residents. What further separates MMC from other hospitals is the continuity of care that it gives patients. Unlike other cancer centers where several doctors rotate throughout the week, MMC radiation oncologists stay with their patients throughout the course of their treatment. The Monmouth Medical Center staff includes Mitchell Weiss, M.D., and Sang E. Sim, M.D.
Dr. Weiss, chair of Radiation Oncology, joined Monmouth Medical Center in 2003. He has written numerous book chapters and has presented his research in head and neck, and gynecological malignancies at renowned conference on radiation oncology.
Dr. Sim, medical co-director of the Gamma Knife Center at Monmouth Medical Center, arrived at Monmouth in 2008. He has served as a reviewer for Brachytherapy journal, the official international medical journal for the American Brachytherapy Society.
The Institute for Advanced Radiation Oncology offers a full spectrum of highly advanced technology in the delivery of high-precision radiotherapy that is dramatically helping cancer patients recover faster and with fewer side effects. These advanced treatment options include Gamma Knife, a proven alternative to invasive surgery for patients with brain metastases, brain dysfunctions, and brain tumors, and tomotherapy, which delivers a very sophisticated form of image-guided radiotherapy (IGRT) with such precision that surrounding healthy tissue receives lower doses than delivered by more conventional radiation therapy.
The medical center's prominence in brachytherapy—a specialized form of internal radiation therapy—took root in 1998 when the hospital introduced two advanced radiation implant therapies for the ttreatment of prostate cancer: highdose rate (HDR) brachytherapy for intermediate or advancedstage disease and low-dose rate (LDR) permanent seed brachytherapy for early cancers.
Monmouth Medical Center's Institute for Advanced Radiation Oncology continues to be actively involved in research studies that are investigating a full spectrum of radiation therapies, as well as identifying ways to reduce the side effects of treatment.
To learn about the institute for advanced radiation oncology, call 732.923.6890.