Leading the Way
Monmouth Medical Center's nursing program has flourished under Diann Johnston's guidance.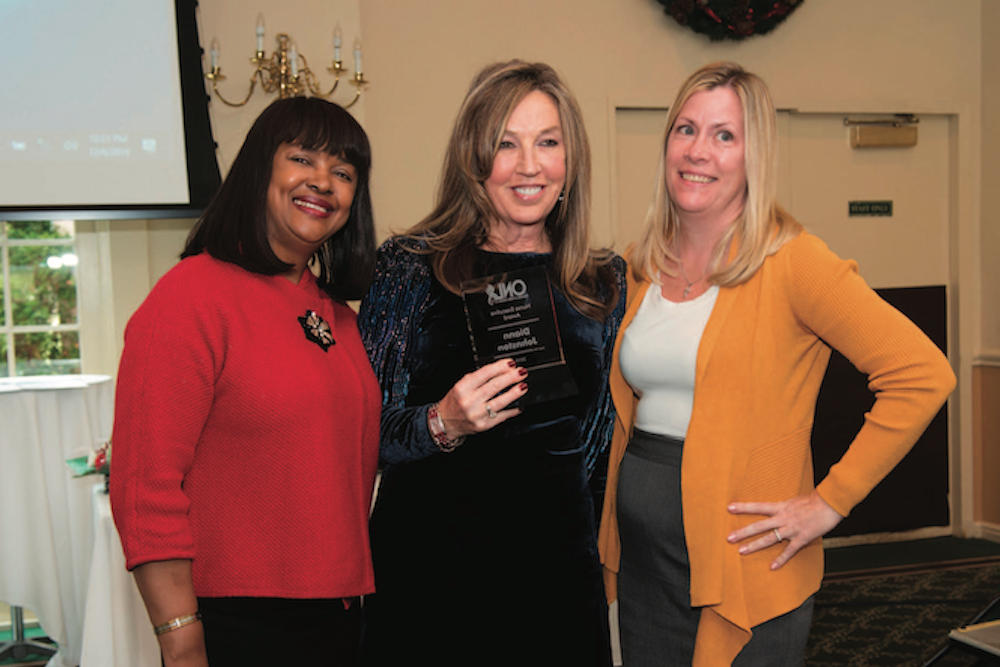 In recognition of her exceptional leadership, guidance and service to RWJBarnabas Health, the Organization of Nurse Leaders, New Jersey
(ONL NJ) has named Diann Johnston, MSN, RN, NEA-BC, regional chief nursing officer (CNO), the recipient of its Nurse Executive Award.
Since 1971, ONL has been the preferred professional organization for nursing leaders in their quest for a united voice in representing nursing administration and management in all practice settings. ONL NJ is affiliated with both the New Jersey Hospital Association and the American Organization of Nurse Leaders.
Under Johnston's leadership, Monmouth Medical Center (MMC) has earned 10 consecutive Leapfrog grade "A" scores (now considered a straight A), the Leapfrog Top Teaching Hospital Award, the IBM Watson Top 100 Hospitals Award and recently achieved the 2019 Press Ganey Success Story Award for demonstrating innovation and leadership to measurably improve safe, high-quality, patient-centered care. Johnston recently presented nationally at the 2019 National Press Ganey Client Conference in Orlando about the successes of MMC through the attributes of shared governance. This work was also published in the Journal of Nursing Administration in September 2018.
"In Diann's 12 years at Monmouth Medical Center, she has transformed the organization's nursing workforce from working in a top down-driven environment with performance outcomes in the lowest quartile to an engaged and empowered nursing workforce that proudly ranks in the highest decile in New Jersey and nationally," notes Julie Villa, MSN, RN, CCRN-K, MMC's director of nursing excellence and innovation as well as the Magnet Program. "Diann's transformational leadership has resulted in MMC earning its first Magnet™ designation through the American Nurses Credentialing Center (ANCC) Magnet Recognition Program in January. The appraisers commented on how 'the level of engagement of the staff during the site visit far exceeds that of current Magnet organizations.' As a testament to Diann's leadership, Monmouth Medical Center ranked as the highest scoring acute care hospital within RWJBarnabas Health for staff engagement scores in 2019."
In many cases, Johnston is willing to go above and beyond to learn about the nursing staff. "Diann always embraces diversity and inclusion," says Sharmine Brassington, MSN, RN, director of patient care for emergency services. "She truly cares about her nurses and takes the time to get to know them and their families. Diann always employs an open-door policy, which has helped to earn her the admiration as a highly respected nurse executive."
As a result of her success as a nurse executive at MMC, Johnston was promoted in February 2019 to Southern Region CNO for RWJBarnabas Health. In addition to her role as CNO at MMC, Johnston also now has oversight of Community Medical Center and Monmouth Medical Center Southern Campus.
"With more than 35 years of dedication to ensuring the best possible care for patients, Diann's passion and commitment to serving the community as a healthcare leader is truly outstanding," says Eric Carney, president and CEO of MMC. "Diann has long been recognized throughout the hospital, the RWJBarnabas Health system and by our board members as a deeply caring, invested and visionary leader. In addition to being a highly respected role model to aspiring nurse leaders, she is also an approachable leader who is dedicated to teamwork and a culture of safety and support."