Leaving No Trace
'HIDDEN SCAR' SURGERY—OFFERED AT MONMOUTH MEDICAL CENTER—MINIMIZES THE REMINDERS OF BREAST CANCER.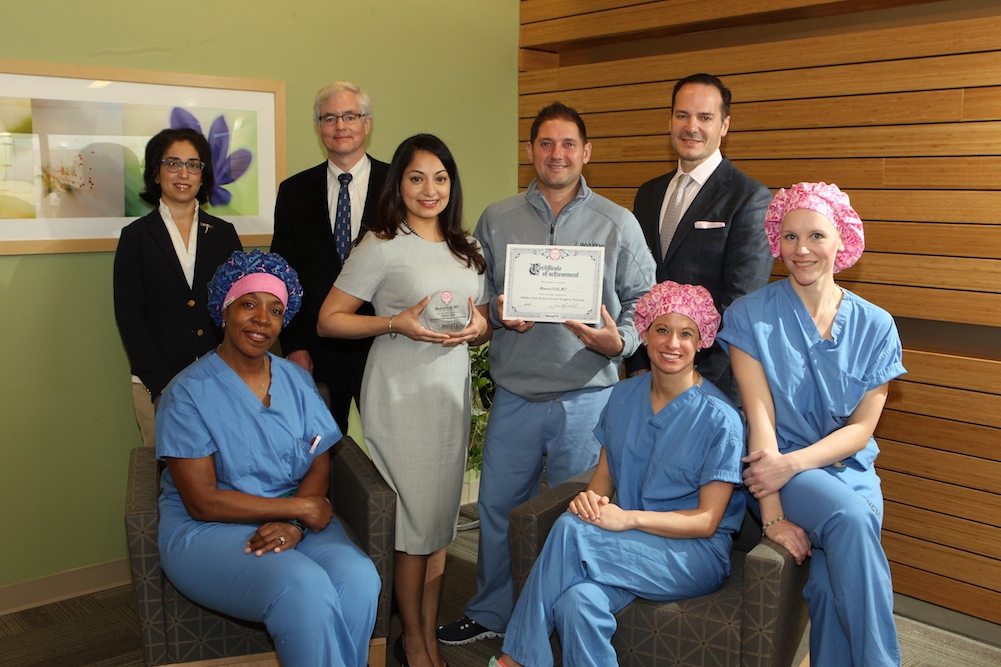 MONMOUTH MEDICAL CENTER IS THE FIRST HOSPITAL IN NEW Jersey to offer women the advanced option of breast cancer surgery with little to no visible reminder of the surgery or their cancer.
Monmouth Medical Center breast surgeon Manpreet Kohli, M.D., FACS, has been recognized as a Hidden Scar Trained surgeon, making MMC New Jersey's first certified Hidden Scar center.
This advanced approach to breast cancer surgery allows surgeons to hide scars, minimizing the patient's emotional reminder of a breast cancer diagnosis. Dr. Kohli says this new technique allows her to expand treatment options to her patients with a procedure that effectively treats the cancer while optimizing cosmetic results. "With a Hidden Scar approach to breast cancer surgery, we are able to place the incision in a location that is hard to see, so that the scar is not easily visible when the incision heals," says Dr. Kohli, a fellowship-trained, board-certified breast surgeon with Barnabas Health Medical Health Group and Monmouth Medical Center. "As a result, you have a very natural result with very subtle surgical scars that sometimes cannot be found unless you know where to look."
Each year, approximately 253,000 women are diagnosed with breast cancer that requires surgery. Dr. Kohli notes that many of these women are unaware of all the surgical options available, including advanced approaches like Nipple Sparing Mastectomy. This procedure can help maintain their self-image, eliminate stages of reconstructive surgery that typically involve nipple and areolar reconstruction, and allow them to begin the emotional healing process much sooner.
"Thanks to all of the advances in care, the five-year survival rates for breast cancer today are high," Dr. Kohli says. "As such, survivorship is becoming increasingly important. Scars have a significant impact on survivors' body image, intimacy, confidence and mental health."
Hidden Scar breast cancer surgery allows Dr. Kohli to work with the plastic and reconstructive surgeons at Monmouth Medical Center; with them, women are able to undergo an oncologic surgery, while preserving all of the skin of the breast, maintaining a natural contour, and receiving a tailor-made reconstruction that suits them. Several options for reconstruction exist, including implants placed at the time of the initial surgery rather than tissue expanders, or using one's own tissue to reconstruct the breasts. She notes that patients who undergo these approaches experience optimal clinical and cosmetic outcomes, and are at no higher risk of recurrence than patients who undergo any other surgical technique.
Gregory Greco, D.O., chief of plastic and reconstructive surgery at Monmouth Medical Center, notes that the technology provided by Invuity improves surgeons' visibility during these procedures, enabling them to perform complex, in-demand surgeries with ease. He notes that performing breast cancer surgery through a smaller incision as in Hidden Scar surgery requires consistent illumination throughout the surgical cavity, so surgeons can clearly see and effectively remove the tumor.
"A breast cancer diagnosis is difficult enough," Dr. Greco says. "At Monmouth Medical Center, we are committed to giving more women access to transformative options in breast cancer surgery."
TO LEARN MORE ABOUT ADVANCED BREAST SURGERY OPTIONS AT MONMOUTH MEDICAL CENTER, VISIT MONMOUTHWILENTZBREASTCENTER.COM.
FOR MORE INFORMATION ON HIDDEN SCAR, VISIT WWW.BREASTCANCERSURGERY.COM