Let it Slide
Easy to make and even easier to eat, mini sandwiches ares sure to disappear at your next party. Just be sure to prepare enough for all your hungry guests!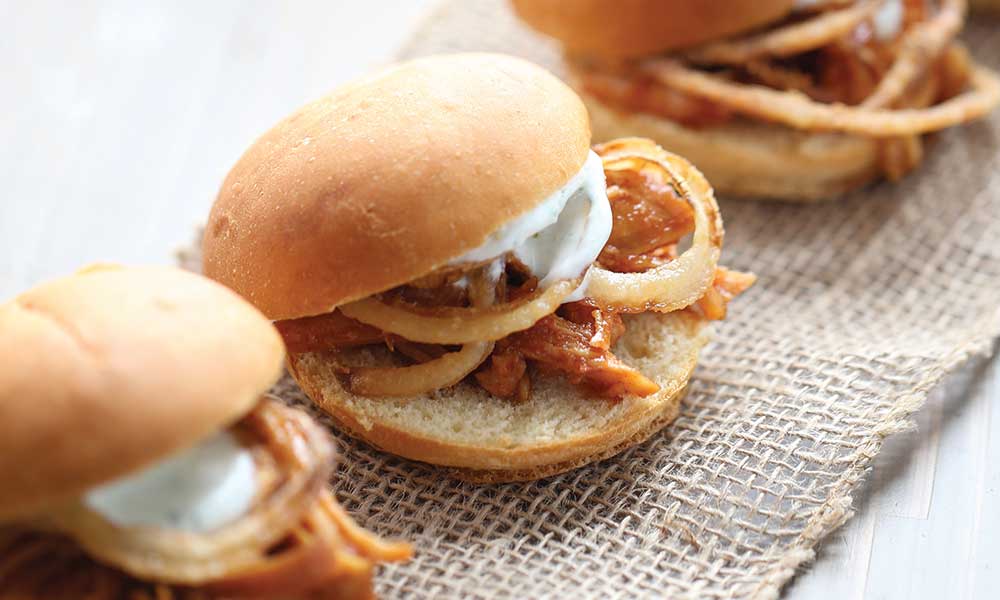 Cherry Barbecue Turkey Sandwiches
Yield: 12 sandwiches
Ingredients
Turkey
1 Tbs. olive oil
2 cloves of garlic, chopped
1 small shallot, diced
½ cup ketchup
¼ cup cherry preserves
¼ cup brown sugar
2 Tbs. apple cider vinegar
¼ tsp. salt
½ tsp. ancho chili powder
½ tsp. cumin
1 (20 oz.) package turkey tenderloins
Onion Rings
2 cups flour
4 tsp. salt
2 tsp. pepper
2 large onions, sliced into rings
1½ cups vegetable oil
Ranch Sauce
2 Tbs. plain Greek yogurt
4 Tbs. buttermilk
1 Tbs. ranch seasoning mix
Directions
To prepare the cherry barbecue sauce, combine olive oil, garlic and shallots in a small saucepan. Cook over medium-low heat until shallots begin to soften, about 2–3 minutes. Stir in ketchup, cherry preserves and remaining ingredients (through cumin). Reduce heat to low, and continue to stir. Cook until sauce begins to thicken (about 20 minutes).
Place turkey in a slow cooker. Pour sauce over turkey. Cover and cook on high for 2 hours. Remove turkey and shred with two forks. Place shredded turkey back into slow cooker, turning to coat each piece with the cherry sauce. Keep warm.
To prepare the onion rings, combine flour, salt and pepper in a large ziplock bag. Add onions and toss to coat each piece. Heat oil in a large, deep pan until oil reaches 365°F. Add onions and fry just until they are golden (3–4 minutes). Be sure to only add a few onion rings at a time, taking care not to crowd your pan. Remove onions and place on a baking sheet lined with a paper towel. Repeat with remaining onions.
For the ranch sauce, combine yogurt, buttermilk and ranch seasoning in a bowl.
Divide turkey and onions among each sandwich roll. Drizzle ranch sauce over onions. Serve.
Chicken Parmesan Sliders
Yield: 12 sandwiches
Ingredients
Chicken Sliders
2 lb. ground chicken
2 tsp. dried basil
1 tsp. dried oregano
½ tsp. dried thyme
½ tsp. garlic powder
2 Tbs. fresh parsley
¼ cup grated Parmesan cheese
½ cup Italian-style bread crumbs
12 slices fresh mozzarella cheese
12 whole-wheat slider rolls
Sauce
1 tsp. olive oil
2 cloves of garlic, minced
½ tsp. red pepper flakes
½ tsp. dried basil
14 oz. tomatoes
2 Tbs. tomato paste
¼ tsp. salt
2 Tbs. fresh basil, finely chopped
Directions
Preheat oven to 400°F.
In a bowl, combine chicken, herbs, parsley, Parmesan cheese and breadcrumbs. Mix by hand until blended. Shape chicken mixture into 12 patties. Place on lightly greased baking sheet. Bake for 15 minutes, turning once. Top each slider with a mozzarella slice. Bake for an additional 3 minutes or until cheese is bubbly and melted.
Meanwhile, heat a saucepan over medium heat. Heat oil, add garlic and cook for 1 minute. Stir in red pepper flakes and dried basil. Heat for an additional minute. Reduce heat and stir in crushed tomatoes and tomato paste. Add salt. Continue to heat on low until warm.
When sliders are ready and cheese has melted, place one slider on each roll. Divide sauce among each slider. Sprinkle fresh basil over sliders just before serving.
Greek Meatball Sliders
Yield: 12 sandwiches
Ingredients
Meatballs
1 tsp. olive oil
¼ cup chopped onions
1 clove of garlic, minced
2 slices of white bread, crusts removed
¼ cup milk
1 lb. lean ground beef
1 tsp. dried oregano
½ tsp. dried thyme
½ tsp. salt
1 egg, lightly beaten
Tzatziki Sauce
4 Tbs. plain Greek yogurt
1 Tbs. lemon juice
2 Tbs. seedless cucumber, peeled and finely grated
1 clove of garlic, minced
½ tsp. garlic
Toppings
1 cup spinach leaves, loosely packed
¼ cup sliced red onions
3 oz. crumbled feta cheese
12 roma tomatoes, sliced
1/3 cup black olives, pitted and sliced
Directions
Preheat oven to 425°F.
Heat olive oil in a small skillet over medium heat. Add onions and garlic, and cook until onions have softened and become translucent (about 5 minutes). Remove from heat and let cool.
Place bread in a small bowl and cover with milk. In a large bowl, combine ground beef, oregano, thyme and salt. Add egg. Squeeze milk from bread slices with your hand and add to ground beef mixture. Add cooled onions and garlic as well. Mix beef by hand until egg and bread have been incorporated.
Using a small cookie scoop or your hands, shape meat mixture into 12 equal pieces. Try to get all 12 meatballs as uniform as possible.
Place meatballs on a baking sheet coated with cooking spray. Bake for 18–22 minutes. Remove meatballs from oven and let cool.
To prepare the sauce, combine all the ingredients in a bowl; stir. To assemble sliders, divide spinach equally among the bottoms of 12 slider buns, along with red onions and ½ tablespoon of feta. Place one meatball over feta cheese. Drizzle tzatziki sauce over each slider. Top each slider with one slice of tomato and a teaspoon of olives. Serve.
Reprinted with permission from Sandwiched by Tanya Schroeder. © 2015 Cedar Fort Publishing.