Let There be Light!
Brightening a dark, outdated master bathroom was the key to making a Montville mansion move-in-ready.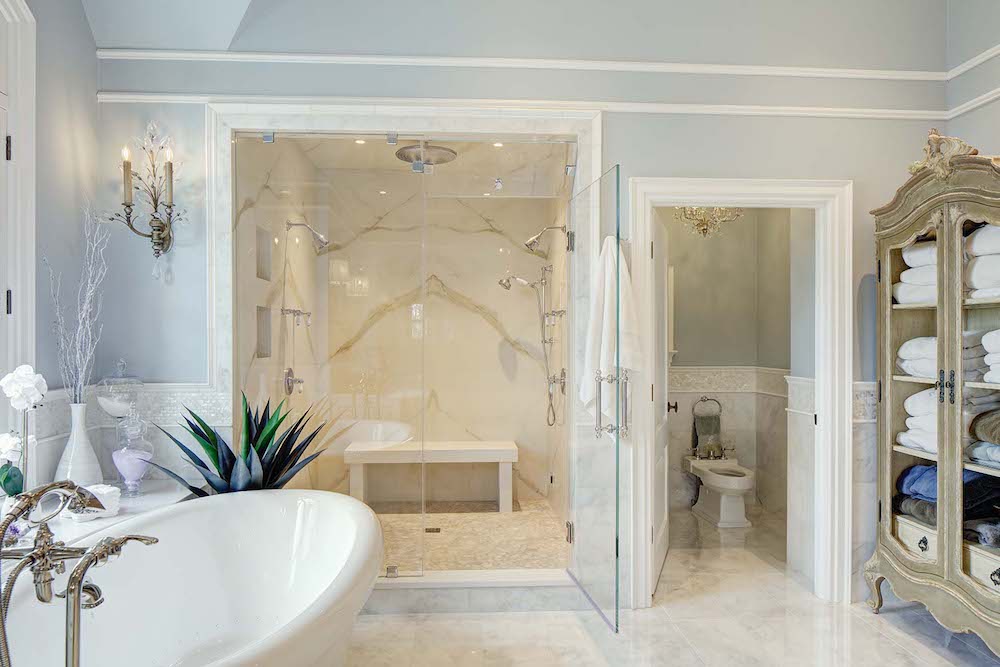 Design by Karla Trincanello of Interior Decisions
Photography by Wing Wong/Memories TTL
About four years ago, two forty-somethings found their dream home in Montville. It was a French Normandy mansion that overlooked lush private grounds and was pretty much move-in-ready.
Except for one thing—the upstairs master bathroom needed some serious work. It was big, sure, but also dark, with old-school floral wallpaper on the walls, and the vast space was used inefficiently. So the couple, parents of two teenagers, hired designer Karla Trincanello of Interior Decisions in Florham Park to give this all-important room a modern update and some life before they moved in.
Trincanello's first order of business was to bring both life and light back into the space, first by opening up the shower. "The shower was dark and gloomy and depressing," she says. "It was like getting into a cave! So immediately I blew open those doors and the wall so it was fully exposed and bright." But because this was a steam shower and the previous marble was cracked and moldy, the designer had to be meticulous about what materials she used to ensure that wouldn't happen again. She book-matched two porcelain slabs of the kind one might find in a kitchen rather than standard marble tile and grout, because the porcelain is "impervious so the steam can't penetrate it. Plus," she says, "it's something different from the typical. They didn't want typical." The six-foot-by-six-foot shower also has aromatherapy in the steam, a freestanding solid quartz bench, his-and-hers showerheads and a river-rock floor. "They didn't want grab bars, so I had to make sure that floor was slip-resistant," Trincanello adds.
The homeowners requested as many luxury amenities as possible, so the designer chose a 72-inch hydrotherapy air-bubble tub by Victoria + Albert that is relaxing and has "oxygenated" healing benefits via massaging mini-bubbles. Decorative, French-style sconces illuminate the tub on either side and match the silver leaf Fine Art Lamps sconces on the beveled mirrors above the U-shaped vanities. "I'm very big on good lighting in the bathroom, especially for grooming," says Trincanello, "and when you put a sconce right on a mirror, that light refracts." A large, dimmable crystal chandelier (with a mini version in the separate water closet) by Currey & Company centers the space and adds another layer of brightness.
The U-shaped cabinets replaced two tiny his-and-hers vanities on opposite ends of the wall and added much-needed counter space and nine drawers each of storage for products and appliances. There are also two Lazy Susans inside for larger items, and roll-out hampers hidden in the middle for laundry and linens. Linens are also stored in the Jonathan Charles Fine Furniture armoire parallel to the tub. "This armoire is more beautiful and stylish than just a closet with a door," Trincanello says, "and I love how everything inside is exposed."
As for the finishing touches? Mother-of-pearl trim was chosen as an accent on the vanity backsplash, at the top of the walls and on the "centerpiece of decorative pattern tile" on the floor to bring in a reflection of color. The soft blue color palette is serene and spa-like and a nice contrast with the stark white molding on the 12-foot ceilings.
"All in all, this room is well lit and there are many different textures," the designer says. "It is a usable, gorgeous, comfortable and functional space."