Let's Get Physical
Physical therapy can help your body get back to doing the things you need to do daily—with less pain.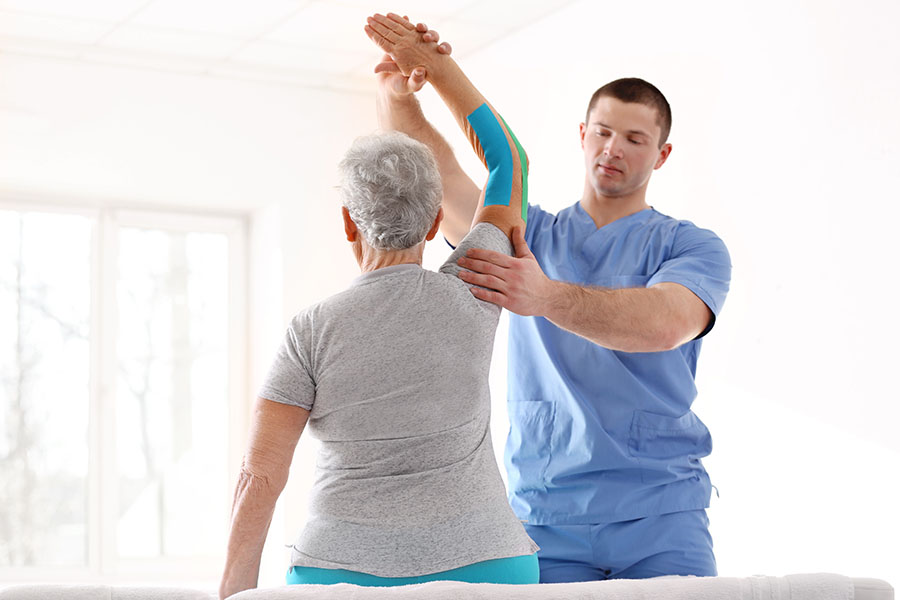 Do you need "get moving" again after an injury, illness or surgical procedure? If so, physical therapy may be what you need.
According to the American Physical Therapy Association, physical therapists are "movement experts who treat people of all ages and abilities, helping them improve and maintain function and quality of life." These professionals, says the group, "create individual treatment plans to match each person's goals, helping people improve their fitness and function, avoid surgery, reduce the use of opioids and other drugs, and partner in their own care."
Saint Barnabas Medical Center's Sports and Physical Medicine Institute, based at the Ambulatory Care Center (ACC), includes physical therapists who work with physicians to help patients regain their function. These doctors, known as physiatrists, are trained in the specialty of physical medicine; its goal is to restore physical function and quality of life. But there's a growing need for physical medicine and rehabilitation services—and for physical therapy (see article at bottom).
Physical therapists apply manual therapy (including soft-tissue movement, joint movement and stretching), along with treatments that apply heat, cold, ultrasound and electrical stimulation, to facilitate the healing of injured tissue. "In the initial stages of an injury we need to address and reduce inflammation," says Charlie Curtis, director of Outpatient Rehabilitation Services at Saint Barnabas Medical Center, who is a physical therapist himself. Once swelling is down, physical therapists conduct a movement analysis to see where function is impaired and determine how to treat it.
Education is a critical factor in treatment. "Exercise and neuromuscular education allow the therapist to empower patients and teach them how to participate in their treatment," he says. After an injury, the body adapts and creates a movement pattern that can lead to additional functional loss. "Once the injury is corrected, it is critical to train the patient to move in the most effective and efficient manner," Curtis says. "Prevention of injury is a critical component in our treatment plans."
Physical therapists also address vertigo, dizziness and other balance disorders, and work with orthopedic medicine specialists on rehabilitation after joint replacements. "We teach people how to move again," Curtis says. "We can perform an analysis of a patient's movement patterns (gait analysis) through video that breaks down movement components. That helps us address problems, prevent future problems and correct weak muscles through exercise programs."
The increase in need for these services is driven in part by America's aging population. But another trend driving physical medicine and rehabilitation is today's heightened awareness about concussion. "Concussion rehabilitation is a hot topic these days," Curtis says, and the institute has partnered with the Matthew J. Morahan III Health Assessment Center for Athletes at RWJBarnabas, also located at the ACC, to offer concussion education, screening, testing and treatment.
The gold standard of post-concussion management combines neurocognitive testing and graduated return-to-play protocols for resuming physical activity and competition. The Matthew J. Morahan III Health Assessment Center offers neurocognitive testing for student athletes ages 10 and up, both as a baseline evaluation and after a concussion. Testing is done through ImPACT, a computer software test that tracks information about memory, reaction time, speed and concentration. At the Morahan Center, physicians trained in interpretation of the ImPACT test compare baseline and post-injury results to assist in post-concussion management and in the development of individualized return-toplay timelines. The PTs then oversee the athlete's recovery and help him or her get back onto the field of play.
Physical medicine and physical therapy, Curtis says, are for anyone "looking for improved quality of life. Part of that includes addressing functional deficits. We customize our approach to each person, to prevent any further injuries and restore function."
New Facility in Millburn Offers Physical Therapy
To meet the growing need for physical therapy (see main article), Saint Barnabas Medical Center is opening a new facility to provide that service at 120 Millburn Ave. in Millburn. With nearly 2,000 square feet of space, it will house a full line of exercise and rehabilitation equipment that allows it to offer treatment options needed to address the unique needs of each patient.
The new facility is intended to make receiving treatment easier, says Charlie Curtis, director of Outpatient Rehabilitation Services at Saint Barnabas Medical Center. "Consumers want to travel less than five miles," he says. "The Millburn center will provide more convenient services for them." The new facility will open this spring. To schedule an appointment at the new facility, call 973.322.7500.
What Physical Therapy Can Do
Physical therapists treat people of all ages and abilities. One of these practitioners can help you:
Maximize movement: Pain-free movement is crucial to your quality of life, your ability to earn a living and your independence. Physical therapists are movement experts who can identify, diagnose and treat movement problems.
Plan your recovery: Physical therapists work collaboratively with their patients and clients. Treatment plans are designed for each person's individual goals, challenges and needs.
Feel better without opioids: Risks of opioid medications include depression, overdose and addiction, plus withdrawal symptoms when stopping their use. In some situations, properly dosed prescription opioids are an appropriate part of medical treatment. However, the Centers for Disease Control and Prevention is urging health care providers to reduce the use of opioids in favor of safe alternatives such as physical therapy for most long-term pain.
Avoid surgery: Before you undergo expensive or invasive surgery, try physical therapy. For some conditions, including meniscus tears, knee osteoarthritis, rotator cuff injuries, spinal stenosis and degenerative disk disease, treatment by a physical therapist has been found to be as effective as surgery.
Source: American Physical Therapy Association
To schedule an appointment for physical therapy with a Saint Barnabas Medical Center Provider, call 973.322.7500.