LET'S MEAT FOR DINNER
FIRE UP THE GRILL! THESE FLAVORFUL, PROTEIN-RICH RECIPES ARE SURE TO BE CROWD PLEASERS.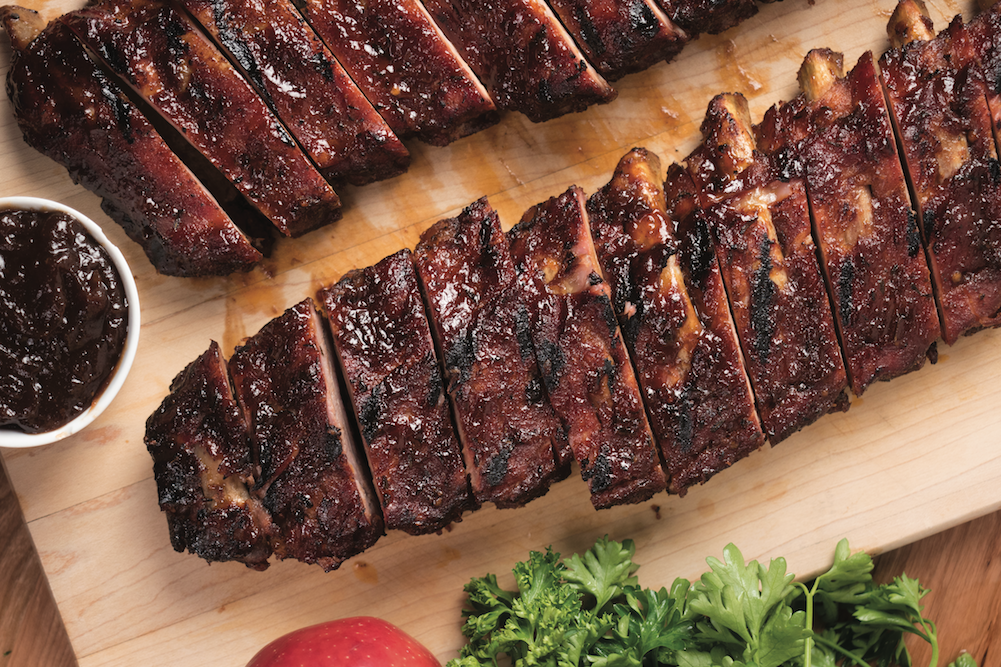 APPLE BUTTER BBQ RIBS
INGREDIENTS
2 full slabs of baby back ribs
2 Tbs. brown sugar
1 Tbs. paprika
1 tsp. cayenne powder
½ Tbs. salt
½ tsp. black pepper
1 tsp. ground ginger
1 tsp. dried thyme
applewood chunks
FOR THE APPLE BUTTER BARBECUE SAUCE
1 cup apple butter
½ cup ketchup
½ cup brown sugar
1 Tbs. apple cider vinegar
1 Tbs. yellow mustard
1 tsp. Worcestershire sauce
salt and pepper, to taste
DIRECTIONS
Preheat your grill for indirect: Place an aluminum foil pan filled with water under the grill grate and toss a chimney of hot coals alongside. With a butter knife and some paper towels, remove the membrane under each slab of ribs by inserting the knife between the membrane and one of the bones. Pull the membrane with a paper towel to remove it completely.
Mix the brown sugar, paprika, cayenne powder, salt, black pepper, ground ginger and dried thyme in a small bowl then apply the rub on both sides of the ribs with your hands so it penetrates the meat. Place the ribs on the grill grate in indirect heat and toss a few applewood chunks onto hot coals. Close the lid and cook for 2 hours at 300.F. Add all the Apple Butter BBQ Sauce ingredients into a saucepan and simmer for 10 minutes.
After 2 hours of cooking, wrap the ribs in aluminum foil with 1 cup of the Apple Butter BBQ Sauce on top of each. Cook for another hour at 300.F. The ribs are done when the meat has shrunk about 1 inch from the bones. Once fully cooked, remove from foil and sear over direct heat for 30 seconds per side to caramelize the BBQ sauce.
SMOKED CHICKEN LOLLIPOPS WITH COLA BBQ SAUCE
Yields: 24 lollipops
INGREDIENTS
24 chicken legs
1 cup hickory wood chips
FOR THE WET RUB
5 Tbs. cayenne hot sauce
5 Tbs. olive oil
½ cup brown sugar
¼ cup garlic powder
4 tsp. black pepper
3 Tbs. oregano
2 tsp. salt
FOR THE COLA BBQ SAUCE
1 cup cola
1 cup ketchup
¼ cup Worcestershire sauce
3 Tbs. steak sauce
1 tsp. onion powder
½ tsp. black pepper
DIRECTIONS
Preheat the smoker at 250ºF. Using a sharp chef's knife, cut and remove the skin that covers the bone of each chicken leg to shape them like a lollipop.
Mix all of the wet rub ingredients in a bowl, then dip each chicken leg into the mixture to give them an even coating.
Place the chicken lollipops in your smoker and add about 1 cup of hickory wood chips for smoking. Smoke until internal temperature of the chicken reaches 165ºF.
Mix all of the Cola BBQ Sauce ingredients in a saucepan and simmer for 10 minutes.
Serve the chicken lollipops with Cola BBQ Sauce.
BACON-WRAPPED FILET MIGNON INGREDIENTS
4 beef filet steaks, 2 inches thick
4 to 8 slices of bacon 3 Tbs. coarse sea salt
3 Tbs. freshly ground black pepper
2 Tbs. dried onion flakes
FOR THE COMPOUND BUTTER
16 oz. butter, softened
2 Tbs. oregano
zest of one lemon
½ Tbs. hot pepper flakes
1 Tbs. minced garlic
DIRECTIONS
Mix all of the compound butter ingredients in a bowl then spoon onto parchment paper or plastic wrap. Roll into a log of about 2 inches in diameter and chill in the refrigerator for at least 1 hour.
Preheat your grill at maximum temperature. Season the steaks on both sides with the salt, black pepper and dried onion flakes. Wrap 1 or 2 slices of bacon around each steak and tie them securely using butcher string.
Grill the steaks over high heat for 4 to 6 minutes per side with the lid closed. Flip the steaks a quarter turn for the bacon to face the grate and grill for 15 seconds per side or until the bacon is brown and lightly crisp. Use an instant-read thermometer toward the end of cooking to achieve desired temperature: 120 degrees for rare, 130. for medium rare. Remove steaks from the grill.
Cut four slices of compound butter up to ¼ inch thick and place them on each steak. Let the butter melt over the steaks for 8 to 10 minutes before serving.