Life's A Beach
There's no better place to escape daily life, clear your head and relax than at the beach. Luckily, we live a quick car ride away from pristine beaches—some with bustling boardwalks, others more suited for those seeking peace and quiet. So grab your lounge chairs, slather on that sunscreen and get outside.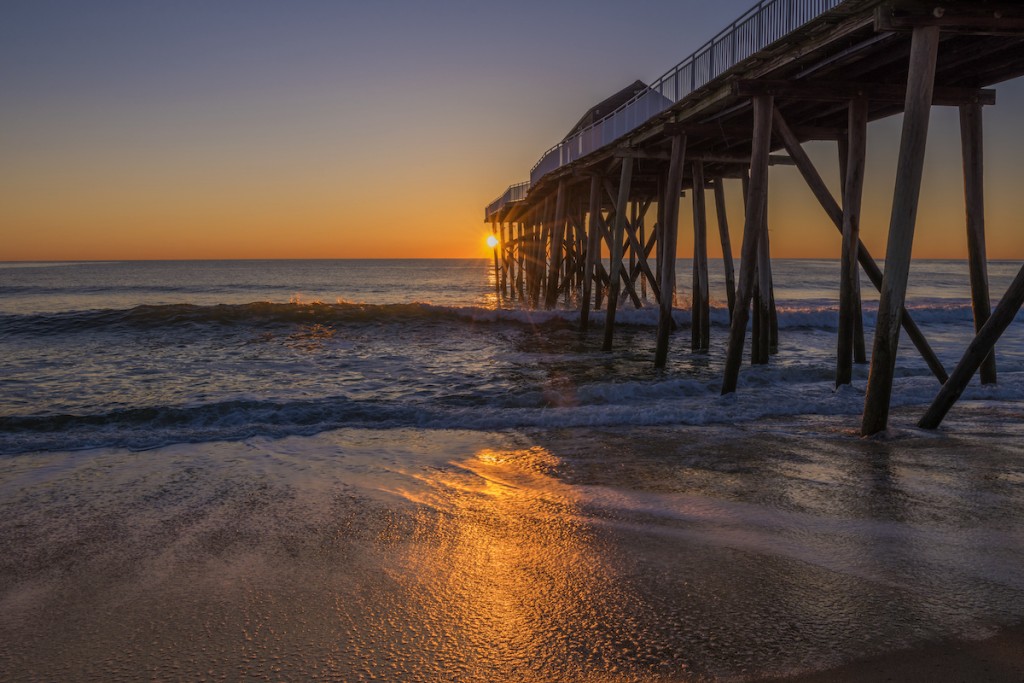 ALLENHURST
Description: This beach club has perks for members (pool access, cabanas etc.), but nonmembers are given access to all beach amenities with the purchase of a daily pass, which includes bathrooms and showers. It's a serene beach quieter than some of its neighbors, and also has an ocean-view restaurant. Don't miss the annual Allenhurst Labor Day Weekend tradition where the ocean is dyed green—the borough has been doing this since 1943.
Beach fees: For non-members, club fees are $10 daily for adults; children ages 12 and under are free.
Beach parking: Free street parking
Pets: No pets allowed.
For more information, call 732.531.2700.
ASBURY PARK
Description: Come play on the beach with family and stroll down the streets that inspired The Boss himself. With iconic music venues, art galleries and buildings in Victorian, Gothic, Federal Revival and other styles, Asbury Park has something for everyone.
Beach fees: $6 daily for adults (Monday–Friday), $9 weekends and holidays, free for 12 and under as well as active military members and veterans with military ID.
Beach parking: Payable at kiosk or via ParkMobile app
Pets: Dogs are allowed on the 8th Avenue Dog Beach from September through mid-May, 8:30 a.m. to 6 p.m. only.
For more information, call 732.502.8863.
AVON-BY-THE-SEA
Description: This family-oriented town has a little bit of everything, from quaint, Victorian[1]esque bed and breakfasts to a boardwalk with live music and street fairs. Want to do more than just sit and tan? You can surf or boat at Woodland Avenue and East End Avenue beaches.
Beach fees: $10 per person for ages 12 and older. Passes must be purchased through the Viply app. Beach parking: Free street parking
Pets: Pets are only allowed in the off-season, October through May.
For more information, call 732.502.4510
BELMAR
Description: This family friendly beach stretches 1.2 miles and features a small boardwalk with food and refreshment vendors. Additional eateries and taverns are located less than a mile away on Main Street. Want a cute date idea or something for the kids? Check out 9th Ave. Pier for mini golf.
Beach fees: $10 daily for adults, free for 13 and under, active military members and veterans. Passes must be purchased before arriving at the booth at belmarbeachbadges.com.
Beach parking: Payable via ParkMobile app for beachfront; free on side streets.
Pets: Prohibited on the beach until October.
For more information, call 732.681.3700

BRADLEY BEACH
Description: Those looking to escape the Jersey Shore crowds will find solace at Bradley Beach, which has a serene boardwalk with shops and restaurants. Patrons can also walk, bike ride or jog along the boardwalk, and fishing is permitted at certain spots along the water. Meanwhile, tots will enjoy the amenities here too, including a bevy of playgrounds set up for the 4-and-younger set.
Beach fees: $12 for adults; kids 11 and under are free. Admission is free for active military members and their spouses, and well as for veterans with proper ID.
Beach parking: Parking pay stations are located throughout the town; it's $1.50 an hour from 8 a.m. to 7 p.m.
Pets: Dogs are only permitted on the beach, boardwalk or promenade from Oct. 1 through May 15.
For more information, call 732.776.2999 ext. 3310
DEAL
Description: There are two options for beachgoers in deal; Conover Pavilion, the main public beach, or Deal Casino Beach Club, which is a private club with pool and beach access. There's no boardwalk in town, but it's perfect for a relaxing day at the shore if you won't miss all the hustle and bustle.
Beach fees: For Conover Pavilion, fees are $10 for weekday admission or $12 for weekends and holidays; children under 12 are free.
Beach parking: Free street parking
Pets: No pets allowed.
For more information, call 732.531.0404
LOCH ARBOUR
Description: Loch Arbour is small, spanning just two long blocks and one-tenth of a square mile. But this quaint Jersey beach, arguably the tiniest in Monmouth County, is small but mighty, and offers great views of Asbury Park without the traffic and crowds. Stop by the Village Beach Club for refreshments, a snack and a bathroom break.
Beach fees: $10 per person Monday-Thursday; $12 on Friday through Sunday and holidays.
Beach parking: Most streets offer free parking, but there are a few streets near Ocean Place that require meters.
Pets: 8th Avenue Dog Beach in Asbury Park is at the border of Loch Arbour, at which dogs are allowed after September.
For more information, call 732.531.4740
LONG BRANCH
Description: Long Branch is a bustling shore town with a lot to offer, including the Pier Village promenade (and home to New Jersey's biggest July 4th celebration, OceanFest), tons of beachfront restaurants and shops and two miles of boardwalk starting at Seven Presidents Beach, a 38-acre beach park for sand and surf.
Beach fees: $5 on weekdays, $7 for weekends and holidays. Teens ages 14-17 are $3 every day, and kids under 13, seniors over age 62, military members, veterans and disabled individuals are always free.
Beach parking: You may luck out and find free parking on a side street, but the parking lot where most beachgoers park is $10 for the day on weekends. Pier Village has free but limited parking too.
Pets: No pets permitted.
For more information, call 732.222.7000
MANASQUAN
Description: Mile-long Manasquan beach is a clean, well-maintained beach for the whole family. Main Beach has food and an arcade, while active types will find plenty to do (like surf or fish) at Manasquan Inlet.
Beach fees: $10 for everyone ages 12 and over; veterans and active military personnel and their families are free.
Beach parking: Manasquan Beach offers free on-street parking. Alternatively, there are five municipal lots that, if you're not a season pass holder, require a nominal daily fee of $10 on weekdays or $15 for weekends and holidays.
Pets: Leashed dogs are only permitted on the beach (but not on the boardwalk) in the off-season of October to April. You can, however, bring your furry friend to Fisherman's Cove Conservation, a riverfront park with a small dog-friendly beach area.
For more information, call 732.223.2514
MONMOUTH BEACH
Description: Monmouth Beach Bathing Pavilion is where you'll find sand and sun and plenty of space to sprawl out with your beach gear. It's clean and well-kept, but isn't the beach for you if you're looking for a boardwalk and/or lots of restaurants at which to grab a bite.
Beach fees: $10 for a daily pass
Beach parking: Street parking is free but limited; otherwise, try the free municipal lot located near the pavilion.
Pets: Pets are not permitted
For more information, call 732.229.2204
OCEAN GROVE
Description: A half-mile promenade alongside Ocean Grove's quaint beach is a nice respite from the Jersey Shore madness. Two blocks away from the boardwalk is the charming downtown, where you can grab a bite or indulge in some retail therapy.
Beach fees: $8 per person; children 11 and under are free. Note that for the 2022 season, the beach won't open until 12 p.m. on Sundays.
Beach parking: You can park for free on the street or in a lot if you purchase a beach badge.
Pets: Leashed dogs are only allowed in the off season, October through May.
For more information, call 732.988.5533
SANDY HOOK
Description: This 7-mile-long barrier beach peninsula jutting into the Atlantic Ocean and Sandy Hook Bay is part of the National Park Services' Gateway National Recreation Area, which encompasses 26,000 acres of parklands in parts of New Jersey and New York. It features public beaches, salt marshes, a holly forest and numerous historical landmarks.
Beach fees: Free with vehicle parking
Beach parking: $20 per day
Pets: Prohibited on the beach until fall.
For more information, call 732.872.5970
SEA BRIGHT
Description: The borough of Sea Bright has seven free public beaches along Ocean Avenue. There's also Sea Bright Municipal Beach in the center of town, which has more bells and whistles including lifeguards, parking, restrooms and locker rentals. Municipal Beach is also walking distance to Sea Bright's downtown area, but there's no boardwalk—it's more like a sitting area, with no activities or concessions.
Beach fees: $8 for ages 12 and over; kids under 12 and military personnel and family members are free.
Beach parking: $2 per hour every day from 9 a.m. to 9 p.m.
Pets: Prohibited on the beach until Labor Day.
For more information, call 732.842.0099
SEA GIRT
Description: Sea Girt has a white-sand beach with one mile of a boardwalk with gazebos and seating areas. It spans from the Historic Sea Girt Lighthouse to the southern end of town, which features turn-of-the-century architecture and charming restaurants and shops.
Beach fees: $11.98 daily; children 11 and under are free. Admission is free after 4:30 p.m.
Beach parking: Parking is free, if you're lucky enough to snag a spot along the four-block stretch of parking along the boardwalk.
Pets: Prohibited on the beach until Sept. 30.
For more information, call 732.449.9335
SPRING LAKE
Description: Two miles of oceanfront and pristine waters await you at Spring Lake. It's a modest beach (and boardwalk), ideal for those seeking some peace and quiet. The beaches at the North End Pavilion and South End Pavilion have restrooms, outdoor showers and food concessions available to all visitors.
Beach fees: $10 for a daily pass; kids 12 and under are free.
Beach parking: Free along Ocean Avenue
Pets: Prohibited on the beach until Sept. 30 except in the fenced area near Pitney Avenue.
For more information, call 732.449.0800