Living Well—With Cancer
A new drug helps a breast cancer patient get the most out of every day.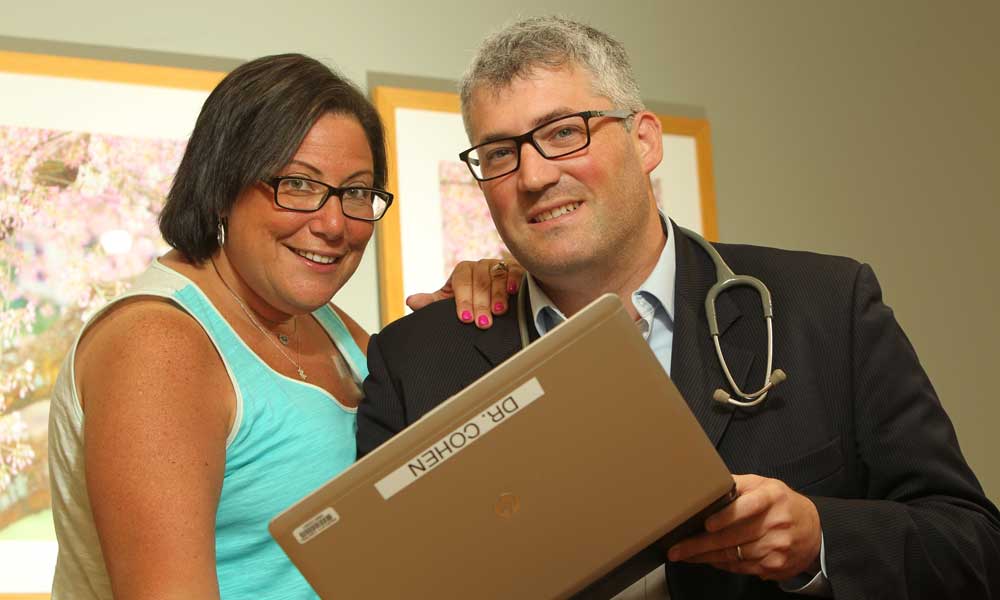 Breast cancer runs in Melissa Surdez's family. Her mother was diagnosed with breast cancer at age 40 and succumbed from the disease after a tough battle.
As Melissa and her sister Jessica—chief of Pain and Palliative Care Medicine and acting chair of Medicine at Monmouth Medical Center—neared their mid-to-late 30s, they underwent screening for the BRCA1 and BRCA 2 gene mutation to determine their risk for breast cancer. Melissa's test results were negative, while Jessica tested positive and opted for a double mastectomy at age 35.
Things appeared to be normal for Melissa for a few years. But then, at 40, she felt a lump in her right breast while taking a shower one morning. Coincidentally, she had her annual gynecological exam scheduled that same day—of course she told her physician about the lump. The doctor advised her to get a mammogram right away. She went to the Jacqueline M. Wilentz Comprehensive Breast Center at Monmouth Medical Center in Long Branch and had a mammogram, followed by an ultrasound exam, a fi ne needle biopsy and a core biopsy to determine the presence of cancer.
After the testing was complete, Melissa met with oncologist Seth Cohen, M.D., director of Clinical Research at Monmouth Medical Center and Monmouth Medical Center Southern Campus, and an attending physician at the Jacqueline M. Wilentz Comprehensive Breast Center at Monmouth Medical Center, to go over the results. Dr. Cohen broke the news to Melissa that she had stage III breast cancer in the right breast and lymph nodes.
Within three weeks, Melissa underwent a double mastectomy and lymph node dissection surgery to remove the cancer. As soon as she recovered, she received adjuvant chemotherapy— an additional treatment given after surgery to lower the risk of the cancer returning—followed by radiation treatment overseen by Mitchell Weiss, M.D., chairman of Radiation Oncology at Monmouth Medical Center.
Described by friends and family as resilient, high-energy and no-nonsense, the Aberdeen resident explained to her two children that while it was going to be a tough year, they would get through it. "I hit the pause button and did what I needed to do to get well," says Melissa.
As soon as Melissa was in the clear, she returned to living at full speed, going back to work full time as senior human resources director for New Brunswick-based Johnson & Johnson where she traveled extensively around the world.
THE CANCER COMES BACK
All appeared well for Melissa up until her family vacation at the Jersey Shore in August 2013. Then 45, Melissa started feeling discomfort on her right side and shrugged it off as gas pain. However, her attentive sister Jessica stepped in, as she noticed that Melissa looked uncomfortable when she moved about. At the advice of Jessica, Melissa made an appointment for an X-ray and a positron emission tomography (PET) scan.
After reviewing the results, Dr. Cohen delivered the shocking news: the cancer had returned. "It was a recurrence in the sense it came back the most extensive disease I've ever seen," says Dr. Cohen. "The cancer was everywhere throughout her body."
Melissa's breast cancer had metastasized into her liver and bones. The reports showed numerous tumors in her bones and liver—too many to count. Tumors encompassed more than the majority of her liver.
"Dr. Cohen explained to me that it was going to be about the quality of living and to contain and shrink the tumors," says Melissa. "He assured me that we were going to fight it hard."
A NEW DRUG TO THE RESCUE
Melissa's fate changed for the better when she received PERJETA, a newly FDA-approved treatment for HER2-positive metastatic breast cancer. The targeted therapy is used as part of a first-line HER2-positive metastatic breast cancer treatment plan, in combination with Herceptin (trastuzumab) and docetaxel. This drug was not FDA-approved when Melissa experienced her first bout of breast cancer.
Melissa's hardcore treatment from the end of August through December certainly paid off. When she underwent a scan in December, the team of specialists could not believe they were looking at the same person, as there was no new cancer.
"The cancer was gone," says Dr. Cohen. "And Melissa's disease had been so extensive that without the drugs we have today she wouldn't have survived."
Melissa was so pleased with her successful PERJETA treatment that that she served as a patient testimonial for Genentech, the drug's manufacturer, and had the opportunity to speak to the production workers in their South San Francisco plant to inspire and motivate them.
"I told the employees how important their work is and because of PERJETA I'm alive and well today," says Melissa. She also provided a TED talk called "Be Radically Real, Say What You See, Break Bread" about her experience.
LIVING WELL ONCE MORE
Today, Melissa, 46, is continuing her PERJETA and Herceptin treatment at Monmouth Medical Center's Outpatient Infusion Center, and is a permanent patient on maintenance chemotherapy and maintenance infusion. She meets with Dr. Cohen every three weeks and has scans conducted every few months.
"I'm forever grateful for the excellent care I've received at Monmouth Medical Center," says Melissa. "When you have a chronic disease like my cancer, your medical team becomes an extension of your family. Dr. Cohen, the nurses and the entire office team are part of my extended family. They are with me through this entire journey."
Melissa is still working full-time and is back to traveling. "I am back to the work of living," she says. "Cancer is and will always be a part of who I am, but I am in control of how it fits into my life. That is extremely liberating. It's been an amazing journey—I've used my illness as a teachable moment with my kids about not sweating the small stuff. Although I'm still living with stage IV breast cancer, I'm living very, very well. PERJETA allows me to live. I recognize how incredibly lucky I am."
To learn more about cancer treatments available at Monmouth Medical Center, visit mmccancer.com.