Local Buzz
Monmouth News + Reviews + Tips + Trends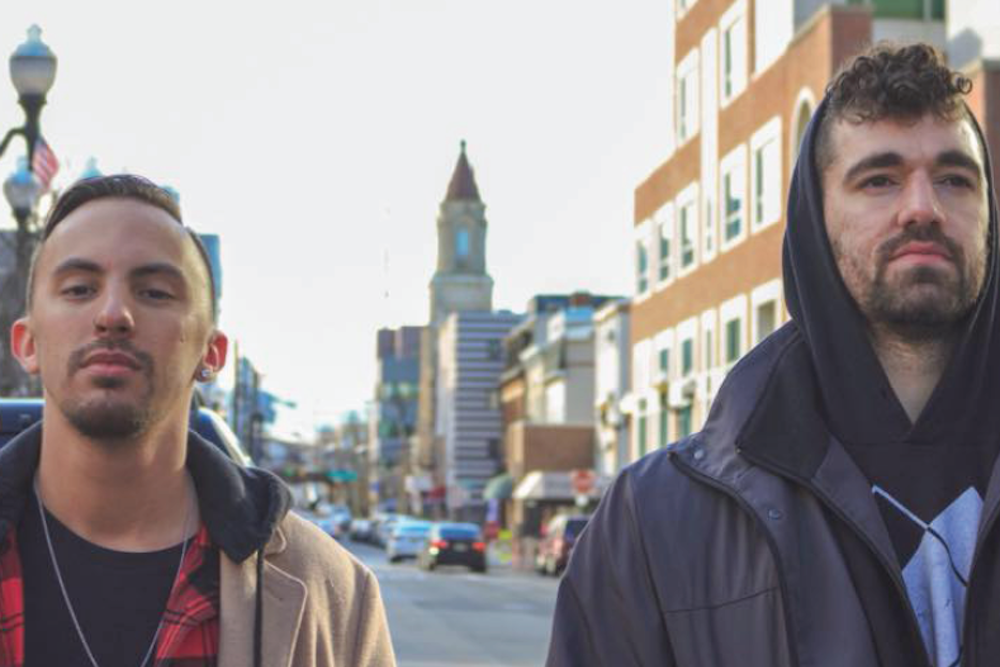 Singing Jersey's Praises
Bruce Springsteen and Jon Bon Jovi are two central Jersey stars who've made music history—could The Empire Project be next? It comprises Nico Araco and Kyle Wolf, 2010 Matawan High School graduates who've written a rap song dedicated to New Jersey titled "Garden State of Mind" (a nod to Alicia Keys' and Jay-Z's "Empire State of Mind," we're sure). It has plenty of references to the 732 and the state as a whole, with lyrics like "I don't wanna lose my cool again/ But if you don't know what a Wawa or a pork roll is/Then it's better we don't be friends."
Speaking of friends, these longtime pals started making music together in the fourth grade and actually recorded this song in 2016. But it made the rounds online again earlier this summer and amassed 50,000 views on YouTube in one week. "I work at a bar in Keyport, and to this day people come in like, 'Hey, you're the dude from the Jersey song," Araco tells Monmouth Health & Life. "It's really humbling. It's crazy seeing how many people this song touched. Our mission has always been to put Jersey on the map—and the city that made us, the small town of Cliffwood Beach." Visit youtube.com/empireprojectmusic to hear the guys' jam, and be warned: It's pretty catchy

And the Winner is…
Here she comes, Miss America—we hope! Earlier this summer, Jade Gleb of Belmar was crowned Miss New Jersey 2019, qualifying for the Miss America 2020 competition taking place in September. The 19-year-old beat out four other finalists in part by signing opera for the competition's talent portion, discussing "Healthy Children, Strong America" as her "social impact initiative" and revealing hopes to eventually open a small business staffed by and serving women in finance. Gleb is an alum of Red Bank Regional High School and Brookdale Community College in Lincroft, and she plans to study finance at the University of Virginia after taking a year off to prep for Miss America.

Spray Misty for Me
We hate to say it, but 2019's days of outdoor fun are numbered—the chill of fall is coming. Happily we can still soak up the last few weeks of warm weather. These five local spraygrounds, which are essentially playgrounds with separate splash areas equipped with sprinklers for kids to run through and play in, are the perfect way to cool your family off on a hot, end-of-summer day:
Cross Farm Park, Holmdel
This sprayground is designed like a baseball field, with water squirting out from a baseball up top and five in-ground water sprays along the diamond. A bit on the small side, it's perfect for the toddler set, as are the accompanying two playgrounds. Admission: Free. Open through August.
10 Longbridge Rd., Holmdel, 732.475.4500
Asbury Splash Park, Asbury Park
This park has a lot of things to make parents happy: non-slip grounds so kiddos won't fall, a large seating area so moms and dads needn't get wet and a spreadout water area so it never feels too crowded. Little ones, meanwhile, will love cool features such as an oversized watering can and tons of in-ground sprinklers. Admission: $10 per child and $5 per adult, or $24 for a family of four. Open through Labor Day, weather permitting.
915 Ocean Ave., Asbury Park, 732.897.6538
Sprayground at Dorbrook Recreation Area, Colts Neck
This sprayground is one of the biggest in the area and feels more like a mini water park than a playground. Features include cascading leaves of water, troughs, sprinklers, sprayers and water tables, plus a sand area. Bonus: Dorbrook underwent a 2016 makeover in which a new-and-improved water purification system was installed. Admission: Free. Open through Sept. 18.
353 County Route 537, Colts Neck, 732.542.1642
Recreation Center Splash Pad, Manalapan
A relatively new addition to the Manalapan Recreation Center is this sports-themed sprayground with fun misters, cannon and spritzers. It also boasts a shaded area with picnic tables, in case the water isn't enough of a cool-down. Admission: Free. Open through Labor Day, weather permitting.
93 Tennent Ave., Manalapan, 732.446.8355
Michael J. Tighe Park, Freehold
This park has both a splash pad, with buckets and sprinklers for younger kids, and a sprayground with taller geysers and rainbow rings for the older set. Admission: $4 for kids 12 and under, $3 for adults. Open only on Saturdays and Sundays through August.
65 Georgia Rd., Freehold, 732.446.8355

Bug Off!
We've all been there: having to fend off summer's bloodsuckers while hosting an outdoor soiree. Citronella candles have been the go-to repellent for many of us because they're pleasant-smelling and easy to use, but they're also generally ineffective. In fact, they're not included on the U.S. Centers for Disease Control and Prevention's list of mosquito repellents.
We at Monmouth Health & Life tried a new product, the Rescue DecoShield Lantern. It is said to work by using all-natural essential oils that confuse the bugs' antennae, thereby repelling them. On a recent balmy night, one lantern kept everyone in a 300-sq.-ft. space comfortable and bite-free. (For larger spaces, you'll need extra lanterns.) We used it for an all-day event and it worked, and the manufacturer claims it lasts four days. Refills are available after that. During mosquito-free seasons, the lantern runs on batteries and serves as a light. It is sold for about $15 and Towne Hardware in Oakhurts, Sickles Farm Market in Little Silver and Becker True Value in Colts Neck.
Bike Problems? No Problem!
If you're riding your bicycle and a tire goes flat or your brakes give out, Monmouth County parks can help. The county has installed repair stations at select parks and trails throughout the Monmouth region where you can fix that flat right up. And if you've got your smartphone on you while having technical difficulties, just scan the QR code located at the repair station to load videos on how to fix whatever bike problem you're having. The stations are located at Dorbrook Recreation Area in Colts Neck, Thompson Park in Lincroft, the Manasquan Reservoir and Rocky Point in Hartshorne Woods in Highlands, and there are plans to install more along the popular Henry Hudson Trail.
On a Roll!
In the mood for a little self-care? Holmdel's Lisa Horan-Sockol and Middletown's Emily Sobel have just the thing. The twosome has opened Sun Moon Yoga & Healing, a welcoming yoga studio in Long Branch's trendy West End neighborhood. "We wanted to create a loving environment for the community, a safe place to heal and connect to love," Sobel tells Monmouth Health & Life. "Our teachers teach from the heart, and you feel uplifted entering into the studio." And you can expect a little something for everyone in the coming weeks and months. "We will be offering workshops, kirtan, community classes, reiki and donation events," she adds, "and we'll have discounts for seniors, veterans, teachers and new students."
Sun Moon Yoga & Healing, 104 Brighton Ave., Long Branch, 917.701.3298, sunmoonyogahealing.com
Culinary Corner
Meat Market
The Butchers Block, a new "meatery" in Long Branch, takes the farm-to-table concept to the next level. Not only are the meals organic and super-fresh, but there's no middleman— meat travels from the farm to this family-run slaughterhouse, so you know you're getting the best of the best cuts. There are also separate areas within The Butcher's Block: the Warehouse Espresso Bar, the Block Parlor (which is the main dining space) and the Butcher Shop.
The Butchers Block, 235 West Ave., Long Branch, 732.795.39
Say Hi to Some New Thai
Another new family-owned business in our 'hood is Moo Yai Thai, the latest addition to the Sea Bright dining scene. Mama Sang is a home cook and professional chef who opened this restaurant with her family to share the authentic flavors of Thai cooking with the Jersey Shore. Here you'll find traditional Thai dishes such as papaya salad, mango sticky rice and drunken noodles.
Moo Yai Thai, 1064 Ocean Ave., Sea Bright, 732.945.6790​
Una Bellisimo Pizza
If you haven't yet tasted the wonder that is Anthony Mangieri's pizza, you're missing out. The Jersey native has pioneered his own version of Neopolitan pizza and made it with his own hands (as opposed to a bread machine) at his pizzerias in Point Pleasant, New York City, San Francisco, and then again in New York City. But Mangieri is returning to his Jersey Shore roots. For the first time he will have more than one location of Una Pizza Napoletana, as the Lower East Side one remains open while a new one is set to debut in Atlantic Highlands by late summer or early fall. And this isn't your typical Jersey slice. Mangieri employs a natural leavening process—the dough takes 24 hours to rise. It then cooks for 90 seconds in a custom-made, wood-fired oven. The menu will also include an expansive list of Italian wines and cocktails.
Una Pizza Napoletana, 91A First Ave., Atlantic Highlands

Winning Big
Dreams do come true—just ask Fair Haven's Roey Hadar. The 24-year-old recent Columbia School of Journalism grad, who spent much of his youth playing quiz games and entering spelling and geography bees, fulfilled an ambition in July when he appeared on Jeopardy! The Rumson Country Day School and Ranney School alum became champion during his first game, when he won $23,600. The next day he came in second and won an additional $2,000 consolation prize. Hadar currently lives in Arlington, Va., because of his job as a production associate for PBS' Washington Week, but we know it was Monmouth County that made him so smart.