Local Buzz
Monmouth News + Reviews + Tips + Trends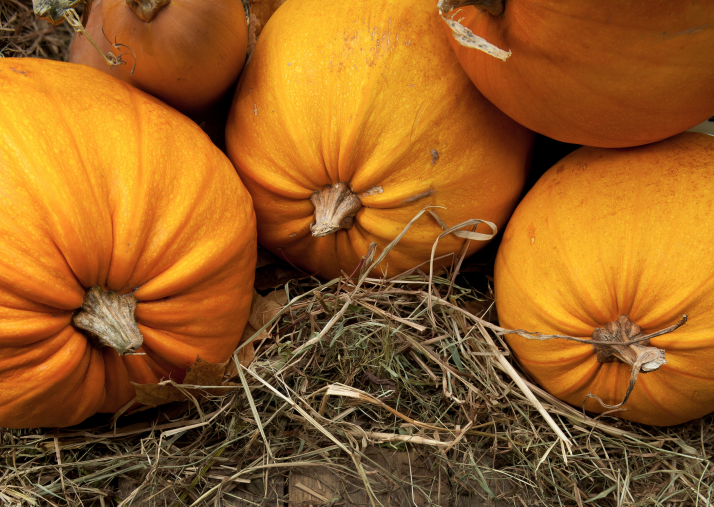 HIP, HIP, HOORHAYRIDES
Is it even really fall if you don't take at least a sip of a pumpkin spice latte or enjoy an Instagram-friendly day picking apples or taking hayrides? We can help you out with that last one, as several Monmouth County farms and nurseries are hosting hayrides throughout the season. Here's where and when:
A. CASOLA FARMS & GREENHOUSE in Holmdel's activity slate is all decked out for fall, and it has hayrides (as well as other fun stuff like pony rides and a petting zoo) weekdays from 9 a.m. to 6 p.m. If you're in a spookier mood, take another trip on Saturday or Sunday from 7 to 10 p.m. for a haunted hayride to the ghoulish greenhouse.

​178 RT. 32, HOLMDEL, 732.332.1533, ACASOLAFARMS.COM

WEST HAVEN FARMS in Allentown has open hours for hayrides on weekends, 10 a.m. to 3 p.m., or on weekdays by appointment only. While you're there, check out the farm's corn maze, an annual spectacle that locals look forward to year after year.

725 RT. 524, ALLENTOWN, 609.259.2186, WESTHAVENFARMINC.COM

BATTLEVIEW ORCHARDS in Freehold focuses mainly on its market and on pick-your-own offerings—peaches, apples, pumpkins, the works—but it also offers fun hayrides to and from the orchards on weekends.

91 WEMROCK RD., FREEHOLD, 732.462.0756, BATTLEVIEWORCHARDS.COM

CHEESEQUAKE FARMS in Matawan puts a fun twist on hayrides with zombie paintball hayrides, in which riders shoot paintball guns mounted along the sides of the tractor at zombies along the way. Rides are offered Friday, Saturday and Sunday nights and during the day on Saturday and Sunday at CF's Route 9 location in Old Bridge, but call to confirm. P.S.: No kids under fi ve are permitted.

191 RT. 34 MATAWAN, 732.583.6780, CHEESEQUAKEFARMS.COM
KUDOS
ASHTON BENAVIDES has attained "ambassador" status. The student at Mater Dei Prep High School in Middletown was chosen to represent his school at the Hugh O'Brian Youth Leadership Seminar, an annual four-day conference held at Kean University, where "ambassadors" from across the state gather to brush up on their leadership skills with presentations and group activities.
You've undoubtedly seen A. J. Perri's signature green trucks around Monmouth County—the business is one of the state's leaders in plumbing and heating services, after all. And NJBiz has taken note, as the magazine has given its third annual Icon Honors Award to ALBERT PERRI SR., founder of the Tinton Falls-based HVAC company. The award recognizes prominent figures over age 60 in New Jersey business for success in and beyond their fields. At an awards ceremony in August, Perri's son Kevin, company vice president, accepted the award on behalf of his dad, who is now retired.

THE ADVENTURE IS COMING
When it's completed in the next two to four years, the mammoth Adventure Crossing in Ocean County's Jackson promises to be the Northeast's largest indoor entertainment and sports center. The $500 million project, right across from Six Flags Great Adventure, will have turf fields and courts on which to host statewide sports tournaments— and also restaurants, laser tag, an arcade, a training clubhouse and much more. Check out adventure sportsandentertainment.com as the project progresses.

A PLAYGROUND FOR ALL
There's an effort under way in Colts Neck to make sure no one misses out on fun. Spearheaded by Colts Neck Lions Club, Monmouth County Parks has built a new, sensory-friendly playground at Dorbrook Park especially for children with visual impairments. Colts Neck Lions Club raised more than $140,000 to build the Sensory Lions' Den, as it's called, which features oversized musical instruments, button-activated mists of water and its pièce de résistance, a spinning global motion dome. The park is expected to open to the public later this month.

KEEPING UP WITH THE JONASES
Before the Jonas Brothers took the stage in front of 8,000 fans at Asbury Park's iconic Stone Pony music club for their pre-taped MTV Video Music Awards performance, Kevin, Joe and Nick of Wyckoff stayed at the Asbury Ocean Club. "Jersey boys," Kev captioned an Instagram photo of himself and little bro Nick on their hotel balcony. Opened this summer, AOC is the Shore's first five-star luxury boutique hotel.

CULINARY CORNER
LET'S TACO BOUT IT
Eighteen years ago Surf Taco was born in a small Point Pleasant kitchen, and now it's moving onto its 15th location, in Wall. Like the other stores, Wall's Surf Taco will feature the brand's famous menu of tacos, burritos, bowls, salads and wraps that pair perfectly with chips, fresh guacamole and salsa. The beachy vibe is another plus, and there's a plan to feature painted murals from local artists on those Wall walls.
SURF TACO, 1818 RTE. 35, WALL, SURFTACO.COM
A NUMBER TO REMEMBER
We 100 percent recommend 100 Ocean, a new restaurant inside the brand-new Wave Resort on Long Branch's oceanfront. The large eatery (with a sprawling waterside patio outside to match) is industrial chic in décor but Mediterranean in cuisine, with menu items ranging from avocado toast to fi g and prosciutto fl atbread and lobster ravioli. It serves brunch, lunch and dinner.
100 OCEAN, 100 OCEAN AVE., LONG BRANCH, 732.795.6618, 100-OCEAN.COM
PANINIS PLUS PLUS
Don't let the name deter you. Panini Grill, in Freehold where San Marzano used to be, sells way more than just pressed sandwiches. Choose from a wide array of Italian and American delicacies such as pastas, pizzas, meat entrees, salads and—well, yeah, paninis. Pro tip: Panini Grill has live entertainment on Tuesday nights, plus yummy specials such as the lobster mac-and-cheese panini that swap out weekly.
PANINI GRILL 31 E. MAIN ST., FREEHOLD, 732.845.5440, PANINIGRILLNJ.COM RED BANK BAN

Red Bank Ban
Monmouth County is attempting to limit pollution, one plastic bag at a time. The Red Bank borough council voted unanimously in August to join other Monmouth municipalities like Atlantic Highlands and Belmar in banning single-use plastic bags and styrofoam containers. Moreover, plastic straws will be given to customers only upon request. It's all in an effort to save the planet. One caveat: like those in some other towns, the ban in Red Bank has exceptions—it will not apply, for example, to plastic bags used by dry cleaners, by medical providers or for produce. You have until September 2020, when the law takes effect, to load up on reusable bags.