Local Buzz
Monmouth news, reviews, tips and trends.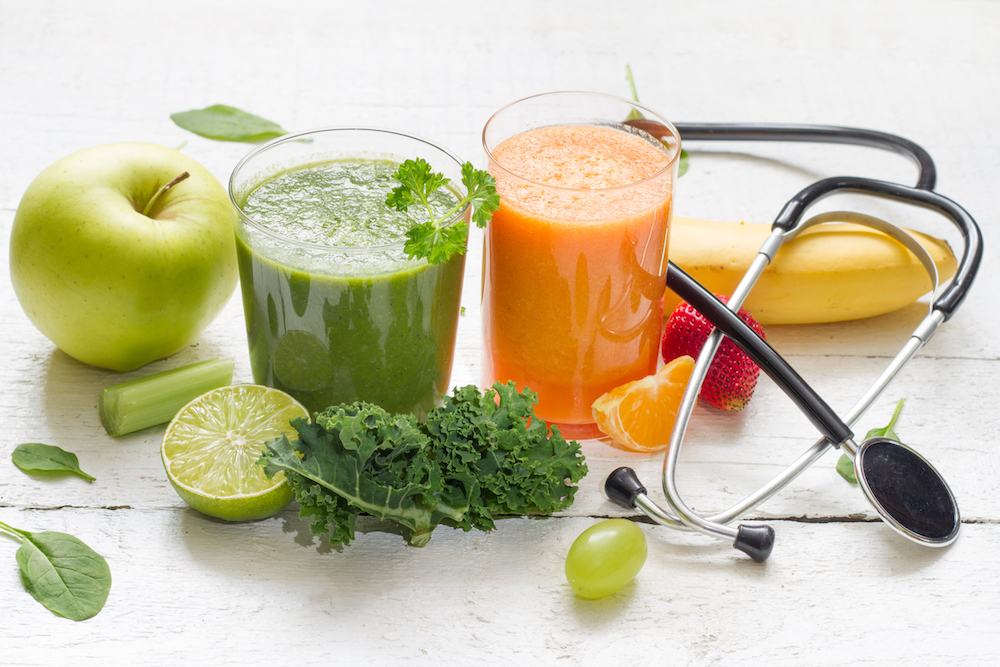 MINDFUL EATING
March is National Nutrition Month, which promotes healthy eating habits and nutrition education. Here, two Monmouth County-based nutritionists share their easy-to-follow tips that'll help you maintain your good eating habits or adopt better ones.
Load up on natural cleansing foods. Don't even start with those over-the-counter products that promise to rid your body of toxins. Cleanse the natural way by choosing foods that'll do it for you, like with bitter greens such as dandelion greens, mustard greens, kale and arugula. "I recommend aiming for five servings per day," says Samantha Franceschini, Clinical Nutritionist at Integrative Wellness Group in Belmar. "Throw them in a smoothie, make a big salad, or sauté them up for dinner. These greens will also keep you energized."
Eat more healthy fats. Healthy fats "boost brain power, help regulate metabolism and mood and reduce inflammation," says Nikki Yelton, integrative and functional medicine nutritionist at Nutrition Treatment Center in Red Bank. She recommends incorporating the four main fats of avocado oil, olive oil, coconut oil and ghee butter into your diet. "Olive oil works great as a dressing base where avocado oil, coconut oil and ghee butter work well with high heat cooking," she adds. Try unexpected food swaps. Try substituting flaxseed for eggs in any recipe.
"Just add 1 tbsp. of ground flaxseed to 3 tbsp. of water, whisk, and let sit for a few minutes," Franceschini says. Want another option? Sub in "coconut sugar, maple syrup, honey, or dates for refined and processed white cane sugar," adds Yelton. "And pink Himalayan sea salt can replace regular table salt too."
Limit your coffee intake. Instead of reaching for that second cup of joe to get you through the afternoon slump, add a teaspoon of pure organic maca—which tastes like caramel, by the way—to your black coffee in the morning. "Maca is an adaptogen that gives you energy, takes away that caffeine jitter and is rich in many nutrients such as B vitamins, magnesium, potassium and zinc," Franceschini says. Finish with a splash of almond milk and pinch of coconut sugar.
Go with your gut. Replace inflammatory, processed foods with probiotics, which are dietary fibers that feed the healthy bacteria in your gut. Yogurt, kimchi, sauerkraut, kombucha and even dark chocolate will improve gut health and your overall well-being by helping to repopulate the body's "good" bacteria, says Yelton.
GET ROWING, GET GOING
Whether you're part of the fitness elite or simply kicking off a new resolution, make 2019 the year you take up rowing. These indoor classes aren't just trending now, they're quickly becoming a fixture in regular training routines— the low-impact workouts engage the entire body, burn more calories and work up a bigger sweat than indoor cycling, running and other aerobic exercises. A 30-minute row session, for example, can burn up to 300 calories. CrossFit Delirium (6 Industrial Way West, Eatontown, 908.338.1175), for example, offers rowing classes for all ages and abilities, while Ultimate Fit Zone (1466 Highway 35 South, Ocean, 732.428.2111) includes rowing exercises within their cross-training workouts. Get on the boat because this workout isn't sinking!
WELCOME BACK, BRUCE
The Boss is coming back home.
Monmouth County Historical Association Museum in Freehold is dedicating an exhibit to the life and career of rock legend Bruce Springsteen. Aptly titled "Springsteen: His Hometown,"—he lived in Freehold from birth until his teens—the display will feature never-before-seen relics from his storied career. Think scrapbooks, alternate album art, oral histories, plus artifacts from The Bruce Springsteen Archives and Center for American Music at Monmouth University like concert memorabilia, books and photos. The exhibit opens in September for Springsteen's 70th birthday (and Freehold's centennial) and will be open to the public until September 2020.
MONMOUTH COUNTY HISTORICAL ASSOCIATION MUSEUM, 70 COURT ST., FREEHOLD, 732.462.1466 MONMOUTHHISTORY.ORG
WELCOME TO THE NEIGHBORHOOD
If "buy new furniture" is one of your goals for the new year, now's a good time to live in Monmouth County. Three new home furnishing stores have opened or will open soon in the area. Raymour and Flanigan Outlet in Malapan is officially in business and sells furniture for every room of the home at discount prices (hence the "outlet" part). Meanwhile, At Home opened in Brick, which has over 50,000 items like furniture, mirrors, rugs, art, housewares, tabletop, patio and seasonal decor on display in its warehousestyle superstore. Lastly, HomeSense is nearing its grand opening at the Manalapan EpiCenter. In addition to furniture, HomeSense also sells lighting, rugs, décor, storage solutions and other odds and ends you may or may not actually need for your abode.
RAYMOUR AND FLANIGAN OUTLET, 7 RTE. 9 S., MANAPALAN, 732.252.1980. AT HOME, 1930 RTE. 88 N., BRICK, 732.965.0085. HOMESENSE, 55 RTE. 9, MANALAPAN.
POTUS NJ IQ
President's Day, Feb. 18, is a welcomed day off from work or school, sure, but did you know many of our country's great leaders have ties to the Garden State? Whether they lived (or died) here or were just down the shore for a visit, use a part of your day off to brush up on your presidential knowledge with this fill-in-the-blanks quiz below.
1. President ___ was born in Caldwell and is the only New Jersey native to become president of the United States.
2. Presidents ___ visited Long Branch. Seven Presidents Park and The Church of The Presidents is named after them.
3. President ___ died in Elberon, a small community within Long Branch.
4. President ___ served as governor of New Jersey and the president of Princeton University, then known as The College of New Jersey.
5. President ___ was Princeton University's first graduate student. 6. President ___ lived in Saddle River and Park Ridge after serving his terms in the White House.
7. President ___'s funeral train stopped in Newark on its way to the Midwest from Washington, D.C.
KUDOS:
SCOUT'S HONOR
Red Bank Regional High School senior Claire Taylor is the recipient of Girl Scouts' distinguished Medal of Honor. Claire sprang into action back in 2017 when she witnessed her younger sister, Sarah, going into cardiac arrest at their home. She performed CPR that she had learned in a Girl Scouts course and called 911, saving the now-13-year-old's life. In November, Claire was also honored by Monmouth County Board of Chosen Freeholders, who declared Nov. 13 "Claire Taylor Day."
BATTER UP
Meanwhile, RBR's star pitcher, Jack Povey, will play baseball for Villanova University next fall. The 18-year-old has earned eight wins and struck out 143 batters in 111 innings during his tenure. "The coaches seemed to really want me and I felt they could help me as much as I could help them due to their athletic program and strong academics," the Shrewsbury native says.
WHEELCHAIR WINNER
Union Beach resident Millie Gonzalez was crowned Ms. Wheelchair New Jersey 2019. As part of her new role, the 40-year-old will meet with advocacy groups and make public appearances to discuss awareness and acceptance of people with disabilities. Gonzalez, who was born with spina bifida, will represent the Garden State in the Ms. Wheelchair America 2020 competition in Arkansas this summer
CULINARY CORNER:
ARTFUL EATS
Poke Art is essentially a make-your-own-salad place but for poke, and why didn't we think of this first? The new Long Branch establishment lets customers build their own bowl of poke (that's raw, fresh fish, by the way) by choosing a base, a protein, toppings and sauces. You could also try one of the chef's bowls or an Instagrammable sushi burrito, but no matter what you pick, you'll definitely want to wash things down with mochi and/or bubble tea. POKE ART, 838 OCEAN AVE., LONG BRANCH, 732.870.8888, POKEARTLONGBRANCH.COM
TAKE A BITE
Perhaps you've seen the Latin Bites food trucks driving around the Garden State? Now they've got a brick-andmortar store in Manalapan selling the same Latin and Cuban fare for which they're known. Their claim to fame is the fried picadera (bites) stuffed with plantains, cod, ham, pork or chicken, but their menu is stocked with traditional empanadas, sandwiches, seafood and various platters too.
LATIN BITES, 349 ROUTE 9, MANALAPAN, 833.787.9372, LATINBITESNJ.COM
AN APPLE A DAY
Locals were bummed when Café Mumford in Tinton Falls closed this summer, but good news: Mumford's chef opened a new farm-to-table restaurant, Apple Street Kitchen, in the same exact location. The breakfast and lunch spot has been operating since the summer but is gaining more traction now, likely as its unique menu items like grilled cheese on walnut raisin bread and miso matzo soup have caught on. PS: They also offer cooking classes and catering.
APPLE STREET KITCHEN, 33 APPLE ST., TINTON FALLS, 732.747.7646, APPLESTREETKITCHEN.COM
ANSWERS:
1. Grover Cleveland 2. Chester Arthur, James Garfield, Ulysses S. Grant, Benjamin Harrison, Rutherford B. Hayes, William McKinley, Woodrow Wilson 3. James Garfield 4. Woodrow Wilson 5. James Madison 6. Richard Nixon 7. Abraham Lincoln