Lodge Living
A rustic lake placid retreat inspires the great room décor in this spacious Mendham township home.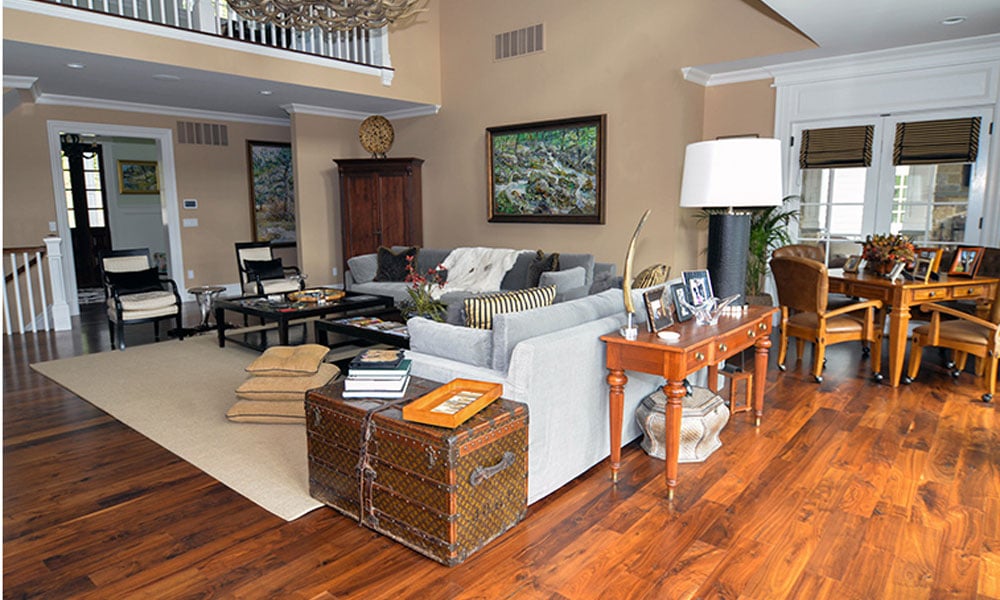 It was her family's many visits to the beautiful whiteface lodge in lake Placid, N.Y., that served as inspiration for the décor of the great room in the Mendham Township home of Kara Bossert. "My daughter did figure skating and competed up there, so we went every January for six or seven years," Bossert recalls. "We always thought the antler chandeliers were amazing, so we figured, 'Why not? We have tons of deer around here; it's not so far-fetched that we would have an antler chandelier.' So we had one made for the room." The great room is the main living area in the house, and Bossert wanted a natural, earthy look for the space. "I have animal skins, fur pillows, horn bowls and things like that out on the tables," says Bossert, owner of the design firm Design in time. "With the stone fireplace, it all lends itself to that feel."
The large scale of the room led Bossert to use long gray velvet couches from restoration hardware and not one but two black coffee tables from safavieh. And the lexington armoire in the corner was chosen for its size but turned out to be a very handy piece. "Initially, it was just to fill that corner and give some height to the room," Bossert explains. "But it stows the kids' board games and puzzles that we want to keep handy."
Bossert used Benjamin Moore's Bridgewater tan on the walls because she loves the way that color looks against the abundant white woodwork in the house, which the family built about three years ago. Shades of black and gold can be found throughout the room, including in the Kravet fabric used for long panel drapes and roman shades. "I love black," says Bossert. "I have a lot of black in my home. It's very dramatic and makes an impactful statement." The black embossed leather lamp by Ralph Lauren was a lucky home Goods find.
Overall, Bossert loves the way it all came together. "It's a really comfortable room," she says. "It gets a lot of natural light, and it's a nice room to spend time in." But her favorite thing will always be the chandelier: "I'm just in awe of it," she says, "especially when you're sitting on the couch and looking up at it. The way it's constructed, it's amazing."