Lung Cancer: 4 Rays of Hope
It remains deadly, but these developments brighten the picture for patients.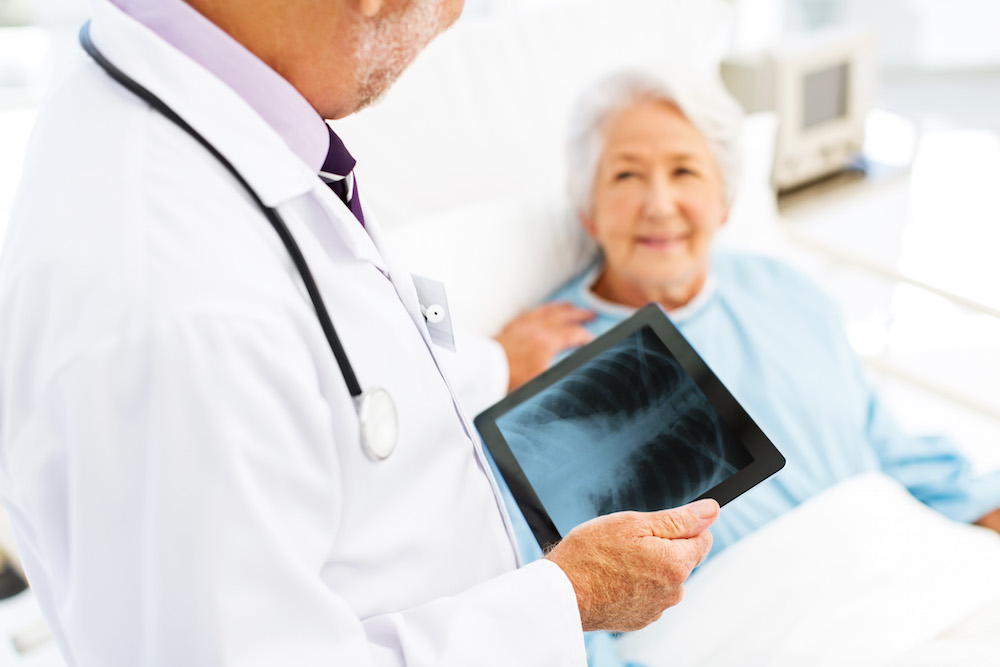 Cancer of the lung of one of the disease's most virulent forms, but four new options available to patients today— screening, minimally invasive surgery, precision medicine and immunotherapy—are good news for patients:
Screening
They say an ounce of prevention is worth a pound of cure; nowhere is that truer than with lung cancer. Recently enacted guidelines offer screening options for smokers to catch lung cancer at its earliest stages, when it is best treated.
Screening for adults age 55 and older with a history of smoking, using a low-dose computed tomography (CT) scan, has been shown to help identify cancers much earlier than before. Bridget Saggese, the nurse navigator at the Saint Barnabas Lung Cancer Institute, oversees the screening process at the hospital. Last year, the program identified nine patients with stage 1 cancer. "When an abnormal finding is identified, my role is to expedite the care of the patient from diagnosis to treatment," she says. Those nine patients have all received treatment and are doing well, she reports.
Minimally Invasive Surgery
Patients with early-stage cancers have new surgical options, says Subroto Paul, M.D., director of thoracic surgery for RWJBarnabas Health. "We used to do open surgery, in which the ribs are separated so that instruments can be introduced into the chest to take out cancer," he says. "Now we can do video-assisted surgery, which is analogous to laparoscopic surgery. We use smaller incisions to put a camera in, find the tumor and remove it. Studies for which I have been the primary author show that this approach can mean less pain, shorter hospital stays and a quicker return to normal living." These techniques also allow those who cannot tolerate a big, open operation to consider surgical treatment.
Andrew Brown, M.D.
Precision Medicine
The biggest advances, however, have been in treatments for advanced cases. "We have entered an era of precision medicine, especially in lung cancer," says Andrew Brown, M.D., an oncologist who is medical director of the Lung Cancer Screening Program at Saint Barnabas Medical Center. "It's a paradigm shift." Precision medicine describes today's ability to look at the cells from a tumor biopsy to identify an individual's specific genetic mutations that could be linked to the cancer itself. "That has made possible medications that target these specific mutations and, in many cases, can shut them down like a lock and key. It has been fairly groundbreaking." There are currently two FDA-approved medications for these types of cancers, but many more are being used in research trials, including at Saint Barnabas Medical Center.
Immunotherapy
In another major advance, the body's own immune system can now be primed, with medication, to combat the cancer itself, in the same way it fights off viruses and bacteria. "This is changing the way we think about lung cancer and how it behaves," Dr. Brown says.
Scientists have been studying immunotherapy for decades, he says, "but just recently have we developed therapies that actually use it." Two medications are currently approved for this, Opdiva and Keytruda. But "plenty more are coming down the road," he says.
For now, precision medicine and immunotherapy are only approved for advance-stage cancer patients, and while they extend life and greatly reduce the side effects of other treatments, they are not curative. But trials are also under way to determine whether these drugs improve rates of actual cure for earlierstage patients. Dr. Brown is optimistic. "I feel confident that this is the future for all lung cancer patients, and it's pretty close to happening," he says. "Nothing is FDAapproved now, but it's coming fast, within the next 10 years. This is still a very difficult disease, but we're getting better at treating it. It's a very exciting time."
Subroto Paul, M.D..
Should you be screened for lung cancer?
The U.S. Preventive Services Task Force recommends annual screening for lung cancer with low-dose computed tomography in adults ages 55 to 80 who have a 30 pack-year smoking history (that is, 30 years of 1-pack-a-day smoking, or 15 years of 2 packs a day, etc.) and currently smoke or have quit within the past 15 years.
Screening should be discontinued once a person has not smoked for 15 years or develops a health problem that substantially limits life expectancy or the ability or willingness to have curative lung surgery.
Free screenings are available through the Saint Barnabas Medical Center Lung Cancer Institure. To schedule a screening call 973.322.6644
SOURCE: The U.S. Preventive Services Task Force
Screening can be a lifesaver
In 2016, the Saint Barnabas Medical Center Lung Screening Program screened 296 individuals. Of them,
225 were scheduled for oneyear follow-up.
326 were scheduled for twoyear follow-up.
9 were diagnosed with Stage 1 lung cancer.
1 was diagnosed with Stage 3 lung cancer.
155 received tobacco cessation treatment.
SOURCE: RWJBarnabas Health
For information about the Lung Cancer Institute call 973.322.6644 or visit barnabashealth.org/sbmccancer.