Magnet for Fine Nurses
When it comes to providing excellent care at the bedside, success attracts success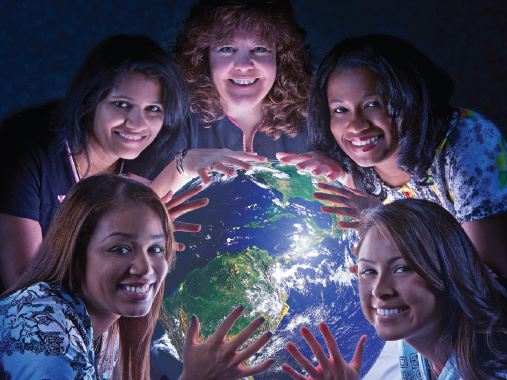 Anyone who has ever been in a hospital knows that—no offense, doctors—it's the nurses who really care for the patients. They do all the day-to-day tasks that make patients comfortable, things like changing bandages, washing and bathing, managing medications and, occasionally, throwing weddings. Yes, the nurses at Saint Peter's University Hospital have been called on to stage weddings for patients too sick to make it to their nuptials.
"This past summer, for instance, staffers went out of their way to hold a wedding ceremony for a cancer patient who would be unable to make her planned ceremony," says nurse Linda Carroll, director of professional practice. "They don't do it for the recognition. They do things like that every day because it's just part of our culture." Still, they have been recognized—by the American Nurses Credentialing Center of the American Nurses Association. That group once again named Saint Peter's a Magnet hospital, the highest honor for nursing service excellence that any hospital can receive.
Saint Peter's became one of only six hospitals in the world to receive this designation for four consecutive terms. The honored institutions are called Magnet hospitals because research proves that hospitals that consistently provide the highest-quality patient care do better in attracting and retaining quality nurses, which, in turn, attracts high-quality physicians. Magnet status is awarded to hospitals that deliver an extraordinary level of patient care and establish an environment that encourages nurses to pursue their professional development and emphasize teamwork.
The success comes in part from the nurses' unusually low turnover. "I've been here 28 years," says Carroll, "and many more of us have been here 20- plus years. The nurses feel connected to each other and go out of their way to help each other succeed." Debra Strauss, a 25-year Saint Peter's veteran, agrees. "We really are one big family," says Strauss, who works in the Neonatal Intensive Care Unit. "We all care for each other, and that kind of nurturing environment makes Saint Peter's a great place to work." As good as that is for the staff, it's even better for the patients. "When you're not feeling well, you're at your most vulnerable and have lost your independence, so to have people who truly care about you and want to meet your physical and emotional needs is very important," Carroll says. "Our staff has touched many patients in special ways. Happy nurses make happy patients."
Related Read: Weathering Sandy