Major Surgery, Custom-Made
An active, 57-year-old medical salesman got his life back after knee replacement surgery at The Joint Institute at Cooperman Barnabas Medical Center. The keys to his success? A fantastic surgeon, a great attitude—and an innovative knee implant fitted just for him.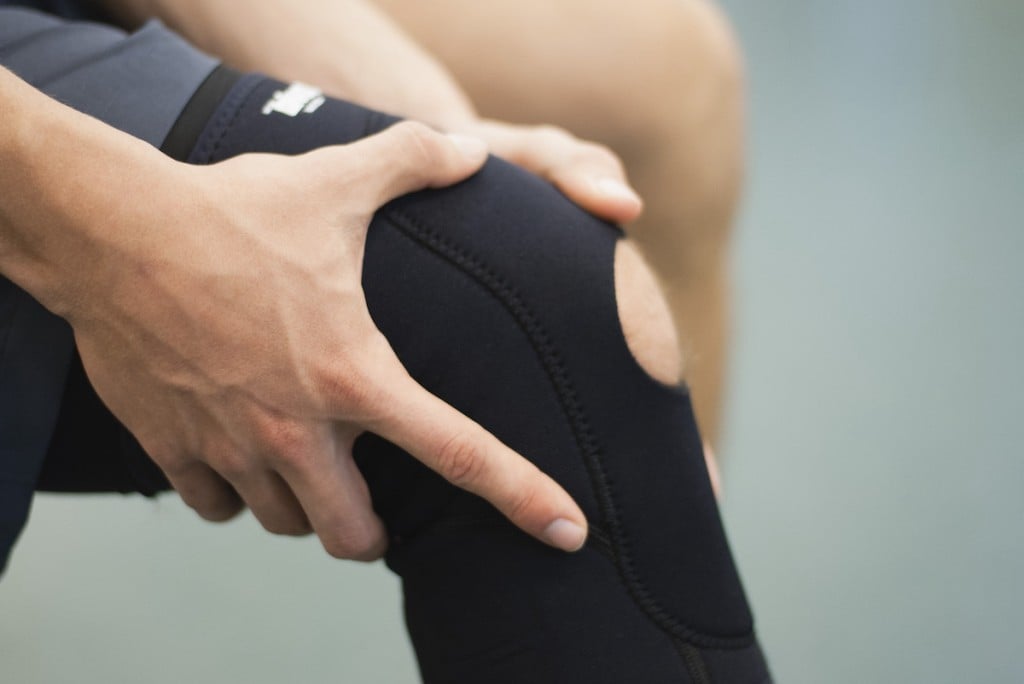 Bryan Finley always knew one day he would need a total knee replacement (TKR). As a student-athlete, Bryan suffered his first injury and underwent his first reconstructive surgery at age 13, after which he was diagnosed with "terrible triad," an injury involving multiple ligaments within the knee. He recovered and continued to wrestle at Manalapan High School and what is now known as The College of New Jersey, but had two surgeries on his left knee and four on his right by the time he retired from the sport.
Ten years ago, an orthopedist told Bryan, now 57, that he was "on the fringe" of needing a TKR, but he was too young—typically, doctors won't do this operation on anyone under age 65 because they'd likely need a second surgery down the line. But fast forward to about two years ago, when the Lincroft resident began experiencing debilitating pain in his left knee.
"Literally, it took me 20 minutes to get going in the morning," he recalls. "My knee was swollen, and I had sharp pains when I walked. My kids teased me about limping and being bow-legged, but I didn't notice it because it was my norm for 15 years." He knew it was time to consider a TKR.
While researching options online, he found Richard Rosa, M.D., orthopaedic surgeon and director of the Cooperman Barnabas Medical Center (CBMC) Joint Institute. Dr. Rosa uses the innovative ConforMIS knee replacement system, a custom knee implant which molds to each patient's body. "I had been in the medical device sales business for 30 years so I knew a lot of medical technology," Bryan says, "but I had never heard of the implant that Dr. Rosa did until about two weeks before my consultation."
In October 2021, Bryan had that first consultation with Dr. Rosa and knew immediately he was "the one." "From the minute I walked in his office, Dr. Rosa made me feel that I wasn't just a number. He looked at me and said, 'hey, you're going to do great. I feel good about your chances [of success]'."
The ConforMIS implant is a "custom, patient-specific implant, which means it's made individually for each patient before their surgery," says Dr. Rosa, who's been using this system since its inception about a decade ago. "We turn a patient's CT scan into a 3D model of their knee," which takes up to eight weeks from start to finish to design. And unlike an "off-the-shelf" implant, Dr. Rosa adds, the ConforMIS is an exact replica of the patient's knee and is perfectly balanced throughout the arc of motion, resulting in a better outcome, fewer stressors on the joint and a more comfortable fit.
Bryan's in-patient surgery in March 2022 took longer than average because Dr. Rosa and his team had to remove all the hardware in the knee from prior surgeries. But aside from some temporary stiffness and swelling that he managed with acetaminophen, Bryan's recovery was quick and painless. In fact, he was walking on his own just hours after the procedure. "Within a week I didn't even need the walker 50 to 60 percent of the time," he says, and he was back at the gym and at work three weeks later. Bryan's physical therapists, friends and family couldn't believe how quickly he was, quite literally, back on his feet. "People would look at me like I was crazy when I'd say how well I was doing just a few weeks out," he says.
Dr. Rosa adds that technology such as the ConforMIS implant make it possible for younger, active patients such as Bryan to successfully undergo total knee replacements, but of course, having a good medical team makes all the difference too. "About 15 years ago, we set up The Joint Institute at Cooperman Barnabas Medical Center for patients undergoing hip or knee replacements," says Dr. Rosa of what makes CBMC's knee replacement program unique. "We offer patient education sessions before the surgery, and we have protocols we follow so everyone is on the same page." The Joint Institute team also schedules each patient's post-op physical therapy appointments, and uses what's called multimodal pain management, which means patients are given certain medications the night before surgery and the morning of in combination to help control pain.
Today, Bryan is more active than he was before the surgery. "I ride a bike, I do the stair climber, I walk three to four miles every night with my wife, I play golf, go to the gym, do squats and lift weights," he says. Only high-impact activities such as marathon running are off limits for those with a ConforMIS implant, but Bryan notes that thanks to this life-changing surgery, he is "no longer restricted in any way."
In fact, Bryan was so happy with his experience at CBMC, he's returning to Dr. Rosa this fall to undergo the same operation on his opposite knee. "To anybody considering a knee replacement, talk to Dr. Rosa and visit CBMC before you pull the trigger," he says. "It was as seamless as you could ask for a major reconstructive surgery."
---
To learn more about The Joint Institute at Cooperman Barnabas Medical Center, go to rwjbh.org/ortho.