Make It Your Best Year
When you take a realistic approach, all your health goals are within reach.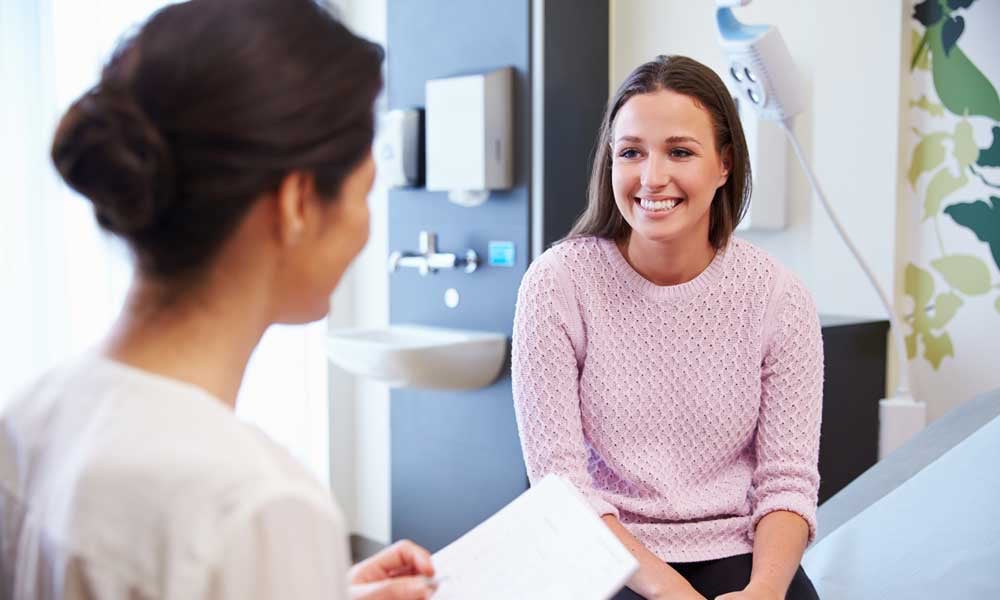 "Start with small goals, something as little as committing to lifting your legs while sitting on a chair or punching an imaginary punching bag for 10 minutes," —Vanessa Trespalacios, M.D.
Every new year, many of us resolve to improve our health in some form or another. Sadly, many of us fail—mainly because we set goals that are too difficult to reach. It's smarter to set small, easily attainable goals, says Vanessa Trespalacios, M.D., an internal medicine specialist at barnabas health medical group. She suggests the following:
Get a primary care physician (PCP)
If you don't already have one, establish a relationship with a primary care doctor. "So many people don't see a PCP until an arbitrary age, but you really should have one throughout your life," Dr. Trespalacios says. "A PCP behaves like a quarterback on your health care team, does all the preventative services you need and sees you as a whole person instead of in pieces, like a cardiologist or an ob/gyn." Once you do…
Vanessa Trespalacios, M.D.
See your doctor regularly
"It's called an 'annual exam' for a reason," Dr. Trespalacios says. Seeing a doctor annually keeps you up to date with all the vaccinations and screening tests you need based on your age, gender and health history. such testing can find issues early, when they are generally easiest to treat. Tests like blood pressure and cholesterol screening beginning in your 20s to mammograms, prostate exams, colonoscopies and bone density scans for adults in their 40s, 50s and 60s can help prevent more serious health problems in the future.
Get a flu shot
Despite all the evidence proving how effective this vaccine is, too many people opt against getting it because of myths or misunderstandings, she says. "The injection is a dead virus, so it cannot cause the flu. You may get an immune response, which is what you want, and that is over within 48 hours. Then you have immunity to the real flu." The flu vaccine is especially important for those who are immune compromised, who have a chronic illness, pregnant women, and adults over 65, who have a higher risk for severe flu complications, including death. If you haven't gotten yours yet this year, it's not too late. Flu season can run into March and April, so get one now.
Don't diet
If you are looking to lose weight, a restrictive diet is the worst way to do it, according to Dr. Trespalacios. "I tell my patients, don't think of diets," she says. "A diet has a start and an end, and you can cheat." Instead, think of it as making a lifestyle change. As it implies, this is a change that will carry you forward for the rest of your life. "You fall off a diet, but you don't fall off a lifestyle change." Such as…
Increase your exercise quotient.
Note carefully—this does not mean training for a marathon or even joining a gym. It means doing a little bit more than you are doing now. "Start with small goals, for example, something as little as committing to lifting your legs while sitting on a chair or punching an imaginary punching bag for 10 minutes is a great start for a person who cannot walk," she says. Walking is a great exercise, and in cold weather walk up and down your stairs. "Be creative," she says. The goal is to exercise for a minimum of two hours a week.
Eat real food.
The biggest cause of obesity is processed foods and sodas. "Your body is like your car, so take care of it with good, efficient fuel that doesn't clog all your parts," she says.
Make small changes.
Eat one more vegetable serving a week. Choose "brown" over "white"—brown breads, rice, potatoes and even sugar are healthier than the white varieties. And replace sodas and other soft drinks with water.
Eat more often.
You read that right. "Eat five to six smaller meals a day, eating every three to four hours," Dr. Trespalacios recommends. That helps keep blood sugar levels stable throughout the day, prevents hunger pangs and overeating, maintains energy and keeps your metabolism running efficiently. If you typically don't like to eat breakfast, split it in two—eat a small cup of yogurt or some fruit early, then eat a little more later. Do the same with lunch.
Drink more water.
"We all drink much less water than we need," Dr. Trespalacios says. Dehydration is the primary cause of fatigue, headaches, constipation and dizziness. Water is an easy fix. "The general calculation is to drink about 50 percent of your body weight in ounces," she says.
Get your ZZZs.
Our bodies generally need six to eight hours of sleep a night to allow our brain and body to rest and rewire itself. Lack of sleep has been linked to depression, weight gain, heart disease and a host of other health issues. "and if you are sleep-deprived, you are more likely to make unhealthy choices," Dr. Trespalacios adds.
Care for you.
Take time for yourself. Whatever you like to do—walk, meditate, read, listen to music—do it. Stress is linked to many health problems, from depression to cancer, which is why Dr. Trespalacios stresses that "self-care is very important."
To obtain a primary care physician, including Dr. Trespalacios, please call 888.724.7123.