Make Work-at-Home Work
Your home office should be a place that fosters creativity—and streamlines your 9-5 routine.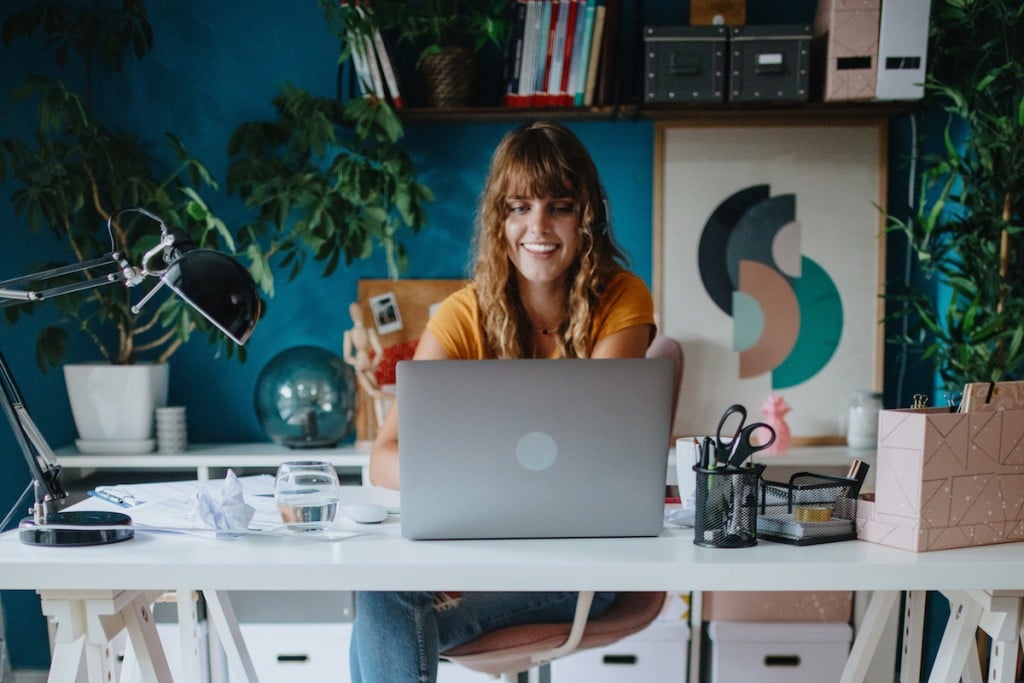 The pandemic won't last forever, but it's hard to see home offices going away. Working from home, at least sometimes, is too convenient an option for many of us (and for employers who prefer not to invest in office suites). We all live a good portion of our lives online now, and that will still be true even when theaters are filled again and the daily commute resumes. The upshot? You'll probably go on needing a setup at home for business—even if it's only the business of being you.
That's a challenge if you've been making do with temporary this and jerry-rigged that in lieu of a real home work space. But a home office can be efficient, attractive and conducive to getting things done without eating your house alive. To prove the point, here's some advice for five home-office scenarios from members of the New Jersey Chapter of the American Society of Interior Designers.
A bedroom in disguise? To maximize productivity in an office-bedroom setup, it's essential to separate your work environment from personal space. Susan Barbieri of Susan Barbieri Interior Design in Hawthorne suggests a freestanding bookshelf, which can double as a room divider, or a foldaway Murphy bed. "When put away, it makes the work area seem like a dedicated space rather than a combined one," she says.
Sharon L. Sherman of Wyckoff-based Thyme & Place Design advises regular video conference participants to consider their backgrounds. "A virtual background is one option," she says. "Otherwise, you'll need to set up an actual background that doesn't show the bed. A cozy corner with good lighting, books, wall hangings or plants behind you projects an air of calm and professionalism."
Share and share alike. If other family members are also working (or learning) remotely, each person should have his or her own space. No, setting up cubicles isn't necessary—simply ensure that everyone has a comfortable chair and a portion of the room designated for his or her own computer and work area.
Sandra Lambert of Realm Designs in Middlesex also advises minimizing noise, a major cause of distraction. Positioning desks so that they face a wall or away from each other or installing a white noise machine to mask keyboard clicking and paper shuffling can help, she says.
Headsets are another solution, according to Pat Valentine Ziv of PVZ Design in Mountainside, because "they provide a quieter way to communicate with others while not disturbing your office-mate."
No desk? While working on a desk is ideal, keep in mind any flat surface can do the trick, counsels Judy L. Miller, who runs an eponymous design firm in Fair Lawn. A folding table or a vanity can easily double as a work surface, she says, adding: "Above all, you need a comfortable place to sit, so consider the ergonomics of the chair you choose."
Joan Ravasy of Joan Ravasy Design in Lebanon says wall-mounted shelves tucked into corners, hallways, landings and foyers are her "go-to" when creating a dedicated area. Meanwhile, Terri Fiori of Wyckoff- based Fiori Interior Design recommends C-shaped end tables because they can slide easily under a chair or a bed. "Some of them serve a dual purpose, with a shelf feature or a flip-top extension," she adds.
Space is tight. When your computer and files take up all the surface area, it's time to get creative. "In any small space, I always look to vertical solutions," says Cozette Brown of Cozette Brown Interior Design in Ringwood. "Tall chests, bookcases, even an old armoire can all be repurposed for office use."
Lambert recommends installing cabinets and shelving below work surfaces. "Don't forget about the backs of doors," she says. "They can have hooks, folder holders or tack boards." Keeping order is "critical" in a small office, Ravasy adds. She suggests putting work items in stacked boxes or in a small shelf unit with labeled bins and covered containers to be pulled out when necessary. These tools "allow you to put your work away at the end of the day," Ravasy says.
Work in style. Because the home office is part of your home, be sure it fits in with the style of the house. "The most efficient way to make a home office both functional and sophisticated is by utilizing built-ins," says designer Alma Russo of AR Interiors in Morganville. Creating built-ins for her clients allows them to address all their needs in the space, "whether it be file cabinets, hidden printers or any other user-specific storage." And don't settle for sterile white walls— that's for the actual office. "Add elements such as strong saturated color and wallpaper to enhance any work-from-home space," Russo advises.