Making the Grade
BERGEN sat down with 13 impressive students and got the inside scoop on school life today.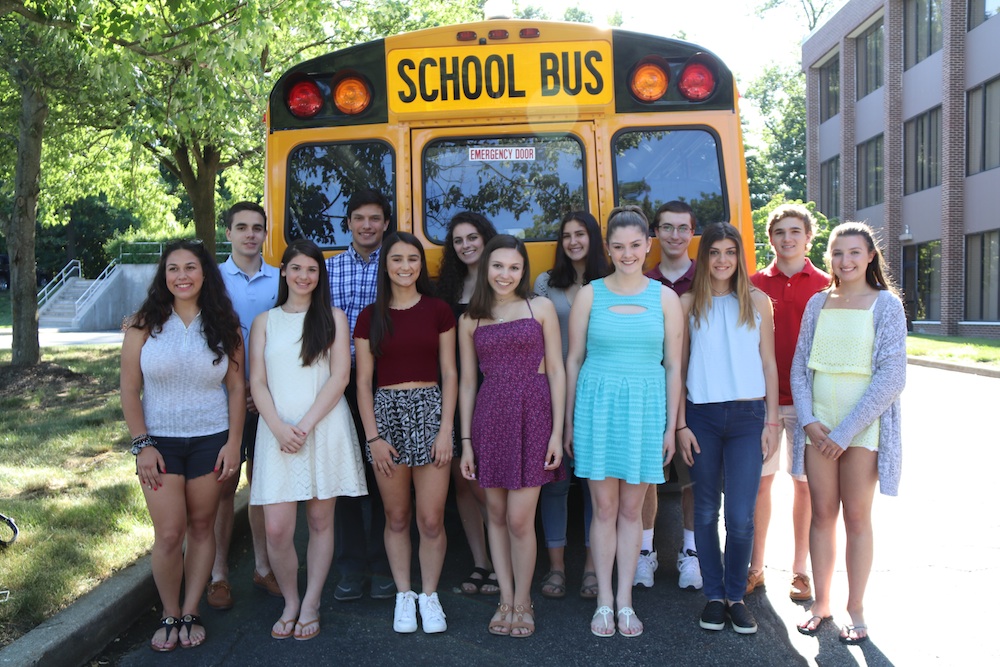 What's been the best part of your high school experience?
Sophia Kobylowski, 16, Glen Rock High School, Class of 2019: One of the best parts of high school has been the electives. I took a marketing class last semester. One of my teachers was particularly helpful, and I think I found a career path.
Logan Harris, 16, Pascack Hills High School, Class of 2018: The best thing about my high school career so far has been my rapport with some of the teachers. A lot of the teachers in Hills are there to help you and to better you. A specific experience that has benefited me has been being a part of theater. A few of my teachers come to the shows, and one teacher even brings flowers to all of the students that she has. It's really helpful when they're writing recommendations because they know you. It's great to have not only friends in your classes, but friends who are teachers also.
Cleo Pontone, 17, Northern Valley Regional High School at Old Tappan, Class of 2018: I love having the opportunity to involve myself with so many different sports, extracurricular activities and clubs. You can be a part of the STEM (science, technology, engineering and math) club, and you can also be a part of student council, and no one really limits you. People aren't separated by labels, say jocks or honors students. You can be an honor student and a jock. You can take engineering classes but also be captain of the football team. No one really discriminates.
Sofie Kravitz, 17, Northern Valley Regional High School at Old Tappan, Class of 2018: The best part is definitely being able to make friends from other towns. I'm from Norwood, but you make new friends from other places, like Cleo, who is from Rockleigh.
Maxwell Bucher, 17, Don Bosco Prep, Class of 2018: I agree with Sofie. Being able to meet people from everywhere and connect with them. There is a wide range of people from New York and New Jersey, and it's been really great.
Isabelle Siegel, 18, Ridgewood High School, Class of 2017: I love the unique academic experiences that I've had. My dad is a doctor and a writer, and my mom is an editor, so they're very literary, which I've always been very much into too. But I'm planning on going into psychology, and I've always liked the arts. So it's been nice to be able to take a variety of classes. For example, French has been a big part of my life, and no one in my family really had experience with it.
Jack Bucher, 17, Don Bosco Prep, Class of 2018: The best part is the brotherhood because everyone is friendly, and there are so many opportunities. Basically you pick your path, and you can do whatever you want. They're really preparing you for college.
Pierre La Monica, 18, Bergen Catholic Regional High School, Class of 2017: Everyone in the building knows each other and helps each other out. It doesn't really matter what grade you're in. I've seen freshmen being friends with seniors, playing on the same teams or what not. All the teachers know all the students. It feels very supportive.
William Wantuch, 16, Don Bosco Prep, Class of 2018: I must agree with Maxwell. Bosco develops a sense of a brotherhood where everyone gets along well. There's a wide range of students and extracurricular activities.
Katelyn Bachrach, 15, Academy of the Holy Angels, Class of 2019: I came from a much smaller school where everyone knew each other. At Holy Angels, I feel like I'm meeting a lot of different people who I wouldn't ordinarily meet. Somehow we all connect, and we're really good friends, especially in my grade. Of course, sometimes there are issues, but everyone gets along.
Kathryn Gallo, 15, Academy of the Holy Angels, Class of 2019: I came from a really small school with 30 kids. As a result, there weren't a lot of activities like sports teams. Here there are lots of clubs, and it keeps you going.
Angelina Farallo, 16, Fusion Academy, Class of 2018: Fusion Academy started in California only 10 years ago, but they recently expanded to the East Coast. It's a one-to-one school, meaning teacher-student ratio. So you're basically getting tutoring sessions for all your classes. So there's no better way to succeed. I originally went to Fusion because I was being bullied and because of the anxiety, so it really helped me get my grades back up and help me focus on education more. But it is also four days a week of school. We have Fridays off, which has helped me because you can use that free time to your advantage. I've been able to start two companies in the past few months, which I would not have been able to do without the mentors at that school.
So on the flip side, what's been the most challenging thing about high school?
Isabelle: Stress. We're known for being a very difficult school, so there is a lot of stress. And it's not necessarily pressure, it's that you want to be able to take advantage of all the opportunities available in your four years. And it's hard to be able to do everything at once because, for example, I'm a part of theater, but also in a lot of academic clubs and French club. So it's hard to find time for each thing.
William: Freshman year was really tough, starting in all honors classes. It was hard to balance joining clubs, finishing your homework every night, studying for tests. But as the years passed, come sophomore and junior year, I was able to balance the workload better.
Cleo: I think keeping the drive that you start with in freshman year has been the hardest thing because when you're trying to balance everything from honors and AP classes to sports and clubs, you can start to question yourself. Sometimes when you have a really late night, and it's like 1 a.m., you think why am I doing this? Is it because I want to go to a really good college? Am I passionate about the physics that's sitting in front of me right now? I've figured it out more this year. In the past, I've killed myself over small grades. This year, I realized that's it's okay to make mistakes. As long as you find things that you're passionate about, and you work hard to achieve those things, that's how you stay motivated.
After trying different things that don't seem to "fit," do you discard them? Is that how you achieve balance?
Isabelle: I think one of my worst characteristics is that I am such a perfectionist, so I have trouble letting go of those little things like small bad grades. Something to help me achieve balance is trying to remember what's really important. My parents have been very good with that. It's kind of the opposite of what you would expect it to be. Most parents have to tell their kids to study. My parents are the ones telling me to stop studying and to go hang out with my friends and to take breaks. So I'm starting to learn to do that on my own, but I don't think I would have learned that skill without my parents showing me that.
Angelina: My experience was a bit different because in my freshman and sophomore years, I was bullied, and I kind of did really lose myself. So finding balance for me was learning to maintain my academics while maintaining my social life while making sure that I am mentally healthy. Schools don't have a lot of education on mental health. I've struggled with anxiety and depression, so I'm learning how to balance that and ignore what other people think and still be able to go out and have fun with my friends.
You raise an issue that I wanted to discuss. Unfortunately, we read about bullying a lot; does it happen in your school? (Logan, Sophia, Ireland, Cleo, Isabelle, Angelina and Sophie say that it exists.)
Kathryn: It's not direct bullying, but kids will make fun of each other. But even if you don't like someone, they won't go out of their way to make you feel bad.
Do you mean in person or cyber bullying? Ireland and Isabelle are shaking their heads yes. What's going on in Ridgewood?
Ireland Horan, 17, Ridgewood High School, Class of 2018: I think a big part of it was Tyler Clementi. He was from Ridgewood High School, and even though it wasn't a direct cause of his suicide, it affected the perception of Ridgewood. Cyber bullying has gotten big in the past couple of years. You guys know about Finsta (a fake Instagram account, usually for sharing with close friends only), and how it's kind of exploded? Well, people kind of get taken advantage of because of something they post or say.
Isabelle: I think in general Finsta is fine. And I think most people have one; I have one. The majority will be funny stories that happen every day. I've never had any sort of mean things on it. But there are certain people who use it as a forum for saying things they shouldn't. I think it might have reduced in the past year, but maybe I'm not following the people who do that.
Angelina, you shared that you experienced bullying. Were there people who tried to help? How did you deal with it?
Angelina: People are scared to say anything about it, and that's OK. There have been times I've seen it, and I'm sure I was a little nervous to stand up because we don't always have the power that we may think we do. My mom and my best friend were so amazing through everything. But teens can be mean. Why me? One, I wasn't rich enough, and I was raised more European because I am Russian. So I didn't really fit in with the American culture. I would go to lunch every day and people would just throw my stuff on the floor as if it was trash. I don't hold any grudges. I've forgiven everyone. But as much as you may not see it happen, it does happen.
I've written a book about bullying. The important thing is not to resort to self-harm, and never turn to suicide. I know people who have called me at 3 a.m. saying "I can't do this anymore." So I have seen both sides of it.
What about drugs and alcohol?
Isabelle: I honestly doubt that there's a place in the world where drugs and alcohol aren't a "thing" in high school. There's just more publicity toward certain high schools.
Pierre: It's obviously not that big [in Bergen Catholic], but if you're really searching for it, you'll find it. If you don't really try to seek it out, I don't think you'll find it. But if you're trying, I'm sure you'll find people who will partake.
Would you say that it's more alcohol or more drugs?
Pierre: It's probably a mix of both.
Cleo: It's weed and alcohol. Our school holds a lot of assemblies about it. The police are involved in these assemblies, and they're able to control what's going on.
Isabelle: It really tests your responsibility and how you handle things. I know people who haven't had experiences of going to parties and being offered alcohol, and then they go to college and they go crazy because they haven't had any exposure, and they don't know how to say no.
What about the social scene at your respective schools? Are you satisfied with the offerings?
Jack: At Bosco, everyone's friendly. Of course, there are groups, and you're better friends with people who are on your teams or are involved in what you're involved in, but everyone gets along.
What about outside of school?
Katelyn: You go to sweet 16s or even football games, and then you just meet people through your friends.
Kathryn: Definitely football games.
A couple of you have talked about football games, and many of you play sports. Can you comment on what sports means to you?
Angelina: I went to Tenafly High School, and sports are a big deal there, and I played when I was there. However, there are no team sports at Fusion, so I kickbox outside school. But in order to have a healthy social life, you need to be able to go out and do things, so I attend sporting events with my friends.
Sofie: I didn't play sports at all in middle school, so I didn't have a ton of friends among athletes. I signed up for tennis and for cross-country, and I made a lot of friends. All the teams get along. They attend the same parties and gatherings and pep rallies. But if you don't play, you might not be at pep rallies or at events and might not interact as much with them.
Jack: You play because you love the sport, are good at it and it might yield a scholarship. I'm on the crew team, but I had an injury so opportunities for college are fading I guess. Hopefully, I'll be able to continue with it in college, but as of now, I'm not sure.
What about diversity? Is there a lot of diversity in your school?
Cleo: We think our schools are diverse, but if you brought me to a city school, perhaps I'd be shocked because the city may be a lot more diverse than other places. But personality-wise, there are people from different cultural backgrounds, and everyone is pretty accepting.
Kathryn: It's not racially separate. We're one group and one race. We're all together.
But you mentioned cliques earlier. Do they exist?
Kathryn: With our school, especially our grade, people are friends with everyone else. For example, I can go sit at 90 percent of the lunch tables, and it'll work out. I think the only time where there was a problem was with the [presidential] election. Our grade had a big problem. We had to have an assembly to address it.
Can you elaborate?
Kathryn: Our grade had a split. We were told to wear purple to the assembly instead of our uniforms. It was purple because, of course, it's a blend of red and blue. We were told that we must respect each other's opinions.
Jack: For the most part, the teachers and the administration tried not to talk about politics. Everyone had their opinions, and they were able to voice them. But we tried to stay away from it.
Isabelle: It was very positive at Ridgewood because there were people who were upset at the election results, and their friends who were from different political parties would be very supportive and caring. It wasn't really an issue for us. In fact, Ridgewood has a very large Asian population, and some of them were worried about their parents and families because of Trump's policies. There were people who were very upset. But I think there was a huge support system for them. It didn't bring out the worst in people. It kind of brought us closer together.
Ireland: It was very interesting to see how supportive everyone was to the people who were devastated. It meant more to the seniors who could vote and were outspoken about it. For many others, it was a non-issue because, well, they really weren't interested because they couldn't vote.
Isabelle: I couldn't vote at the time of the election. But my friends could. It was their first time, and they were very optimistic about voting and getting this huge say. But if they didn't get what they wanted, it was a huge letdown.
A couple of you mentioned that you're in theater. Are there any activities that make you feel separate from the rest of the student body? Do you feel more or less a part of the school community?
Logan: During the fall, my lunch table was half and half: half people who do theater, and half who don't. I do theater. Theatre is it's own community, but it doesn't make me feel separated. It's just another aspect of my life. It's something that I enjoy doing in much the same way as a business club or anything else.
Ireland: Exactly. It makes me feel involved in the school. I do spring track, I cheer, I do theater, I do a bunch of stuff that's all across the spectrum. And I think it's like that for many of us who have a lot of interests.
What about competition? For roles, grades, class rank, in sports?
Logan: It creates tension. Not getting a certain part is hard, and maybe it's the first time you've faced rejection. But you learn to support people who do get that part. You're not always going to get everything that you want in life, so it's a good lesson.
Kathryn: There's social competition at my school, maybe because it's all girls. In terms of grades, we have an assembly at the end of every marking period, and they have everyone stand up who's on the principal's list. It makes you want to achieve that. I wouldn't say there's a lot of competition. It's not malicious.
Isabelle: I think it's the opposite in Ridgewood because they purposely try not to make it a competition. We don't get class rank or valedictorian for that very reason. The valedictorian is individually told, but he or she doesn't give a speech at graduation. It's not made public because they don't want that sense of competition. We don't have class rank because they don't want to create a hostile environment where it's cutthroat and everyone works to beat each other out.
OK, what about stress? What stresses you out?
Sofie: Thinking about applying to and getting into college is very emotional. There are standardized tests like the SAT to think about, college applications. Anything can send me into a whirlwind of tears. I'm being 100 percent serious. Suddenly, I get very emotional about grades. And there is class rank at our school, and it really tears you down if you're not up there. And I'm not kidding. I have four tests tomorrow, and I can't wait to take all of them and be done.
Maxwell: It's really just the workload. Some days you finish by 4 p.m., but other days you have work until 11, and there's really no way to just balance that out. When I was rowing, I'd get home at 7 or 8. So there's really no way to get an ample amount of sleep and still complete all your work properly. And forget about finals.
Angelina: I agree with Sofie. I'm in all honors, and the workload for all those classes is a lot, and there's a lot of pressure especially when you're in one-to- one and the teacher knows what you're capable of. So there's no getting lazy on the homework. There's no getting lazy on the test because you're their only priority. I might have a week to write a 20-page, single-spaced paper in 11 point font, and that's only for one class. Then I'll have the same assignment from about three of my teachers due in a week.
Katelyn: I agree with both of them. For me, I feel the pressure of doing your best can sometimes get in the way because teachers at our school want you to be good in all of your subjects, not just one. And sometimes you're just not. You might be great at English, but you're not as good in science.
Isabelle: Our slogan is "the tradition of excellence." And we're just not a fan of anything below excellent. So that's definitely tough. And there's a huge workload. I took three AP classes this year, and I wound up having nights where I had seven or eight hours of homework.
Cleo: Sometimes not going to bed till 3 a.m. really takes a toll because you're not getting enough sleep. And then you have a test the next day. Maybe a teacher will assign five chapters to read for tomorrow. It's not that much. But what happens when every single teacher does that?
Jack: I'm just not that stressed. But I do think that sports can put stress on people because there's a pressure to perform. Let's face it, in Bergen County we're competing at a high level, and so you ought to bring it every day, even at practices.
Pierre: I have to agree with Jack. I'm honestly not that stressed. I found a way to organize my time with homework and sports. I try to get something done in school so I don't have that much after school. I can go to practice, relax a little, then go back to work. I don't really have any trouble with that.
William: I have to agree with Max. Bosco is very stressful with all the work that needs to be done, AP classes and extracurricular activities after school. When you get home, you have tons of work to do. You can have eight hours of homework.
Kathryn: I think it's stressful because AHA is known for being an academically challenging school. But I feel like I'm not as stressed as a lot of people because there's a lot of opportunity to go for extra help if you don't understand something. We also have free periods so it depends how you use them. You can go to the library and get your work done, which is what I like to do, because I'd much rather do my work in school than out of it. But if you choose to sit in the cafeteria and do nothing, then you have a lot to do at night.
Ireland: I think Ridgewood is very aware about how stressed out kids get. We actually have a stress management class that we have to take. We have stress management therapy dogs come to our school, and we can pet them and stuff. The administrators literally hire people to send dogs to our school so you can de-stress.
Sophia: I think just managing my time and managing my assignments and deciding what to do, when to do it.
Logan: I think the most stressful thing is the pressure to be this perfect specimen that a college wants so that they say, "Yes, you. I want you in my college because you're always thinking of different things to do like starting your own company." So you're always thinking about things to do. A lot of people just have that one thing in mind—getting into a school. It directs everything and makes you take all these AP classes. I'm taking AP history even though I want to go into medicine, just to have that credit. I think you should just do what you want to do.
What are your parents most stressed about?
Sofie: We have Power School, which allows them to check our grades. Notifications pop up on your phone. And my mom follows that like it's her religion. She texts me as soon as a grade comes in. And if it's not good enough, she'll tell me to go to the teacher to find out how I can do better. How can you do an extra-credit assignment to get a better grade?
Katelyn: I was trying to eat my chicken pot pie, and my mom was checking my grade in math. Ireland: My parents spent six months researching a car so that they know I'm in the safest car possible. But I don't think it necessarily stresses them out. They just do it.