Mangia Verde
It was clear soon after we settled into our seats at Del Posto that we were in for a memorable experience.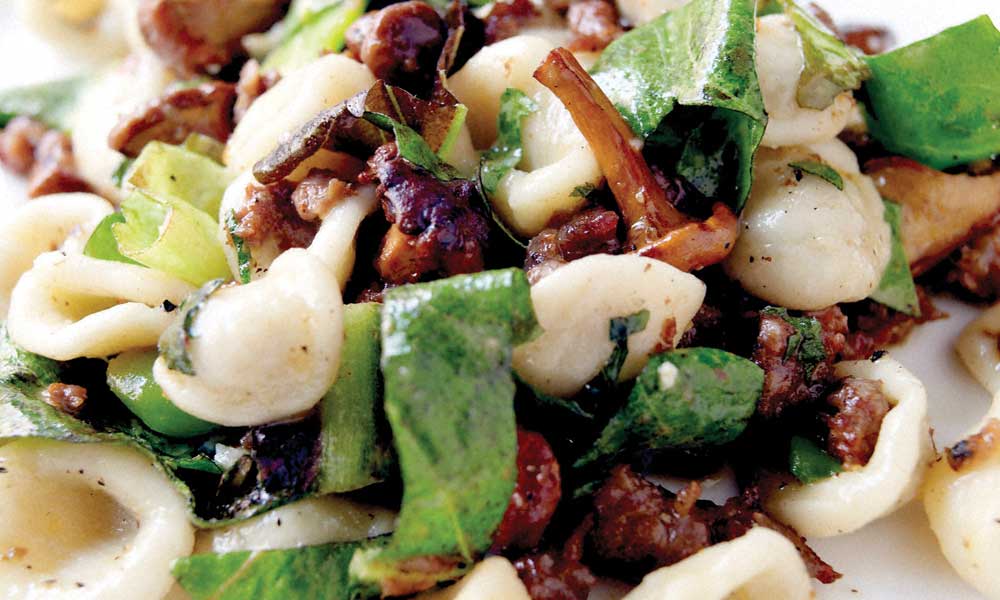 It was clear soon after we settled into our seats at Del Posto, one of Manhattan's leading Certified Green Restaurants, that we were in for a memorable experience. Swiftly presented to us were three flavorful amuse-bouches—a sliver-thin prosciutto and provolone sandwich, a dollop of barley soup with a swirl of chocolate and a nut-covered nugget of pumpkin purée and mascarpone—that set the stage for what was to come.
The brainchild of Mario Batali, Joseph Bastianich and Lidia Bastianich of Lidia's Italian-American Kitchen fame (and Joe's mother), the spacious Del Posto impresses from the moment you enter. From the wraparound mezzanine to the expansive main floor, it's stylish yet cozy. The staff can practically read minds, sensing when you'd rather sit elsewhere or a menu entry has you perplexed. Indeed, ordering is perhaps the most taxing part of the dinner, thanks to myriad menu options and an extensive wine list, featuring sips from the Bastianiches' own Italian vineyard.
We chose the five-course Il Menu del Posto. First up? A fluffy tangle of thinly shaved raw sunchokes with truffled fonduta and walnut gremolata. Now this is the kind of dish you come to Del Posto for: refined, different, memorable. By contrast, the lobster salad was less of a wow. Several chunks of supremely fresh claw meat were tossed with a citrusy dressing that emitted a fair amount of heat but disguised the seafood's flavor. Given another shot, I'd try one of the more intriguing appetizers—the beef and tripe terrina or the goose liver palla.
Next up was the pasta course. Amazingly executed, the homemade caramelle looked just like Perugina candies (yes, they're 3-D), and a mere bite released a heavenly black truffle–cheese filling. The mezzi rigatoni with cauliflower stracotto and sturgeon caviar was also very good (somewhat spicy, and don't expect too much caviar), but not a standout. Note that Chef Batali believes in serving pasta extremely al dente—no gummy noodles here.
Entrées were simply but perfectly executed. Roasted Arctic char with a balsamic-mushroom reduction was fresh and flavorful and beautifully cooked. The roasted lamb was cooked rare, served thinly sliced and wonderfully fragrant. A hint of star anise brought out the meat's sweetness and helped marry it with the accompanying pearl onions, celery and borlotti beans.
We next opted for a cheese course. The robiola due latti from Piemonte was pure decadence; the Coach Farm Triple Cream goat cheese, smooth and sweet; the Blu del Moncenisio, also from Piemonte, sharp and sophisticated. The trio was a lovely prelude to dessert (portions are not huge, so we had room): the chocolate ricotta tortino, a creamy pistachio-crusted cake coupled with olive oil ice cream (a must-try), and the apple crostata, which impressed with its buttery pastry and oatmeal ice cream.
As for that Green Restaurant Association certification: Del Posto has taken numerous steps toward energy efficiency, conversation, recycling, composting and pollution prevention, and features sustainable foods and nontoxic products—so you
can indulge in all the menu's numerous wonders while keeping your ecoconscience clear.
Del Posto Ristorante
85 Tenth Avenue, New York, NY; 212-497-8090
Hours
LUNCH: Wednesday through Friday noon-2 p.m.
DINNER: Monday through Friday, 5-11 p.m.; Saturday, 4-11:30 p.m.; Sunday 4-10:30 p.m.
What you should know
Two prix fixe options available: five courses for $95; seven courses for $175
Reservations required and accepted up to one month in advance
Private parties accommodated
Certified by the Green Restaurant Association
All credit cards accepted